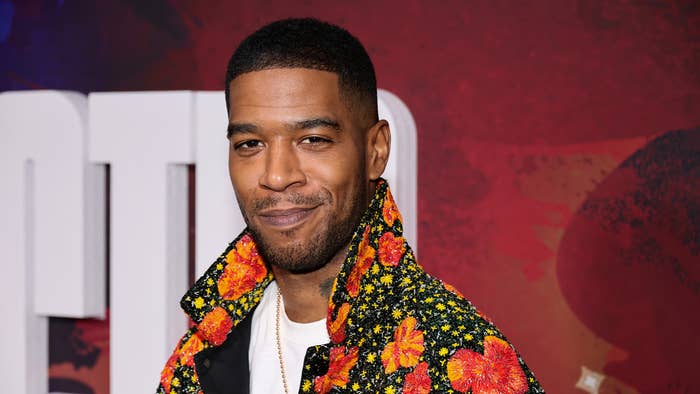 Following the release of his new record Entergalactic and its accompanying Netflix special, Kid Cudi has said he might be done with releasing albums.
In an interview with Zane Lowe about the project, Cudi implied that he's looking to pursue other ventures at least for the time being. "The Kid Cudi stuff, I think I want to put it on the back burner and chill out with that," he told Lowe on Apple Music's Beats 1. "I think, I want to be done with it. I think, closing the chapter on Kid Cudi."
His desire to move on from dropping albums and touring was something that actually led to Entergalactic, which he wanted to take a different approach with because he was "bored" of putting out more traditional releases. "I was like, 'Man, I went into this wanting to do something epic and different.' And now, that I've done that, I just... I've made a lot of music, man," he continued. "I've said a lot and I have other desires, I have other things I want to do. And I do not see me never making music, I'll always fuck around in the studio, or make something here and there. But, as far as getting in the studio and working on an album, and then going and touring it, I just don't have it in me."
Cudi has steadily built an impressive filmography over the past few years, and has started to show up in more shows and movies. But acting isn't the only reason he wants to slow down with music. "I have so many other things I want to invest my time into… I really want to spend more time with my daughter," he said. "We've been kicking in a lot lately and I've been having more time and it's good, she's growing up, our relationship is super tight. It's what I always dreamed of."
As for what he's interested in doing next, he did tell Lowe that he wants to write some TV shows and movies. He also wants to produce more projects under his Mad Solar Productions banner, which served as one of the production companies on Ti West's pair of 2022 horror films, X and Pearl.
"I just want to focus on Mad Solar Productions and just get that shit out a little bit more," he said. "And then, on the side, I got my clothing line that's debuting in January, in Paris, during fashion week. So, I got those two things I'm really focused on and just designing and writing and that's where I see myself headed."
Cudi has a lot of movies coming out on the horizon, including his directorial debut Teddy. He'll also show up in Silent Night, John Woo's highly-anticipated return to Hollywood filmmaking.