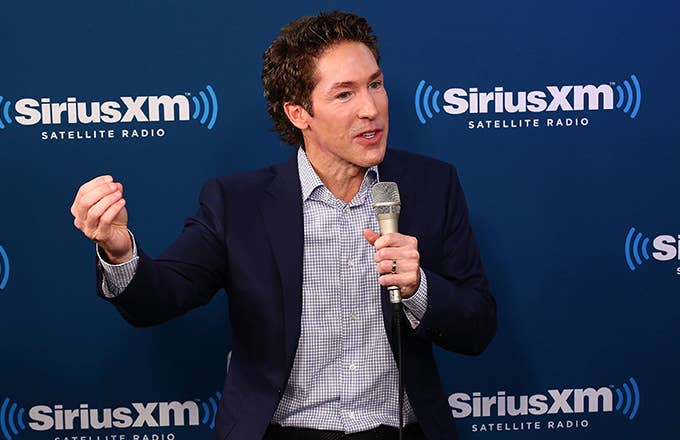 UPDATED 11/12, 10:30 a.m. ET: Kanye West will appear at Joel Osteen's own Sunday Service, TMZ reports. Per the outlet, West will bring his choir to Houston, where they're expected to perform during the nighttime service. 

TMZ's sources add that West and Osteen will have a conversation on stage during Lakewood Church's daytime service as well. Osteen reportedly wants Kanye to "contrast his life then and now."

See original story below. 
The often criticized celebrity pastor Joel Osteen has taken note of Kanye West's new-found love of Christianity. As TMZ reports, sources close to the two individuals indicate that they have been friends for a while and have been talking over the phone. Due to Yeezy's dedication to the religion, Osteen has even invited him to his own Sunday Service at Lakewood Church in Houston, Texas.
Ye reportedly told the controversial pastor he wants to make it to the service, although it's not clear if he will also perform there. Osteen didn't ask him specifically, but is open to the idea. The sources also explained Osteen is a fan of Kanye's new approach to life, which has carried over into new music in the form of the perpetually-delayed-till-it-finally-dropped Jesus Is King.
Throughout his career, Osteen has continually faced criticism for some of his beliefs and for-profit approach to religion. In 2017 Lakewood Church was the subject of backlash after it was reported Osteen didn't make it available as an emergency shelter for Hurricane Harvey victims. One spokesperson said it was closed due to severe flooding, but Osteen himself claimed the church was never closed.
One sore point for many of his critics is his stance on same-sex marriage, as he has continually said homosexuality is a sin. Understandably, people aren't too pleased about the connection between Ye and Osteen.
A Jesus Is King follow-up Jesus Is Born is scheduled to arrive on Christmas day.