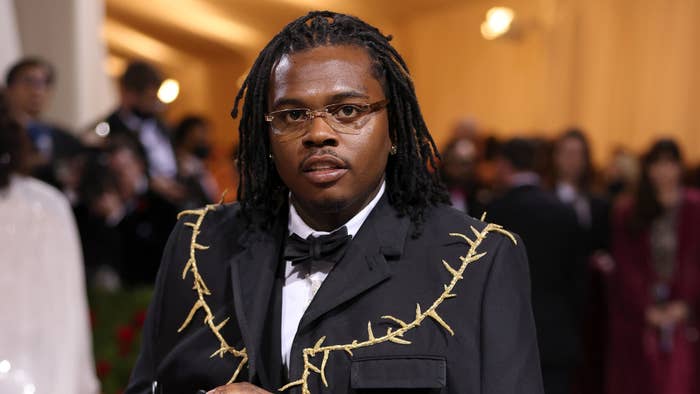 Following the release of Gunna's first post-jail track "Bread & Butter," the rapper has denied speculation that he's dissing his Drip Harder collaborator Lil Baby.
In a post on Instagram, DJ Akademiks speculated that the song featured a diss directed at Lil Baby. "I just wanna know why Gunna talking bout LIl Baby like dis," he wrote. Gunna hopped in the comments to clear the air. "That's capp," he wrote. "I'm just lettin the world hear my story."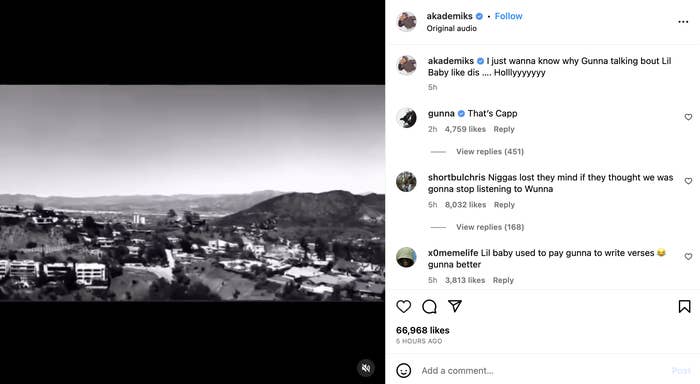 Gunna's "Bread & Butter" is his first single since he accepted a plea deal in the YSL RICO case. On the track, he denied allegations that he snitched on his YSL associates and took aim at those who have accused him of such. He doesn't, however, name any names.
"You bitch-ass n***as got me as the topic of the chat/You switched on me when you know you in business with a rat," Gunna raps on the song. "And the boy that's like your brother, ain't nobody speak on that/The city see it clearly if I had to state a fact/You still fuck with a n***a that done got yo' partner/Heard these n***as talkin', only knew 'em 'cause of Slatt/These rap boys need more streams, heard he put my name on wax."
Lil Baby has not publicly spoken on Gunna following his release from jail, but fans did notice he unfollowed the rapper on Instagram earlier this year. Lil Durk is among those who have accused Gunna, who is one of several YSL associates who accepted an "Alford Plea." In a conversation with Akademiks, Durk said he believes Gunna "told" as part of his agreement. "That man told. You should have went in there and kept your mouth closed," he said.
Boosie Badazz has also made similar accusations and is so sure Gunna is a "rat" that he wouldn't even collaborate with him for $1 billion.
Gunna and his attorney have denied that he "snitched" on others in the YSL RICO case. "Gunna did not snitch to get out of jail," his attorney Steve Sadow wrote in December last year.