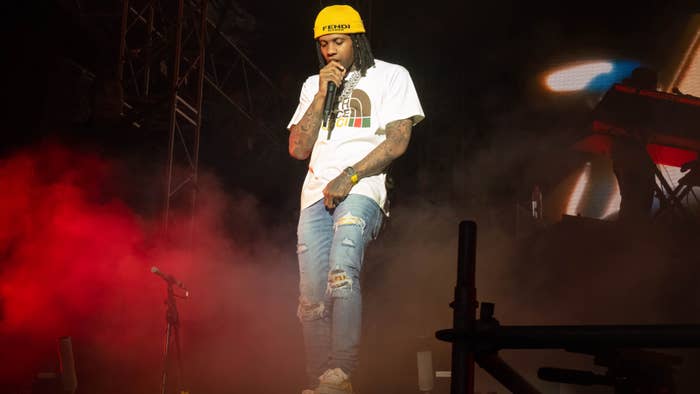 In a new interview, Lil Durk shared his thoughts on Gunna's plea deal in the widely covered and routinely criticized YSL case in Georgia.
Speaking with Akademiks, as seen in the Instagram-shared clip below, Durk was asked if he believes that Gunna "told" as part of his agreement. As previously reported, Gunna was released on a time-served, suspended sentence in December after agreeing to an Alford plea.
"Now I don't sit up here and play games, man," Durk said in the interview. "That man told. You should have went in there and kept your mouth closed."
From there, Durk spoke more generally before showing "love" for Young Thug, who currently remains behind bars in connection with the RICO case.
"If you a rat, you a rat," Durk told Akademiks. "If you rewind this clip a little bit, I looked into the camera and told you, if you a rat, I fucking hate you. Because I love Thug."
Back in January, a number of fans openly speculated that Durk was similarly dissing Gunna in a then-new song preview.
In a statement released through his lawyers in December, Gunna detailed the circumstances of his release. An Alford plea, notably, is utilized when a defendant, or defendants, are pleading guilty to a specific charge or charges without any admission of guilt. In short, they are maintaining their innocence despite the plea.
"While I have agreed to always be truthful, I want to make it perfectly clear that I have NOT made any statements, have NOT been interviewed, have NOT cooperated, have NOT agreed to testify or be a witness for or against any party in the case and have absolutely NO intention of being involved in the trial process in any way," Gunna said in December.
An Alford plea in this case, Gunna further explained, sees him admitting to the single charge against him "while at the same time maintaining my innocence toward the same charge."