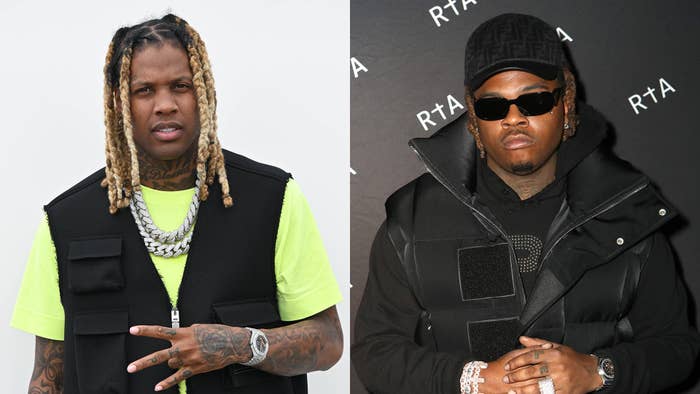 Some fans think Lil Durk might be dissing Gunna for taking a plea deal in the YSL RICO case in a recently shared preview of a new song.
In the preview, which can be heard below, Durk appears to take a subliminal shot at Gunna. "What happened to Virgil he probably gon' tell," he raps in clip, which could be a reference to Durk's 2022 collab with Gunna, "What Happened to Virgil." It's not clear if it's a specific reference to Gunna or not, but it's possible considering it's about a song they did together and appears to buy into the idea Gunna would "tell" on others named in the sweeping YSL RICO indictment, including Young Thug.
Reactions on social media show some fans think Gunna is the target of the track.
It's not just Durk who has potentially made allusions to the YSL case recently, as some noticed that Bobby Shmurda expressed ire at "snitches" on a preview of a song named "Rat N****s." It also seems as though Gunna has lost a fan in Lil Baby, with whom he recorded 2018 collaborative effort Drip Harder. As TMZ reported, Baby is now longer following Gunna on Instagram despite following over 900 other accounts.
Following his release, Gunna fought back against accusations that he "told" on his co-defendants. In one of his first public posts on social media, he called for the release of Thug and Yak Gotti. "N***as acting like they switching to a side But it's only one side. #YslTheLabel #FreeThug & Yak," he wrote.