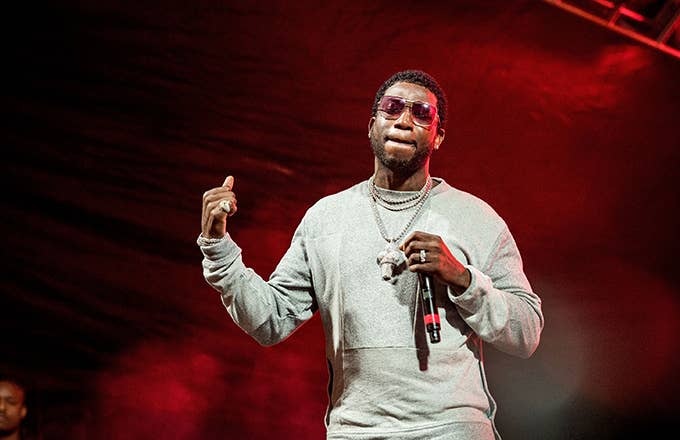 Gucci Mane has been keeping himself very busy recently and it seems like he's trying to get others to work too. Gucci took to Twitter to ask Rich Homie Quan and Young Thug to collaborate on a mixtape. He even offered the pair a cool $1 million for the new music. 
"I got a million cash for @RichHomieQuan and @youngthug to do one mixtape at the brand new Polar Bear Studios," Gucci tweeted. "12 songs from stratch!" While it's unclear whether he wants to record with them or if he's expecting the pair to just do their own thing, what we do know is that it's a good idea either way.
As many of you know, Quan and Thug's relationship hasn't exactly been the smoothest. The rappers were poised to dominate the hip-hop realm as two-thirds of Rich Gang—their group with Cash Money boss Birdman; however, after the trio disbanded in 2014, the beef between Quan and Thug became more and more apparent.
During a 2015 performance, Thug nabbed headlines after he referred to his former friend as "bitch Homie Quan" during a performance. He reiterated those feelings a year later when he yelled "fuck Rich Homie" in front of California concert-goers. Clearly, Thug was feeling a type of way; however, in 2017, Quan insisted there was no animosity between him and the Jeffery artist. 
"We don't got no bad blood, but we don't talk," he told 99 JAMZ's Supa Cindy. "We don't talk every day like you would think we would talk every day. But we don't got no bad blood. I just leave […] you know, it is what it is. I wish him the best."
Though a lot has changed since Rich Gang's split, it doesn't appear that Thug is up for a reunion. Shortly after Gucci tweeted his offer, Thugger replied with his own tweet:
That sounds like a hard pass.
Thug has been relatively quiet as of late, having canceled his entire Australian tour following visa issues and committing to not dropping new music this year to pay respects to his deaf brother. "I've got a brother who can't hear or talk, so I want to act deaf for a year. So I ain't going to put out no music this year," he told Hypebeast. It's unlikely he'll go against his word, but there's always next year.