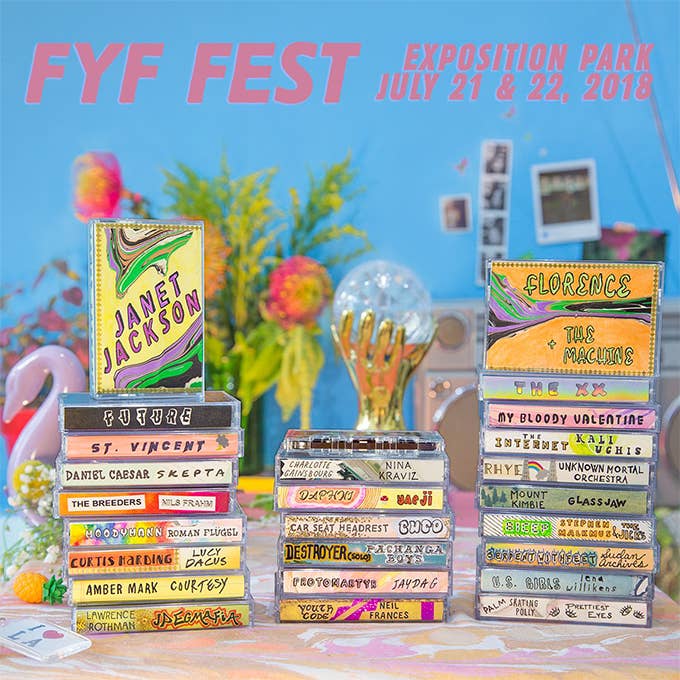 L.A.'s FYF Fest will celebrate its 15th anniversary this year, and they're doing so with an absolutely loaded lineup. From its origins as a party set across numerous events on Sunset Boulevard to occupying Exposition Park, the event has evolved considerably across the years. With 2018's festival season rapidly approaching, FYF  has shared its lineup alongside some incredible art by Danielle Garza and Andy Windak.
The colorful flier, which can be seen above, is one of the most inventive festival posters to be released this year. Featuring Janet Jackson, Future, St. Vincent, Daniel Caesar, Skepta, Florence and the Machine, Kali Uchis, My Bloody Valentine, and the xx, FYF Fest 2018 lineup promises one of the most intriguing festivals to hit the west coast all year.
Jackson previously appeared at FYF Fest last year as a surprise guest during Missy Elliott's set, but now she's making her return as a headliner. The rest of the lineup offers a little bit of something for everyone across its two days.
Tickets go on sale April 6 at 12pm PT, with $249 general access 2-day tickets and separate tickets for each of the days for $149. There will also be a 2-day VIP option for $549. Check out the full lineup here.