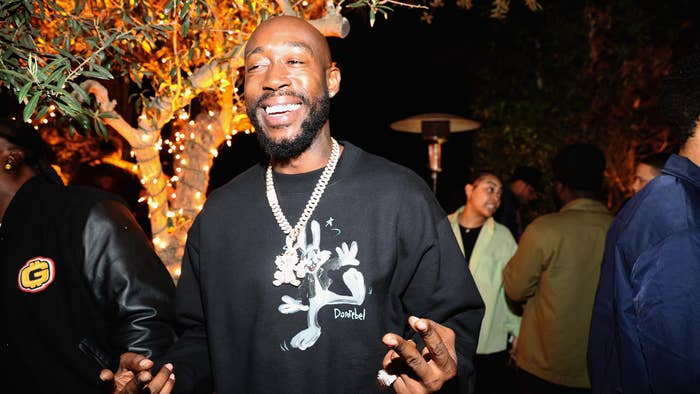 In a video shared on social media, Freddie Gibbs showcased his new ink.
Soundtracked by his DJ Paul collaboration "PYS," the video shows off the new tattoos that he's gotten on his leg. At the bottom of his leg is Samuel L. Jackson as Jules from Tarantino's pop culture landmark Pulp Fiction, followed by a recreation of a famous Mike Tyson photo in which he held up stacks of cash, and finally, Wesley Snipes as Eric Brooks a.k.a. the titular character from Blade.
Gibbs released his critically acclaimed fifth studio album Soul Sold Separately in 2023, but 2023 has proved to be a year of ups and downs for the Gary, Indiana rapper. Recently he took great joy in clowning DJ Akademiks—with whom he has previously publicly feuded—after the hip-hop commentator (and noted hater of cartoon mouse comparisons) hosted a live edition of his Off The Record podcast to a disappointing turnout.
Some people in attendance reported there were as few as eight people at the live recording, hosted at the Roots' annual Philadelphia festival. "Damn," wrote Gibbs in response to the viral footage. "Vengeance is in the hands of the Lord."
However, in May, Gibbs was forced to take something of a loss when his ex-girlfriend Destini claimed she stopped paying for his phone bill because he ghosted her after finding out she was pregnant. The two agreed for her to get an abortion, but she ultimately didn't go through with it. He "never checked" in with her after her visit to the clinic, and didn't even call her to ask if she went through with it. "I just simply never heard from him again," she said.