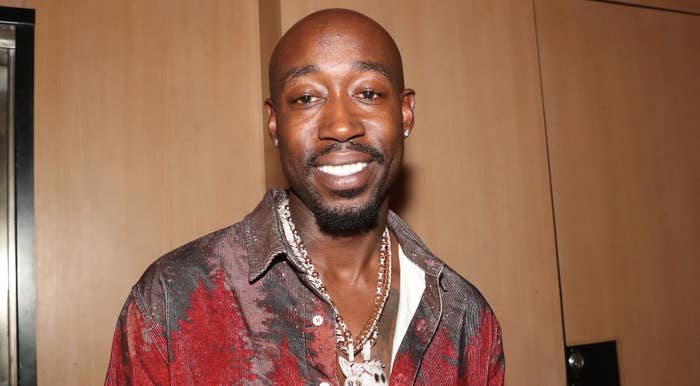 Freddie Gibbs is clowning DJ Akademiks after the social media personality received a small turnout at a live show over the weekend.
Akademiks hosted an episode of his Off The Record podcast at the Roots' annual Philadelphia festival on Saturday night, and as seen in viral footage shared on social media, he was greeted with a small turnout, as some people in attendance reported that only eight people showed up to AK's stage.
Gibbs hopped on Twitter to clown Akademiks about the alleged crowd, with the Indiana rapper commenting, "damn," on one video showing the small smattering of attendees. Freddie later took to Twitter to seemingly throw more shade at Akademiks, writing, "Vengeance is in the hands of The Lord."

Akademiks subsequently addressed the situation during a Twitch livestream, blaming the small crowd on the fact that his podcast was scheduled during performances by Lil Uzi Vert and Lauryn Hill.
"Essentially, I'm competing with Uzi, and if I took the L to Uzi, I'm down to take that. I would have went to watch Uzi's shit!" Akademiks explained. "In reality, the whole thing about eight [people] sounds great. If you ask me, I think it was about — I'm talking about peak — maybe 200 to 250 people were there."
Despite their history of beefing, which dates back to at least 2020, Gibbs admitted in an interview last September that he and Akademiks would "probably be cool" should they ever sit down and hash out their differences.
"I love Akademiks," Gibbs told Hot 97's Funk Flex last year. "We gonna have a sit-down, but you had to get that shit for all that shit you've been kicking. You had to get that."
He added: "I think if we were to have a conversation, we'd probably be cool. I take it, too. I'll take everything he say and I love it. But you gotta take it when I give back."