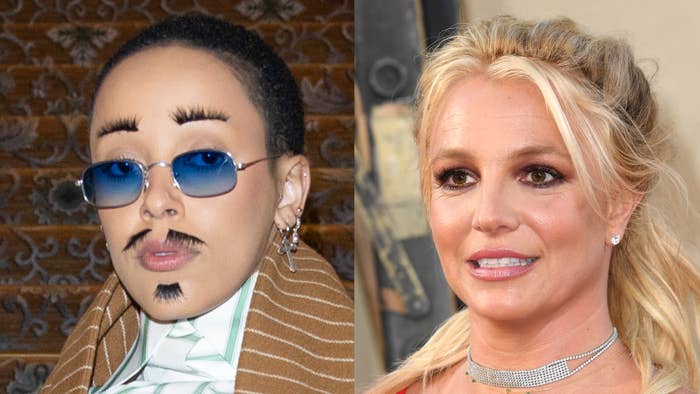 Doja Cat has called out "disrespectful" comments comparing her hair to that of Britney Spears, who famously shaved her head in 2007.
In a cover story for Variety, Doja suggested it's unjust for fans to compare the two, considering what Spears was going through at the time. 
"It's so incredibly disrespectful for people to be minimizing what Britney went through and make a joke out of something that was very serious and a big deal in her life," said Doja, 27. "Every time I see a comment like that, I can't compute what's happening, other than it's just an awful thing."
Doja also spoke at length about her decision to debut her shaved head/eyebrows look last year, which sparked debate online.
"When I shaved my eyebrows off and I shaved my head, I remember thinking, 'Get this shit off of me,' because I needed to change something," she told the magazine. "I wasn't working out and wasn't really taking care of myself in the way that I wanted to. I was like, 'I need to do something,' so I just chopped it all off. And I could see the shape of my head. I could see my whole face. I can see my ears, now that I don't have a wig that's glued to my forehead."
The hitmaker added that she's been "doing wigs for years," and after a while she came to the conclusion that it "doesn't feel good" and can be "stressful" for otherwise manageable tasks in daily life. "It's the best choice I've ever made, and I've never felt more beautiful," she said of her decision to shave off her hair.
In the years since Britney Spears' infamous shaved head moment, things have started to make more sense for fans as she's opened up about what she went through during her restrictive conservatorship. The singer reportedly suffered from a mental breakdown that led to the conservatorship, which was only terminated in 2021.