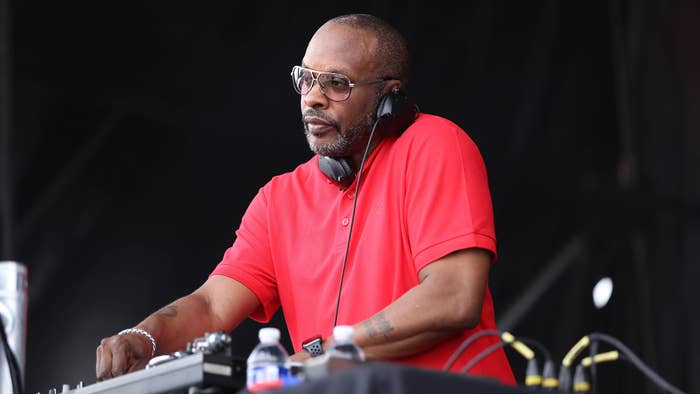 DJ Jazzy Jeff was one of the first celebrities to announce he had contracted COVID-19, and according to the man himself, it almost killed him.
"I was one of the first people to get sick, and I almost didn't make it," Jeff explained. "I got sick the day the world shut down. That was the day it hit me. I actually did a ski resort in Ketchum, Idaho, which was the nation's first hot spot. I came home and realized the world wasn't right," he told AllHipHop.
At this point he cautioned his wife Lynette that they might need to stock up on supplies, and he learned of Tom Hanks and Rita Wilson testing positive for COVID-19 as they shopped. "We kind of looked at each other like, 'OK, the store is going to be crazy tomorrow,'" he said. "The next words that came out of my mouth was, 'Babe, I don't feel good.' And she was like, 'What is it?' I said, 'I'm just a little achy.' She said, 'OK, we have everything we need. Let's go home and you can take a hot shower.'"
He barely remembered the next two weeks, which included an appearance on CNN. "I didn't know I had COVID. I went to the doctor and they said I had double pneumonia. They sent me home to sit perfectly still," he said. "That was so early, we didn't know symptoms and things like that. I didn't know pneumonia was a side effect of COVID. Like, I was really, really bad. It was bad to the point where Lynette started making phone calls."
At some point during the experience, Lynette was contacted by a journalist who asked how Jeff was doing because 15 people who attended a party he DJ'd at had died following complications from COVID-19. "Long story short, because I was in the first wave of people to get sick, I knew how serious this was very, very early," he continued. "I was like, 'I know the world is not going to be in a place like we know it for at least two years.' I knew that in April 2020 just because of how sick I was."
Thankfully he was able to come out the other end okay, and he's since been able to return to touring. Jazzy Jeff personally knows how rough COVID can hit some people, and he used his knowledge for god in 2021 when he teamed up with LL Cool J and Dr. Fauci to speak about how eager he was to get the vaccine when it was first made available.