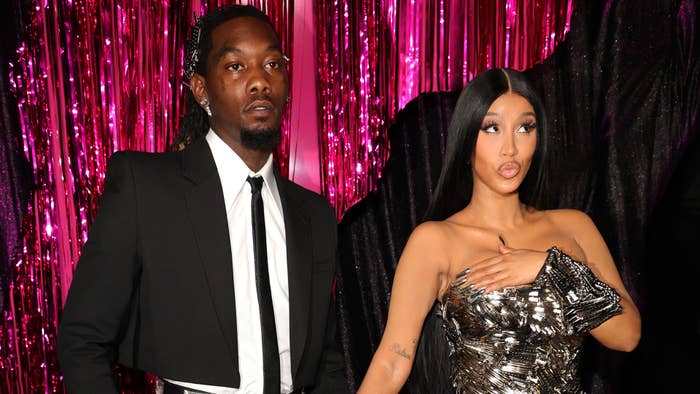 Cardi B has addressed speculation that she and Offset had something to do with Nicki Minaj's husband Kenneth "Zoo" Petty getting hit with a house arrest order following public threats he made against the "Fan" rapper.
Last week, there appeared to be beef brewing between Petty—who is a convicted sex offender—and Offset after there were some allusions to threats made by Petty or his associates during the 2023 VMAs. Long story short, Offset laughed off the situation and Petty was placed on house arrest for 120 days. Shortly after the news broke, court reporter Meghann Cuniff stressed that there was no "outside report/complaint" that led to Petty's probation officer or a judge to act on the public threats.
"[Offset] and [Cardi B] didn't even seem to care," she wrote. "Offset LOL'd about it in a video as he walked off a jet."
The tweet was picked up by celebrity blogger KenBarbie, who suggested that a lot of people were jumping to conclusions. "THANK YOU! Because they're definitely trying to flip the narrative like this man didn't do what he did on Instagram and tag every blog in it," they wrote. "Be made at him and HIS friends."
Cardi B retweeted the post and added, "EXACTLY KEEP ME AND MY MANS OUT YALL FUCKIN MOUTH!!!"
After the VMAs, Cardi B shared a vague tweet that indicated there might have been some tension during the show, which Nicki Minaj hosted. "I ain't even flinch," she wrote.
Petty and some of his associates later picked up on the post. Petty then appeared to warn Offset, without naming him directly, that he needs to consider "planning your funeral." In the video with the thinly veiled threat, a different man says, "Don't make us put you off the set, n***a."
Offset responded by posting a video of him walking off his private jet. "We hopping off jets… [they] standing outside," Offset laughed. Petty attempted to escalate the situation further by sharing alleged DMs between him and Offset, who asked where he was "located" at one point.
"I'm outside gangster," wrote Petty. "Shut the fuck up n***a. You ain't get no get back for dem n***as killing your people. Try me if you want p***y." Offset didn't react to the apparent reference to the murder of Takeoff, but he did criticize Petty for "talking shit about a woman."
Not long after the back-and-forth, Petty was ordered to serve up to 120 days on house arrest.
"Mr. Petty was recorded on video making threatening remarks towards a specific individual while in the company of someone with a criminal record," reads the order signed by Judge Michael W. Fitzgerald. "This recent violation conduct raises concerns over Mr. Petty's willingness to comply with the Court's orders. As such, the Probation Officer believes placement in the Location Monitoring Program will effectively allow for closer monitoring of Mr. Petty's activities, limit his movements, provide a sanction for his non-compliance, and hopefully encourage him to reflect upon and reevaluate his current status in the community."
Last year, Petty was ordered to one year of home confinement and three years of probation after he failed to register as a sex offender in California.