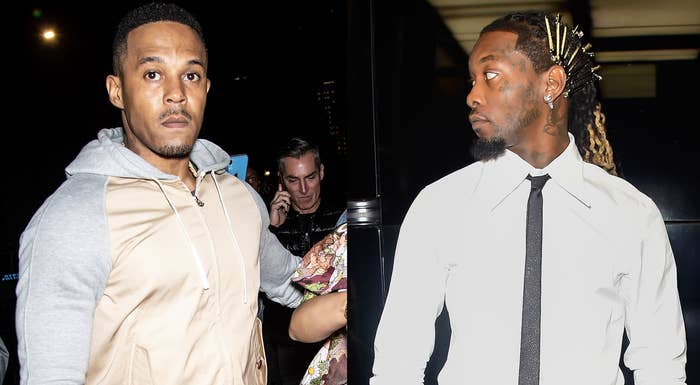 Kenneth Petty has consequences to pay for his remarks toward Offset.
Court reporter extraordinaire Meghann Cuniff pointed out on Wednesday night that a federal judge in Los Angeles has ordered Nicki Minaj's husband—who also goes by Zoo and is a convicted sex offender—to serve up to 120 days on home arrest.
"Mr. Petty was recorded on video making threatening remarks towards a specific individual while in the company of someone with a criminal record. This recent violation conduct raises concerns over Mr. Petty's willingness to comply with the Court's orders," reads the order signed by Judge Michael W. Fitzgerald.
Cuniff clarified, "The individual is Offset, Cardi B's husband."
In July 2022, Petty was ordered to one year of home confinement and three years of probation for failing to register as a sex offender.
It's not 100 percent clear what got Petty to talk about Offset on social media, though one of his associates tagged Cardi B in a menacing Instagram Stories post over the weekend, writing, "@iamcardib we ain't ya average Queens n****as Big Dawg shit."
In a video, Petty said he was looking for Offset and warned that he'd be "planning your funeral" soon.
A string of DMs between Petty and Offset surfaced as well. "Where you located," Offset asked. "You n***as old ash in female business with no money for war. Don't post me either since you a gangsta right."
"I'm outside gangster," Petty wrote in one reply. "Shut the fuck up n***a. You ain't get no get back for dem n***as killing your people try me if you want p***y."
Offset continued to call Petty old and broke, which led to another out of pocket response regarding Takeoff's death. "Use that money to get dem n***az that killed ya partner my g datz gangster. … If n***a would've killed my n***a I would've killed everything moving datz facts everybody getting parked," wrote the father of Nicki Minaj's about-to-turn-3-year-old son.
The Migos MC posted a video amid the back-and-forth, laughing as he exited a private jet. "These n***as broke. We hopping off jets, bitch, y'all n***as standing outside," Offset said between hysterical cackles.