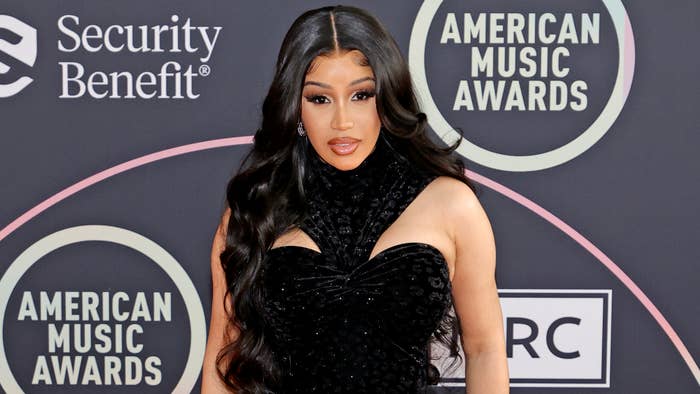 Cardi B has agreed to plead guilty to third-degree assault and reckless endangerment in connection with her role in a 2018 strip club assault.
As TMZ reported, Cardi will avoid jail time thanks to her plea deal to the two misdemeanors, and instead has been sentenced to 15 days of community service. The "Hot Shit" rapper showed up in court on Thursday to enter the plea, just a day before jury selection was set to begin. If she didn't accept the plea deal, the trial was scheduled to begin on Monday, Sept. 19. The other charges in the 12-count indictment against her have been dropped on account of the deal.
Cardi was accused of asking members of her crew to attack two strip club bartenders, identified as Jade and Baddie Gi. The incident went down in August 2018, and allegedly stemmed from a claim that Jade had slept with Offset.
The conditions of the deal mean that she has also agreed to stay away from the two women for the next three years. Cardi turned herself in to New York police a few months after the assault, and was charged in connection with the alleged attack. She previously rejected a plea deal back in 2019. 
"Part of growing up and maturing is being accountable for your actions. As a mother, it's a practice that I am trying to instill in my children, but the example starts with me. I've made some bad decisions in my past that I am not afraid to face and own up to," said Cardi in a statement provided to TMZ. "These moments don't define me and they are not reflective of who I am now. I'm looking forward to moving past this situation with my family and friends and getting back to the things I love the most—music and my fans." 
Cardi has been in and out of court a bunch of times already this year, although her previous legal issues veered towards her favor. She was awarded millions against vlogger Tasha K back in January after she spread false information about her online, and not long after the Bronx rapper and her sister Hennessy beat a defamation case filed against them by three Suffolk County beachgoers who got into a confrontation with them.