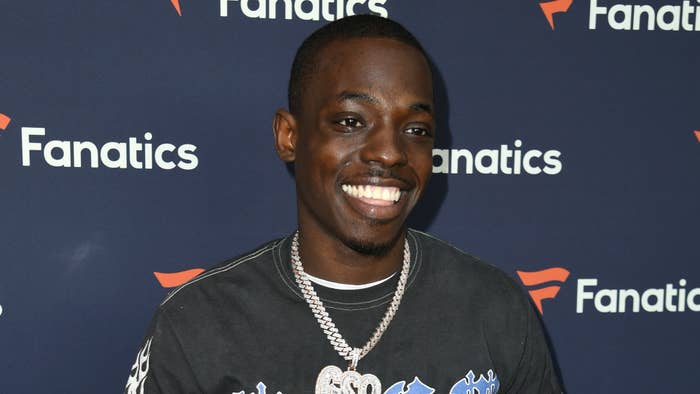 Despite his reputation as a Brooklyn drill pioneer, Bobby Shmurda says he's not interested in making drill music anytime soon.
The Bodboy rapper recently shared a clip of YouTuber BashWorld reacting to the video for "Hoochie Daddy," in which he suggested the rapper was onto a whole new "vibe" that sets him apart from the rest of the mainstream. However, he couldn't quite pin down what genre he could describe the song as. In the caption alongside the clip, Bobby made it clear that was a deliberate choice on his part.
"Don't ever try to put me in a category or in a box you gonna hurt your head," he said. "I do what y'all haters can't #Nahimsaying 😂😂😂 I don't do drill I won't ever be A minion 😂 🦁 Rrrrr 🤣😂😂🤫 and they can't clone me really one of a kind 🙏🏿." His big 2014 single "Hot N***a" is often considered a breakthrough moment for the Brooklyn drill movement, and his frequent collaborator and friend Rowdy Rebel is still associated with the scene.
Bobby recently shared his first post-prison release BodBoy, which featured his bass-heavy track "Hoochie Daddy." The record was also his first release since getting out of his record contract with Epic Records, with whom he signed before he was arrested in late 2014 and sentenced to seven years in prison on one count of third-degree conspiracy, and one count of weapons possession in 2016. He was finally released in February 2021 to much excitement from fans and other rappers alike.
He's been very vocal following his release, and in a recent interview declared Joyner Lucas "the Master P of our generation."