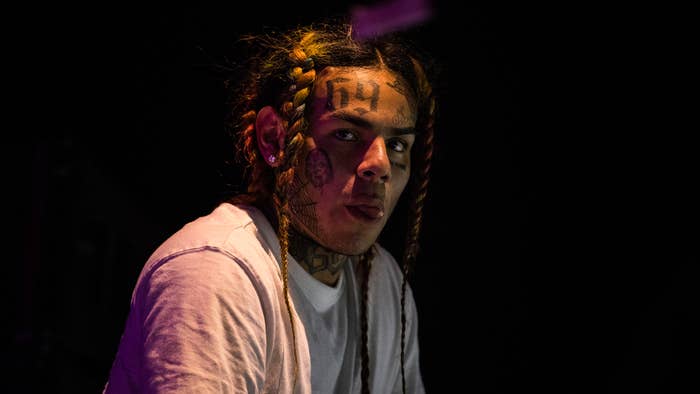 Tekashi 6ix9ine was release early from prison this month amid coronavirus concerns, and he's already making the most of it.
Following his early release, TMZ reports that the controversial rapper has been on a huge spending spree. 6ix9ine has allegedly spent a considerable amount of his money on new cars and jewelry. He's supposedly already bought himself an Aventador, McLaren, Rolls-Royce, Mercedes-Benz G-Wagon, and a Range Rover. On the jewelry side of things, he reportedly bought a Richard Millie watch, and a chain shaped like a shark that cost somewhere around $300,000.
Late last year, 6ix9ine signed a record deal with 10K Projects for a reported $10 million. As part of the deal, he is expected to deliver two albums for the record label. The details regarding the deal aren't completely clear, but a source explained one of the projects would be in Spanish while the other will be in English. 
While he might be out of prison, he's still under house arrest until sometime later this year. The rapper was released after a judge accepted his plea to get out to avoid contracting COVID-19, which he would be more vulnerable to due to his asthma. As of right now he has been working on new music, but there's no expected timeframe for when he might release anything new.
Sources close to the rapper said he has been spending his time in quarantine with family and friends. He has received offers for shows late 2020 and 2021, however, even though he's not due to be free until August. Venues in Saudi Arabia, Australia, South America, and Europe have reportedly offered to book him for upwards of $500,000 for shows.