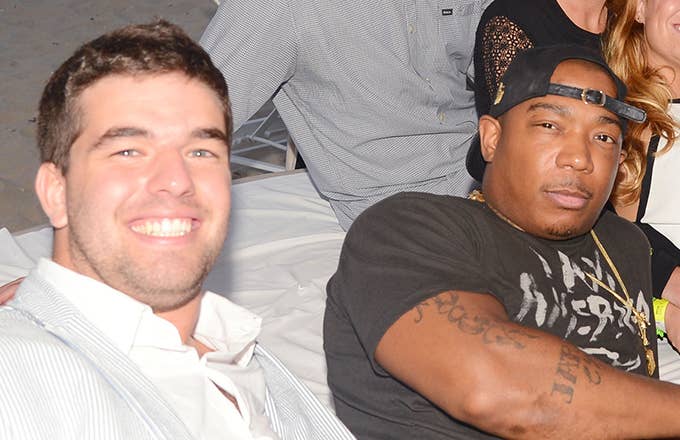 The 2017 Fyre Festival fiasco is one of the most notorious music disasters of the decade. The festival was such a disaster that it's now the subject of two documentaries. The one available on Netflix, however, gives a better insight into the failure's planning.
Directed by Chris Smith, FYRE: The Great Party That Never Happened offers a closer look at what went on behind the scenes, and how Fyre masterminds Billy McFarland and Ja Rule managed to get away with as much as they did. Featuring interviews with the staff, the new Netflix festival is fascinating.
Here are the craziest takeaways from FYRE: The Greatest Party That Never Happened. 
The Original Island Was Too Small to House the Number of People Expected to Attend
Keith van der Linde was originally brought on to help the team behind the festival plan some of the aspects they might not have considered. One of his biggest concerns was the toilets. "We gotta go to Home Depot and buy a thousand toilets," he said one point in the documentary. Worse yet, the original island, Norman's Cay, simply wasn't big enough for the amount of people expected to attend.
"I didn't think it was possible to fit over 1,000 people on that island," van der Linde explained. "So I had made a plan to get a cruise ship." The chief creative team, however, insisted that everyone who bought tickets had to stay on the island. "They really wanted to do tents, so what I did is I took my wife and we tried to sleep in a tent for one night and...it was so terrible. [...] This tent is just not going to be safe and it's so loud, and so many mosquitos. To do these tents without air conditioning is pretty brutal. It's just not possible."
He continued to insist against the tents, resulting in him eventually getting fired from the project. Also of note, he was a licensed pilot who learned how to fly through Microsoft Flight Simulator.
The Festival Site Was Changed Last Minute
Initially, the site of the festival was to be Norman's Cay, which is most famous for Pablo Escobar previously owning it. The current owner of the island wanted to move past the infamous drug lord's image and instructed Fyre's team to not mention his name. But the very first advertisements for the festival proudly flaunted Escobar's ownership as a selling point, and with just a couple of months before the festival was set to kick off, they were left without a location.
Eventually, the Fyre team settled on Great Exuma, which isn't even a private island like the commercials for the festival promised. To make matters worse, the map of the festival's site Photoshopped out the rest of the island, giving the illusion that it was indeed private. With only 45 days to build what was required for the festival at the new site, a large number of locals were hired to help the construction and weren't even paid for their efforts.
As a result of all this chaos, the caterer that was hired, Maryann Rolle, was never paid. She purportedly had to use $50,000 of her own savings to cover the costs of catering, since Billy never paid her the money he promised. Roughly $250,000 in owed wages were never paid to Exuma's locals who worked on the site.
Billy Asked His Event Producer to Go Through Extremes to Get Water for the Festival
The Fyre team ordered four huge trucks full of Evian water for the festival, but they got stuck in Customs. Faced with a bill of $175,000 to get the containers of Evian in time for the festival, Billy McFarland told his event producer Andy King to negotiate through NSFW means. "Billy called and said, 'Andy, we need you to take one big thing for the team,'" King explained.
"And I said, 'My gosh, I've been taking something for the team every day,'" he continued. "He said, 'Well, you're our wonderful gay leader, and we need you to go down. Will you suck dick to fix this water problem?' And I said, 'Billy, what?' And he said, 'Andy, if you will go down and suck Cunningham's dick, who's the head of Customs, and get him to clear all of the containers with water, you will save this festival.'"
King said that he was willing to do it, too. "I got to his office, fully prepared to suck his dick," he explained. "But he couldn't have been nicer. He's like, 'Andy, listen, I will release all the water, I will let you serve it, but I want to be one of the first people to be paid this import fee for what you're doing.'"
The Reality of the Situation Didn't Hit Billy Until the Guests Arrived
Everyone in the documentary spoke about just how positive Billy was during all the chaos, but eventually the reality of the situation came crashing down on him. People close to the situation at the time asserted that they finally saw him crack when all the guests had arrived to the mess. Staff started making up rumors that Billy had landed himself in jail or that he was on a yacht somewhere, because nobody knew what happened to him.
The last time some of the staff saw him, he had tears in his eyes as he paced back and forth on the phone. Some of the Fyre team even alleged he would drive in and out of site on his ATV without a word. After all the guests had left and locals who worked on the festival started demanding money, he was nowhere to be seen but allegedly told those left on the island that he would sort it all out.
Of course, things didn't end up well for Billy.  FBI investigated him for allegedly "fraudulently induced over 100 investors to invest more than $27.4 million" in the Fyre disaster. One of Fyre's employees said that at one point Billy lied to an investor by telling them that he booked Drake for $100,000. He's currently serving six years in prison for fraud.
Ja Rule Seemingly Didn't Understand How Much of a Failure Fyre Was
The near-end of the documentary features footage from a team-wide call where the members reflected on the catastrophe. Ja Rule, perhaps more than anyone else in the meeting, asserted that it was just bad publicity and that Fyre as a brand still had life left in it. Not many people agreed with him, but that didn't stop him from making his case.
"Right now, yes, we are the fucking laughing stock of everything," Ja Rule explained. "We are 'Scam Fyre.' But that might not be the case after we fucking put our plan in play and start to spin it. [...] We can't dwell on how we fucked up. We can't dwell on what made it go wrong. We gotta dwell on how we can make it better in the future." 
"Come on guys! There's a lot of smart people on this fucking phone call, man," he continued. "Let's think of how to dig ourselves out of this shit, man. We didn't kill anybody, nobody got hurt. We made a mistake, we'll get past it." An employee chimed in to call what they did fraud. Ja Rule disagreed.
"That's not fraud. That is, uh... I would call that... false advertising."