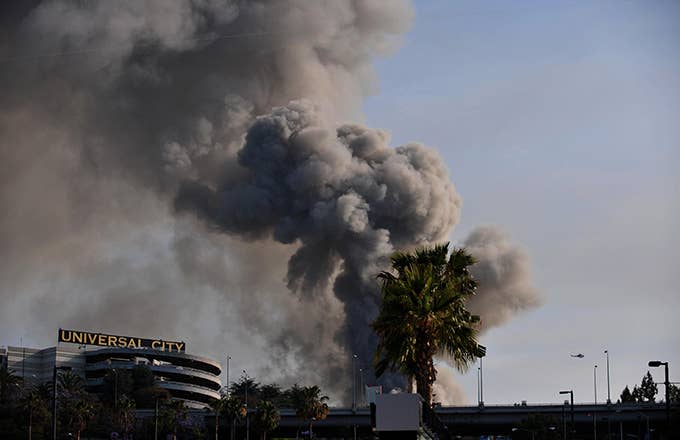 Last week, the full extent of the damages sustained during the infamous 2008 Universal fire were detailed by the New York Times. As many as 500,000 master recordings were destroyed in the back lot fire of Universal Studios Hollywood. UMG have been accused of not being honest in how much damage it caused at the time. In response to the detailed report on what was destroyed, Variety reports that the states of estates of 2Pac and Tom Petty have filed a lawsuit against the label.
Attorneys representing both of the estates as well as Steve Earle, Soundgarden, and Hole are seeking "50% of any settlement proceeds and insurance payments received by UMG for the loss of the master recordings, and 50% of any remaining loss of value not compensated by such settlement proceeds and insurance payments." They claim that UMG did not provide sufficient protection for the highly valuable masters.
The article detailing the situation highlighted how UMG launched a successful "crisis management" campaign following the fire, effectively hiding the reality. "UMG did not speak up immediately or even ever inform its recording artists that the Master Recordings embodying their musical works were destroyed," the lawsuit reads. "In fact, UMG concealed the loss with false public statements such as that 'we only lost a small number of tapes and other material by obscure artists from the 1940s and 50s.' To this day, UMG has failed to inform Plaintiffs that their Master Recordings were destroyed in the Fire."
Universal Music Group CEO Lucian Grainge responded to the article in a letter, in which he told his company to own their mistakes that led to the fire. "We owe our artists transparency," he wrote. "We owe them answers."
Other artists impacted by the devastating fire include Eminem, Nirvana, Snoop Dogg, the Roots, Beck, Sonic Youth, Elton John, Janet Jackson, Nine Inch Nails, Iggy Pop, and many more. Nirvana bassist Krist Novoselic said earlier this month that he firmly believes the Nevermind-era recordings are "gone forever."