Yung Miami and Gina Huynh Trade Shots Online After Model Posts Photo of Diddy Kissing Her
On Tuesday, Huynh shared an image on her Instagram Stories of Diddy giving her a kiss and it looks like Yung Miami took to social media to call her out.
Getty
Photo by Matt Winkelmeyer/Getty Images for Coachella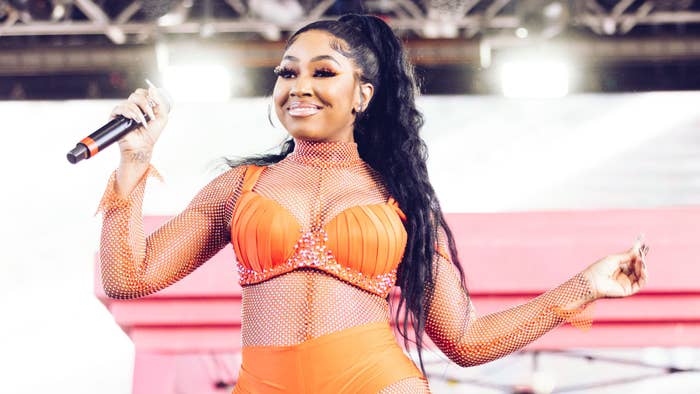 Yung Miami and Gina Huynh are seemingly going at it online, but nobody's naming names. 
On Tuesday, Huynh shared an image on her Instagram Stories of Diddy giving her a kiss, and Miami—who has previously been tied to Diddy but has denied rumors of a romantic relationship—was quick to apparently call her out. 
"Somebody please give this bitch some attention," Miami wrote on Twitter shortly after. 
While the City Girls rapper could've been referring to just about anything, she did go into some more detail in later tweets after Huynh wrote on IG "if anybody is seeking attention… BITCH ITS YOU," and to "suck my dick." Huynh then returned to her IG Stories, writing, "why you so press mama… I though you was a City Girl. 
"Notice me please ass bitch go sit down," Miami wrote. "WE SEE YOU RELAX IT'S ok! You been (AROUND) just (AROUND) for years! You been waiting on this moment if he can't make you famous bitch I ain't!"
Miami continued, writing, "Attention? Bitch I am the attention let's be clear!" She went on to say that she wasn't "arguing with no bitch that got cheap ass lint ball carpet in they house fucking on a billionaire! You freaky ass bitch!"
Apparently in response to the "City Girl" comment, Miami wrote "I am and that's why I fuck with yo n---a & ain't coming off him idc how many pics you post!"
For his part, Diddy—who hosted the Billboard Music Awards over the weekend—has stayed silent. The multi-hyphenate and Miami were spotted near each other at an after party, but again, Miami—as recently as last month—has told fans that she's single, per HipHopDX. 
In a preview of an upcoming 360 With Speedy Morman interview with Complex's Speedy Morman, Yung Miami addressed the back-and-forth, which you can watch below. The full interview with City Girls will be available Thursday (May 19).