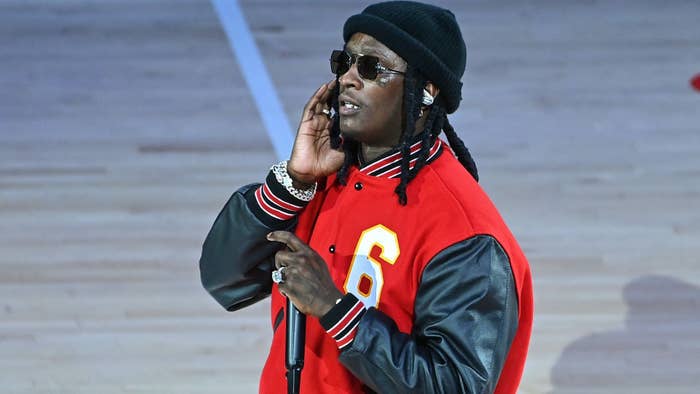 Young Thug is offering his help to those impacted by the violent conflict in Ukraine.
In a new Instagram Stories post, Thugger volunteered his assistance to get people from the African continent out of Ukraine safely. Thousands of African students are stranded in the country, and reports have emerged of Africans being kept off buses and trains emerge amid Russian president Vladimir Putin's recent decision to invade for a "special military operation." 
"If some of my rap brothers are in I'm willing to help Africans get out of Ukraine however I can sense [sic] they not letting us pass," Thug wrote. "Who ever holds the info for these movements please contact me ASAP I'm ready."
YSL collaborator Strick propped up Thugger's message on his own IG Stories, calling his friend a "true leader," while YSL's own Gunna used the opportunity to share that he's "Pushing 🅿️eace."
"This needs to be Shared more! I'm with you slime!" Strick wrote. "Proud of you brother. Always been a true leader! PURE. King Spida to the rescue!"
Alexander Somto Orah is one of the students from Africa fearing for his safety. Orah told Al Jazeera he and his fellow students "have received no support from any government authorities." There have also been reports of Ukrainian security officials preventing Africans from riding buses and trains to the border, per the BBC. Nigeria's President Muhammadu Buhari wrote on Twitter that one group was refused entry to Poland and that "all who flee a conflict situation have the same right to safe passage under the UN Convention."
"We understand the pain & fear that is confronting all people who find themselves in this terrifying place. We also appreciate that those in official positions in security & border mgt will in most cases be experiencing impossible expectations in a situation they never expected," the Nigerian presidency account shared in a string of tweets. "But, for that reason, it is paramount that everyone is treated with dignity and without favor."
Other MCs have shared thoughts and prayers for those in Ukraine and beyond, including Nicki Minaj, who extended some love on Twitter last week.  
"Saw footage of bombs dropping & in the background u could hear children screaming. When I tell u it broke my heart into pieces," she wrote. "To every mother fleeing w|your children, saying goodbye 2 your husband…I can't imagine how afraid & alone you must feel. God, pls help them 🙏🏾🇺🇦."