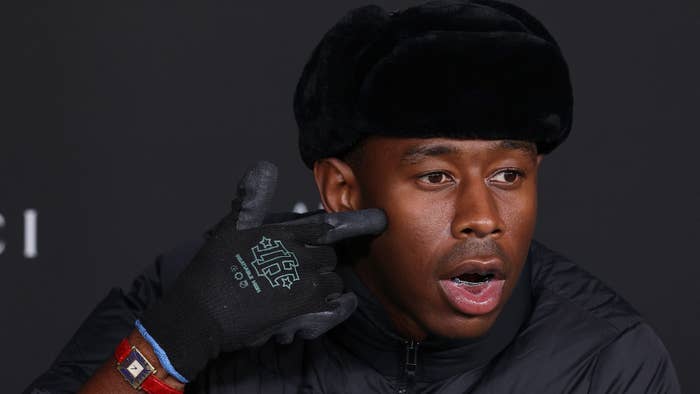 The Grammys didn't televise the Best Rap Album category Sunday night, and Tyler, the Creator was on tour, but the Call Me If You Get Lost MC still had time to salute those who believed in him after his second Recording Academy victory. 
After beating out albums by Kanye West, Nas, and J. Cole, Tyler took to Instagram Live to thank those who stood in his corner during the creation of the album, as well as people who have tried to question his success. 
"First off, I'm hyped," Tyler said while walking around in a field with a bike. "Thank you to DJ Drama, you are fucking so important to rap music. Thank you to all of my friends for being my cheerleaders. Thank you to my whole team, the whole squad…where I can make an album where I just flex all goddamn day."
He continued with one particular thank you—although the name was cut out during the livestream—to someone, or a few people, who haven't thought so highly of him or his album. 
"I know you're seething and angry and 'ugh, no one listens to that album,'" Tyler said. "These arena tours that are selling out says different. And if you put that much energy into something, maybe everyone will be proud of you, too."
One of Tyler's most vocal critics back in 2019 was DJ Khaled, who essentially pulled the "no one listens to that album" card after his LP Father of Asahd debuted behind Tyler's Igor on the Billboard 200. The charting news led to Khaled's now infamous Instagram rant, where he talked about making "albums so people can play it, and you actually hear it."
"You know, driving your car, you hear another car playing it. You know, go to the barbershop, you hear them playing it. You know, turn the radio on and you hear them playing it," Khaled said at the time. "It's playing everywhere. It's called great music. It's called albums that you actually hear the songs. Not no mysterious shit that you never hear it."
The Recording Academy certainly heard Call Me If You Get Lost, as did the fans who continue to fill arenas across the country.
DJ Drama also reacted to the victory on Sunday night, during a conversation with Wayno, Gia Peppers, and Rob Markman at Rotation's livestream of the 2022 Dreamville Festival. 
"Salute to Tyler, the Creator, he's a genius, man," Drama said. "To get that phone call, to be a part of history, part of that album. For him to speak so highly of me and what Gangsta Grillz meant to him, it's a full-circle moment. … Before you just told me that I was sitting here talking about being on stage with Young Jeezy, how these records that I was a part of and brought to the people 20 years ago resonate and impact in front of 25,000 still to this day. It's very humbling for me. When you're making history, you don't even realize you're doing it."