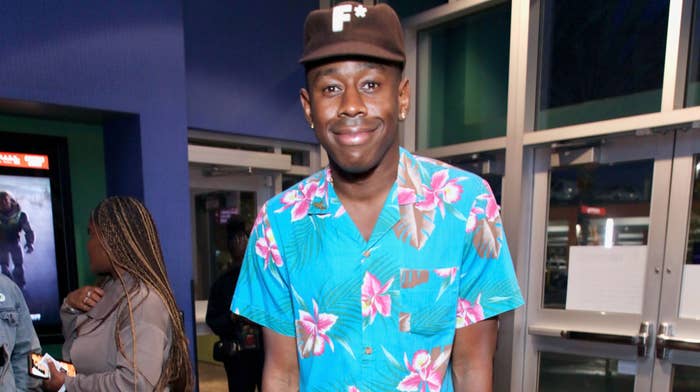 Tyler, the Creator knows how to feel like "Glitter," but now he knows the feeling of Gold and Platinum even more. 
The multi-hyphenate superstar earned himself 13 new RIAA certifications on Friday, per the RIAA, marking multiple career-spanning singles appearing on plaques for the very first time. 
Possibly the largest achievement among his new awards is for Flower Boy single "See You Again," which has gone 3X Platinum, earning the equivalent of 3 million in sales since its 2017 release. Other Flower Boy cuts, "Boredom" and "911/Mr. Lonely," have hit Platinum status for the first time, while "Glitter," "Where This Flower Blooms," and "Foreword," have all gone gold off the album, hitting 500,000 in sales respectively.
As for his other tracks, Tyler is taking home gold plaques for songs "Potato Salad" and "Okra," as well as "Fucking Young/Perfect," "Wolf," "IFHY," "Domo23," and "Smuckers." 
It's been a big week for Tyler, who caught up with his dear friendNardwuar for their fifth interview in a decade on Monday. The pair met up—alongside Jasper, of course—at Beat Street Records in Vancouver, British Columbia, as Tyler gushed about samples, '00s R&B, N.E.R.D. magazine covers, 'Gangsta Grillz,' and plenty more. 
"Music used to be super regional," Tyler said during the chat when discussing DJ Drama. "So back in 2005 or 2006, when you came across it, it was because of the internet and just random people playing a random song, and you looking it up and finding a whole world of these things. During that time, it was so much Wayne and TIP and I had friends who loved Young Dro. Mixtapes at that time were so important… It's so many important pieces of music that were put out because of their weird label politics. Man, DJ Drama was the head of one of the most important mixtape series of all time that really helped shape how a lot of people make music, including me."