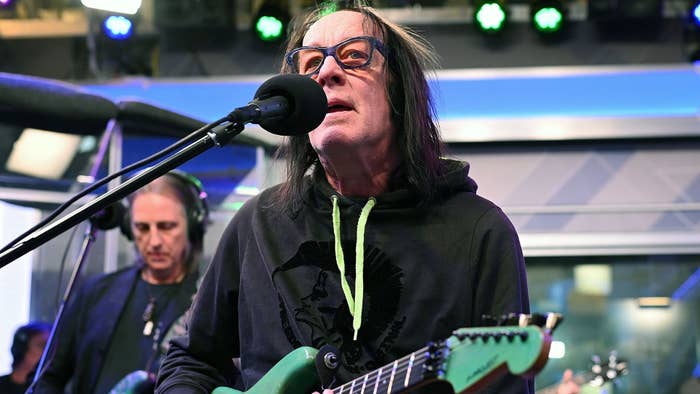 Another artist whose contributions didn't make the cut on Kanye West's 10th studio album Donda is opening up about his concerns.
After Chris Brown and Soulja Boy both were unhappy about cut verses, 73-year-old rocker Todd Rundgren—who claims he has "three albums worth of Kanye stems on my computer"—isn't too thrilled with the resulting project or the process that went into it. 
Speaking with Ultimate Classic Rock ahead of his Rock & Roll Hall Of Fame induction next month, Rundgren—known for decades of solo work, his time in the group Utopia, and production credits on records from Grand Funk Railroad, Meat Loaf, and more—explained why he's "one of the few artists not on Kanye's album." 
"Because I kept getting called by Kanye to add vocals onto the record," he said. "When it got into the homestretch in July, I just said, 'That's enough for me. I have no idea whether any of this is being used.' You don't get much feedback from him regarding what it is."
Rundgren also said that after being involved with the project for a year, he realized "why they hurriedly wrapped the whole thing up and put out what is obviously really raw, unprocessed stuff," referencing Drake's decision to release Certified Lover Boy. Drizzy's album currently has taken over the Billboard Hot 100, with nine of its tracks filling in the top 10 on the chart, after the album itself landed 613,000 album equivalent units in its first week. 
"It's because Drake was running the whole process," Rundgren said. "[Kanye] was too afraid that Drake would one-up him, so he hurried up and released the album the weekend before Drake could get his out. And in the end, Drake ate his lunch anyway."
The singer of "Hello It's Me" and "I Saw the Light" also shared that he was invited by producer 88-Keys to collaborate, but that he didn't want to "be like driftwood in the process." While Rundgren didn't drop all the stems he made for Donda like Soulja and Brown did, he still went on to call 'Ye a "shoe designer" and a "dilettante," not far off from Brown's claims that Kanye was a "whole hoe."
"Nobody would regularly make records like that unless they had stupid money to throw around," Rundgren said. "Nobody rents a stadium to make a record in. Nobody flies in the entire world of hip-hop just to croak one syllable, just so you can say that everybody was on it."