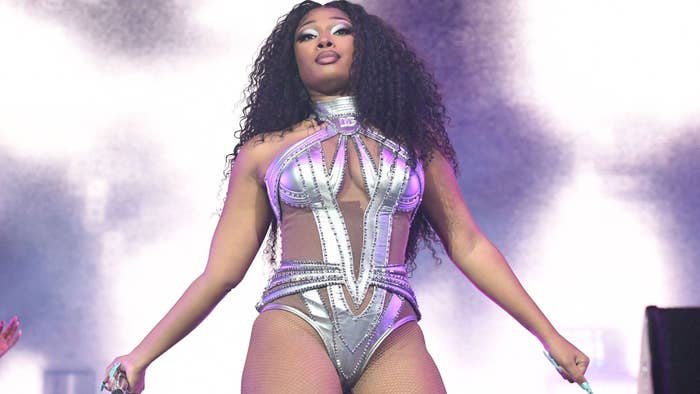 Megan Thee Stallion's "Plan B" caught the internet's attention after she previewed the track during Coachella last weekend, and now she's explaining how the new single was born. 
"Plan B," released Friday, caught fans' attention with its personal lyrics like "dick don't run me, I run dick," "I'm the only reason that you got bitches," and "you's a bitch," as well as a classic sample of Jodeci and Wu-Tang's "Freak'n You Remix." And while some began to speculate who it could be about, with fans even pointing fingers at Tory Lanez, Meg has now confirmed that the track is about "past" relationships–and seemingly not one person in particular. 
"I was just venting Abt experiences I've had in relationships I've been in the past," Meg wrote during an impromptu Twitter question-and-answer session with fans. 
Also during the Q&A, Meg broke down some more information about the rapid-fire single, which she now promises to be on her upcoming LP. She confirmed that the track would have its own music video at some point, and that she didn't think it would get the reaction it has been getting so far after her Coachella premiere. 
"It's aggressive it's nostalgic it's raw," Megan wrote when describing the sonics of the track. "i can't say it's based in one sound but it's definitely HARD."
She's previously described the song as "very motherfucking personal," and it's easy to tell why. Check out the new single here. 
"Ladies, love yourself cause' this shit could get ugly," she raps on the scorching track. "That's why it's fuck n****s, get money. And I don't give a fuck if that n***a leave tonight, because n***a that dick don't run me."