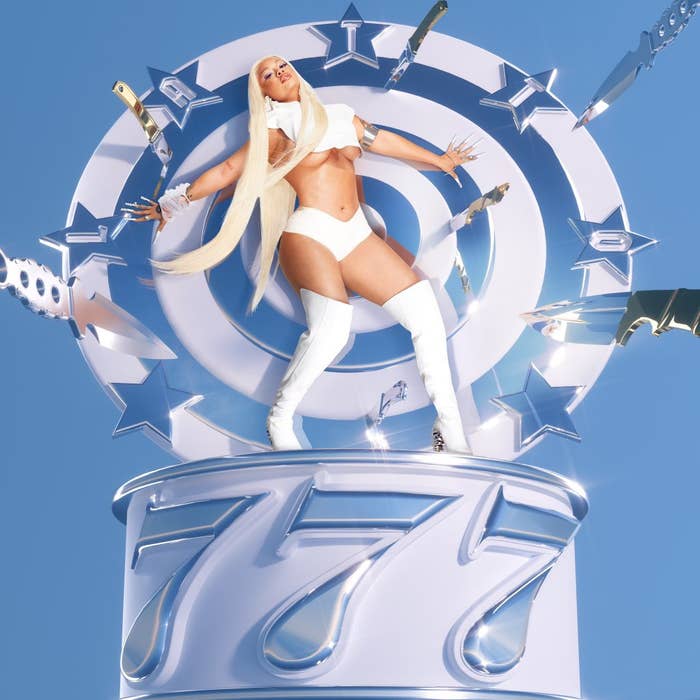 As her single "Big Energy" is climbing the Billboard Hot 100, Latto must be feeling pretty lucky with her new album now out in the world. 
On Friday, the MC dropped 777, featuring guest appearances from Lil Wayne, Childish Gambino, 21 Savage, Lil Durk, Nardo Wick, and Kodak Black.
Latto previously launched singles in both the Mariah Carey-sampling "Big Energy" and the 21 Savage-featuring "Wheelie," with the 13-song project coming nearly two years after her debut album Queen of da Souf, which dropped in August of 2020. 
Latto was in full promo mode the week of her album release, which included pulling up to Hot 97 for a Funk Flex freestyle over UGK's "Int'l Players Anthem."
In a recent sit-down with Big Boy's Neighborhood, Latto opened up about the process behind her latest LP—specifically the trouble that she went through to secure one feature on the project. 
"I'm clearing my album right now and it's been, like, difficult to deal with these men, you know what I'm saying? They don't know how to keep it business," she said. "I'm just keeping 100. It's a feature on my album that it was difficult to clear, and they like trying to drop their nuts on me because I won't respond to a DM."
Latto continued, sharing that she "didn't really have a choice" when it came to including the verse on the album. Kodak has denied that he was the artist in question.  
Following her interview with Big Boy, Latto stopped by The Breakfast Club to speak further on it. "I just was looking at it as, like, I'm a new female rapper in the game. I wish somebody could have gave me some insight about how this stuff really goes. You hear, like, 'Oh, female rappers have it harder.' But I really wanted to give a little insight as to what specifically makes it harder for a female rapper."
Latto also elaborated on the issue in an interview with Complex. "A lot of times we're bullied behind closed doors by these corporations or male artists or male producers or billion-dollar businesses and labels going against you," she explained. "They can call the shots on your creativity, which I think is very lame and unfair. But I think my little voice can make an impact and maybe encourage other people to speak on what they go through, too, because I'm not the only female that experiences these things, but we're told to silence it."
You can stream Latto's 777 below. The rapper is currently on tour in support of the album; click here for tickets and more info.