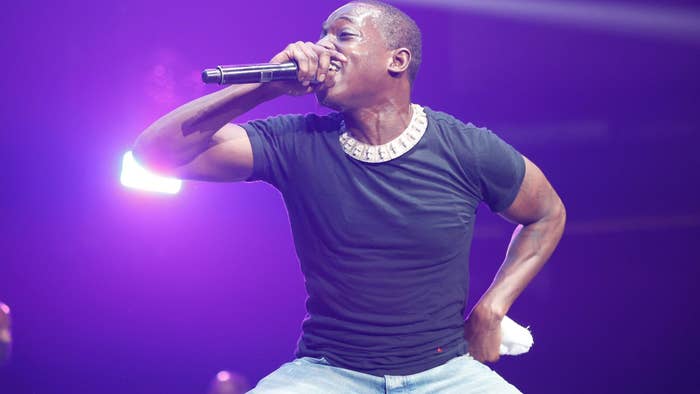 Bobby Shmurda doesn't want to hold onto his new music for any longer.
Shmurda announced his first independent release, They Don't Know, on Instagram Tuesday alongside an April 29 release date. And while one fan in the comments thought the date was approaching too soon, and that Bobby should instead "push it back and market it harder," Bobby has his reasons for not doing so. 
"@_frank_mathews_ and all my fans," Bobby wrote in response to the comment. "😢😂😂😂 nah F*** that I got major Lables jumping me Blackballing me and shittttt and I'm from the hood young and rich black as shittt and don't give a 😂 about both and they Scare of me and I love that ishhh. I'm only 27 one year fresh Outta six years they got 400 employees😢😂😂😂 tell them boys stop playing me Homieee and I do no marketing that all my shit natural ahhhhh #FThemPeople I'm gone✌🏿"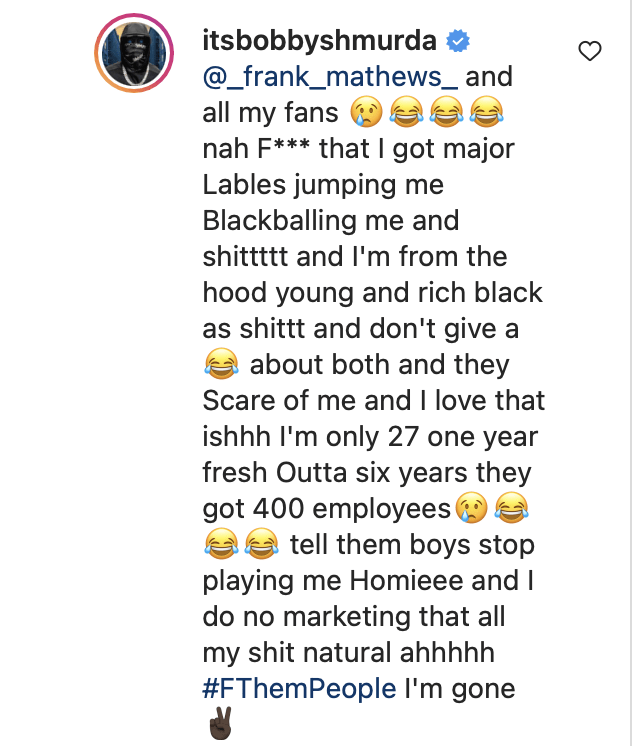 The newly independent Bobby wrote on Instagram that he's been "been dying for y'all to get this work," just a few weeks after previously announcing that he signed his release papers to be taken off the Epic Records roster. It remains unclear which label Shmurda is now claiming is "blackballing" him, but as he said, it hasn't stopped him from promoting his own music however he sees fit. 
Bobby dropped his last single, "Shmoney" featuring Quavo and Rowdy Rebel, back in December. It marked his fourth drop after a six-year prison stay, following "No Time For Sleep (Freestyle)," "Cartier Lens," and "Splash."
"This is not a cry for help this is a message and understanding for my fans that they stopping my music and prolonging my career I been holding shit down doing everything on my own since I been home it's been ah year now I still feel like I'm in prison 😣🦾🦍🔥💯💯💯 and by the way the album's done ready to live pleaseeeeeeeee I need them to let me gooooooooo!!! #FreeShmurda," Bobby previously wrote in February of his then-label deal.