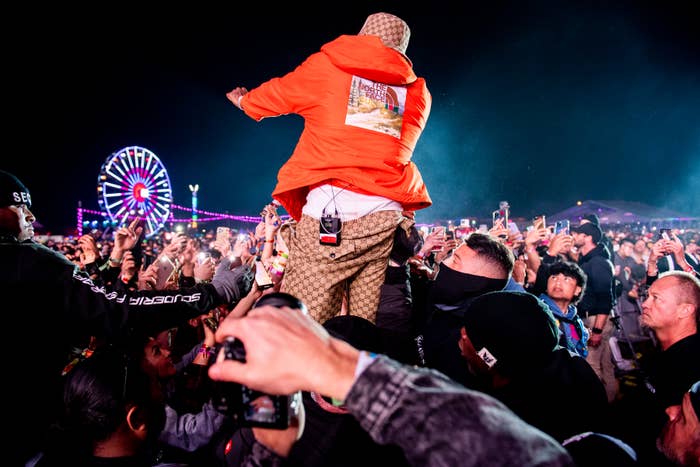 In theory, we'd be able to just press play on our favorite music and enjoy the experience without any guilt or conflict. But that's becoming more difficult than ever, and it doesn't seem like it's going to change any time soon. 
There were many great things that happened in the rap world in 2021. High-profile projects from artists like Tyler, the Creator, Drake, J. Cole, and Kanye West asserted the genre's commercial dominance. The internet gave independent acts more resources than they've ever had to sustain direct-to-consumer operations. Artists took advantage of the NFT craze to crowdsource projects and make quick windfalls from digital media. Rappers found exciting new ways to market their music and stir anticipation for releases, from creative billboards to social media savvy. Westside Gunn and The Alchemist were just a few go-to figures who helped a slew of previously unheralded lyricists gain more notoriety. Women in rap are thriving more than ever. Verzuz has been an exciting celebration of rap icons. There's been room for genre-bending, boundary-pushing music of all kinds to thrive. And live music returned after venues were shut down for most of 2020. 
At the same time, many of us are feeling conflicted about going to concerts and festivals because of the spread of COVID. And even with all the game's positive trends, it feels like too many new music Fridays were surrounded by a week of bad news.
The community experienced widespread loss, from the violent deaths of rappers like Young Dolph and Drakeo The Ruler to the fatal health crises of rap veterans like DMX and Black Rob. The justice system ensnared acts like Casanova, 9lokknine, and YFN Lucci, and the genre is continuing to be scapegoated to stir "crime wave" propaganda by cities using lyrics and videos as evidence. These developments have many fans reckoning with how they engage lyrics depicting violence. Acts like DaBaby and Kanye West dominated headlines by offending entire demographics of fans, which has some listeners mining the balance of enjoying music from artists accused of violent statements and actions. 
The calendar reset isn't bringing a cultural reset. The external factors behind these letdowns are still too entrenched in society, setting a tenuous tone for the rap game as we head further into the 2020s. Enjoying certain music entails climbing obstacles to do so. Now, more than ever, we want our music rotation to be a refuge from real life. But too much of it has become a cruel reminder of what kind of world we're in. 
None of the aforementioned ills are new to the rap game. Unfortunately, the genre has had violent headlines before, from shootings and fights at award shows to abusive artists. But the volume of rappers, the acceleration of the news cycle, and the echo chamber of social media are inundating us with disheartening news more than ever before. Seemingly every day brings a new challenge that has us re-considering how we engage the genre we love.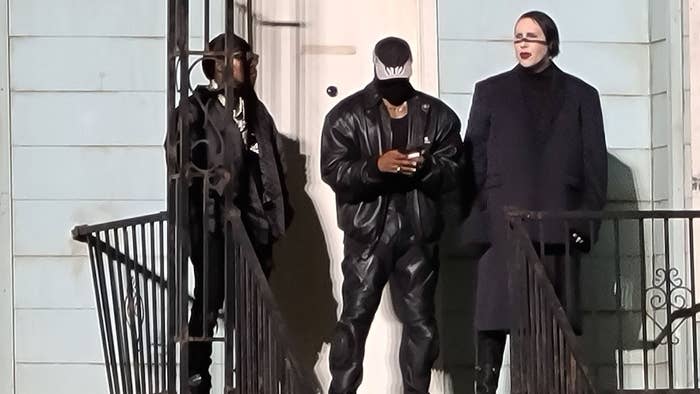 The year's biggest musical extravaganza, Kanye West's Donda, was ground zero for mixed feelings. Despite all of the rap icon's dangerous comments and alliances of the past several years, even detractors can't seem to ignore him. He took advantage of his cultural plot armor with three highly-streamed Donda listening sessions. The album stoked controversy during its gradual unveiling because of appearances from accused abusers Marilyn Manson, Fivio Foreign, and Chris Brown, as well as DaBaby, who had been removed from a slew of festivals for homophobic comments at Rolling Loud Miami. Kanye invited both DaBaby and Marilyn Manson to sit with him on a replica of his mother's porch at the Chicago show, marring her tribute with proximity to largely unaccountable artists. 
But despite the public outcry, the album performed well. The RIAA-certified gold album had the most first-day streams of any project on Apple Music or Spotify. Donda could very well win Kanye four Grammys, including Album Of The Year and Rap Album Of The Year. It's a sonically pleasing album with a glut of impressive guest appearances, but it's also true that too many Donda features are clamoring for refuge from an environment of their own making. People have good reason to not like some of the guys on this project. It's impossible to ignore that the album was curated by a Trump supporter who ran a GOP-backed Presidential campaign to reportedly steal votes from Biden. It's hard for one to merely press play and nod their head through all of that. 
If the community of rap listeners was really a culture, we'd be trying to protect each other, and those with authority would resolve that even if Kanye's a musical genius, his harmful opinions don't deserve to be amplified. But instead, the Drink Champs podcast was relentlessly praised for garnering the "interview of the year" for letting him talk recklessly for several hours. This is where we are. Donda did impressive units, as did the clothes, and the Kanye West Show powered along like a tanker running over picketers. The entire album cycle highlights the deep links between patriarchy, power, and violence against women, from a rap lens. In other words, the rap game is still a boy's club. Hoards of artists have been accused of assailing women, but they'll have no problem finding collaborators willing to prioritize their next buck over the women they claim to love. How are women consumers supposed to feel about that?
DaBaby's "Jail" feature and Soldier Field appearance were the first signs that the Charlotte artist wouldn't face long-term consequences for telling the Rolling Loud Miami crowd to put their lighters up: "If you didn't show up today with HIV, AIDS, or any of them deadly sexually transmitted diseases that'll make you die in two to three weeks" and "If you ain't sucking dick in the parking lot." After a short period of defiance following the comments, DaBaby posted a text apology. And then he met with a slew of LGBTQ organizations to make nice. The saga became a daily spectating of how deftly (or densely) he could get out from under the comments. But Twitter jokes about how stressed his PR people were diminished the plight of the human beings that he offended. He had many LGBTQ listeners that ended up being disgusted by his comments. 



Now, more than ever, we want our music rotation to be a refuge from real life. But too much of it has become a cruel reminder of what kind of world we're in. 
Harmful stigmas about the LGBTQ community exist on a spectrum of othering that, on the extreme end, fuel hate crimes. The groups that DaBaby met with may have told him that—but he didn't keep up much correspondence with them, or donate to them, after their initial meetings. The Daily Beast reported that the organizations—who put out a joint statement saying he had met and apologized to them—admitted that he essentially ghosted them. "Since then, we have not received any outreach, partnership, or funding from DaBaby," one told the outlet. He only needed them to a point. 
He navigated the ire by first collaborating with Kanye, then taking the Rolling Loud NYC stage as a guest of 50 Cent. In November, he even announced a Rolling Loud-backed Live Show Killa tour with the brand's backing. The festival mainstay told TMZ that it "supports second chances and believes DaBaby has grown and learned from his experience." Or maybe he just learned to watch what he says in public. 
Numerous festivals had removed DaBaby from their 2021 bills as a stand against hateful comments. But a slew of other artists who remained on major festival bills have made hateful comments and committed violent actions toward women—they just weren't trending during festival season. Lil Uzi Vert was accused of punching and pointing a gun at his pregnant ex in July, but he still ended up performing at Rolling Loud NYC, as well as Day N Vegas (which had removed DaBaby). This realization isn't meant to single out Uzi as much as highlight that if festivals' selection process truly wanted to take a stand against violence, the bills just may be devoid of some of the game's biggest acts.