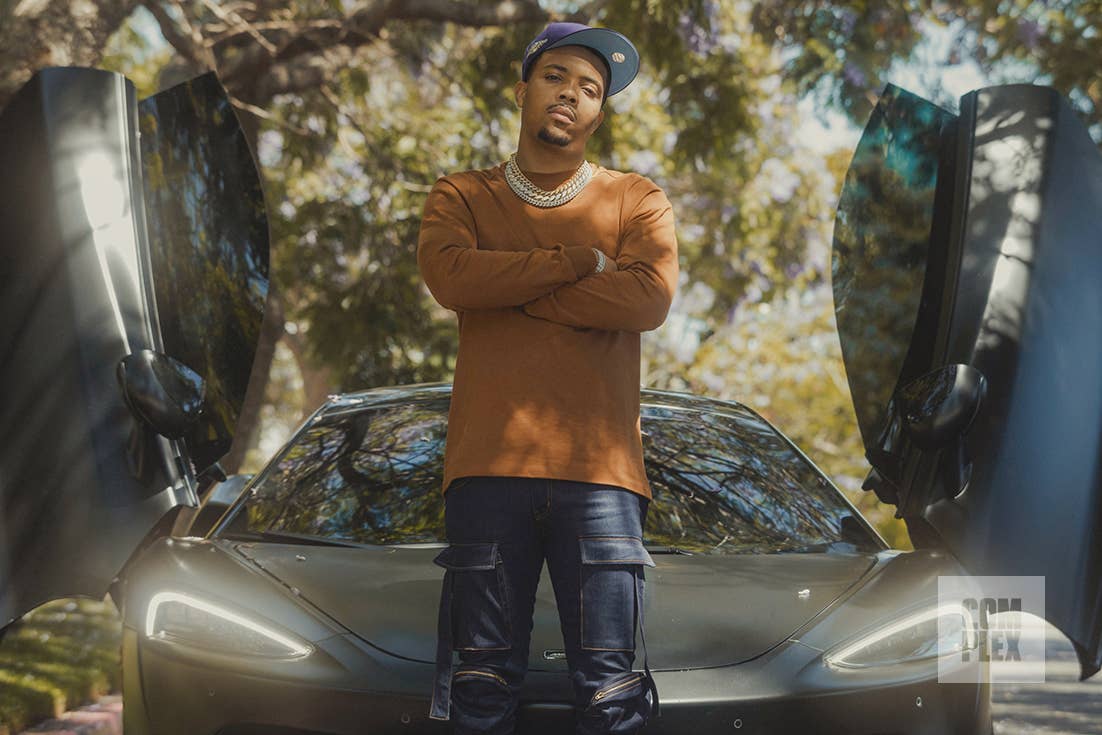 G Herbo is hungry. It's been a long Tuesday—he just finished filming an episode of Complex Brackets, had an hour-long conversation with me after an interview with another outlet, and now he's shooting an episode of Sneaker Shopping, all during one of those rainy days where most people would rather just chill in the house. 
In between takes of Sneaker Shopping, he tells someone on set, "[My stomach's] growling." And moments later, he talks dinner plans with his team and inquires about Jamaican food. But first, it's time for the next shot. 
On set, Herbo has had to re-record aspects of his conversation and maintain the vibrance of the first take, but if his hunger has him on the verge of a Snickers moment, he isn't showing it. He's gracious throughout the process and keeps spirits high by joking around with a steadily growing group of people he's invited to Soho's Stadium Goods. 
His determination to do what's necessary to advance his rap career is keeping him chipper through the tedium of media obligations. After all, as he repeatedly reminds me throughout our conversation, it could be a lot worse for him. 
"My brother [Gregory Jackson a.k.a. Lil Greg] passed away seven days before his 25th birthday," he says. "That's one of the reasons why [the number] 25 is so important to me. My brother died on January 28. His birthday was February 4."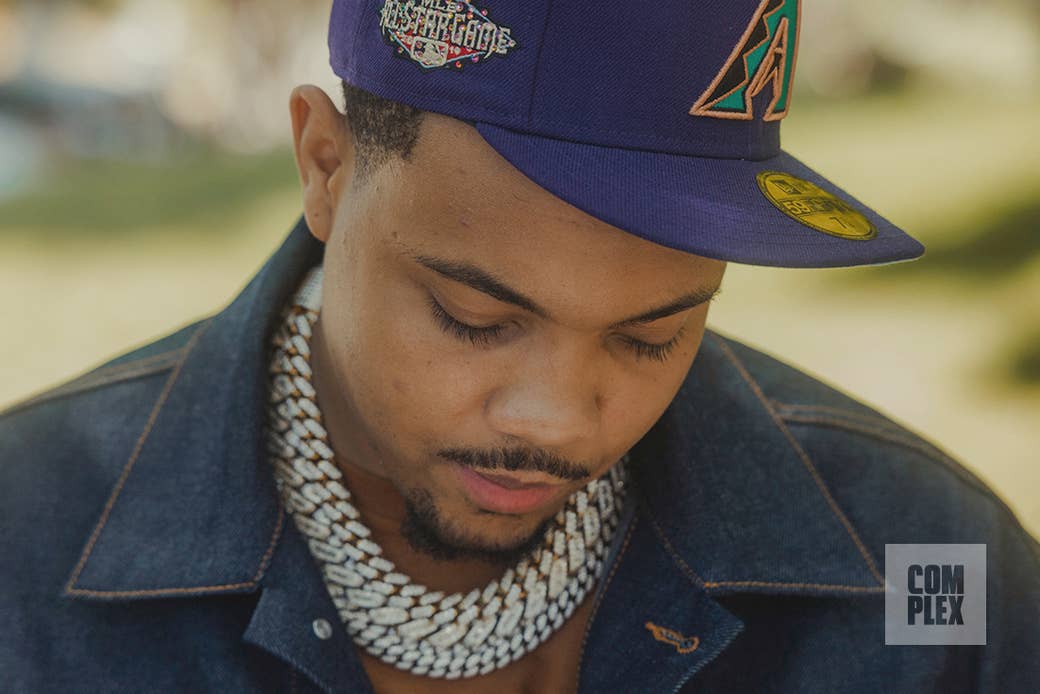 Turning 25 is a milestone. It's an age when adult responsibilities come into clarity, and many people start to get more intent on properly navigating short-term goals in order to create the long-term futures they want. But for Herbo, who is releasing a new album called 25 (pronounced "two five") this week, it's also an occasion to rejoice that he's even alive. He titled the album not just to celebrate his own age, but as a "simple but deep" reference to the number seven (2+5=7), which he says "represents the guardian." And, sadly, the title was also influenced by the passing of his close friend just a week before he hit a quarter-century. 
There have been too many of those stories for Herbo, an artist who has had to confront his mortality more than anyone his age should. He scribes it all in cathartic songs that have made him a hometown hero—fellow Chicago rapper Polo G recently called him "a legend" in his city. When I spoke with his producer DJ L a couple of months ago, he marveled that "Herb was rapping like a fucking 30-year-old at 15." Herbo came up from the East Side of Chicago, rapping with a hunger, perspective, and dexterity that immediately made him one of the most respected rappers in the game as a teenager, and ultimately a beloved progenitor of drill music.
Herbo's discography, which includes Welcome to Fazoland, Ballin Like I'm Kobe, Humble Beast, and PTSD, places him in the sphere of artists like Scarface, Boosie, and Beanie Sigel, whose impact isn't explained in metrics, but in solace for listeners who share their pain. Rappers have been exploring the struggle since hip-hop started, and Herbo has emerged as one of the latest and greatest in that lineage. 
"I rap about the trauma that I went through, and to make my generation better, speaking my truths."
Part of the reason he's become so adept at speaking for the streets is because he was admittedly knee-deep in them. Even after gaining fame alongside his partner-in-rhyme Lil Bibby with songs like "Kill Shit," he points out he didn't leave the streets behind, and he felt like he could have faced the fate of rappers like his "brother" Capo (a Chief Keef affiliate) who was killed at just 22.
"He was on my block, from my neighborhood," Herbo says, emphasizing the stakes with his hands. "[He was] coming back, trying to kick it with the guys. That could've been me. That was 2015. I was in the streets every single day. I was in LA at the time. But had I been in Chicago, I would've been going to that exact same crib he was going to that he got killed in front of.
"That's why I tried so hard to remove myself from that," he stresses. "Because that could've easily been me. I looked at him dying as it could've been me." 
Herbo says that "around 21," another milestone age, he started taking his music career seriously. That was the same year he released Humble Beast, his debut studio album, which is a well-regarded confessional highlighted with poignant songs like "Red Snow" and "Malcolm." The project's success urged him to put both feet in the music industry, giving him more bandwidth to focus on his mental health, personal growth, and fatherhood. 
"When I had my first son Yosohn, I was 22 years old, and it taught me that I couldn't just think about myself," he explains. "I've got an actual life that's depending on me, before he even knows what the world has to offer. He's depending on me for everything. And now, that's times two. [Herbo had his second son Essex in May]. Just the comfort that I get from holding him… When he's crying and upset, I can just grab him, and he'll stop crying instantly. I just want to be able to always provide that for my children. I feel like that's my duty as a father."
He says the maturity required of fatherhood has made him be less careless, not take life for granted, and realize that "embracing" his gift doesn't just have stakes for him, but those around him. 
"Fires just feed off each other. What all of us are doing out of Chicago as a collective will only help the next generation do what we did, times 10."
"I feel if I was more focused and grounded on [becoming a millionaire], I probably wouldn't have put myself through so much trauma," he says. "I could've saved a lot more lives along the way, because I would've been able to put a lot of people in position who I lost to the streets."
It's jarring to hear a 25-year-old broach the responsibility of saving people's lives, but this is Herbo's reality. His rap success has allowed him to be a breadwinner and a gateway out of poverty for many people around him, like the friends and family members who are eagerly helping him pick out shoes to purchase on the set of Sneaker Shopping this evening. There were already shoeboxes lining the entirety of two long benches when he first walked in, but there's still more to grab off the shelves, and I get a feeling many people on his team will be getting pairs.
For all the "what's it gonna take" incredulity about gun violence, there's one measure that could help curb it: giving people the opportunity to leave the streets behind. That's what Herbo's trying to do for those around him right now, and it's what he was trying to do for his late friend Greg Jackson, who was fatally shot at a Chicago barbershop last year. In a heartfelt IG post after his passing, Herbo captioned, "You live thru me! I love you and them two lil niggas," referring to Jackson's two children. "You know they'll never go without!!" 
Throughout our conversation, Herbo keeps returning to the idea of rap being a vehicle to help himself, and other artists, provide for their families. He casually mentions hypothetically giving his mother $100,000, the way the average person would reference a nice candle. Then he posits, "I feel like I'm going to have $100 million by the time I'm 30 years old." But he also notes, "If I've got $100 million, my brother is going to have $10 million, $20 million, and my cousin's going to have a couple million. And my aunts, and my mothers, and my father are going to be millionaires."
Herbo brings up rappers' need to do what they can in order to keep themselves out of trouble and free for the sake of their families. "I feel like that's why niggas want to get rich, and that's why we're trying to get out of the hood, to take care of our families," he says. "Let's protect us at all costs. Let's do everything in our power to make sure that nothing we do is going to get us roped up in some shit where we can't be successful anymore. That's what I want to highlight. Let's focus on getting this money and staying free. That's what we need to do."
"I'm not a selfish person," he adds. "I don't really feel like life is just all about me. So, I think about how situations affect other people, and the people that are in my life."
On the fun end of that spectrum: making sure you get your kids something nice when you splurge at the sneaker spot. In the midst of picking out his own shoes, he tells everyone around, "I gotta get shoes for my kids." The store clerk takes him to the locked-up case containing baby shoes, and he picks out shoes in all sizes for his newborn. 
His haul is so much that it makes Sneaker Shopping host Joe La Puma gawk, "Damn, that's a lot of bags," before filming the final scene. Herbo also invites preteen drill rapper Lil Skrap1090 to the set, perhaps so he can see what it's going to be like when it's his turn. He makes Skrap feel welcome, first complimenting his Raging Bull 5s, then joking around and taking him to a quiet space in the crowded spot for quick one-on-one time. I don't intrude, but I overhear Herbo mention "takin' care of your pops," likely giving Skrap some encouragement about staying focused so he can provide for his family one day.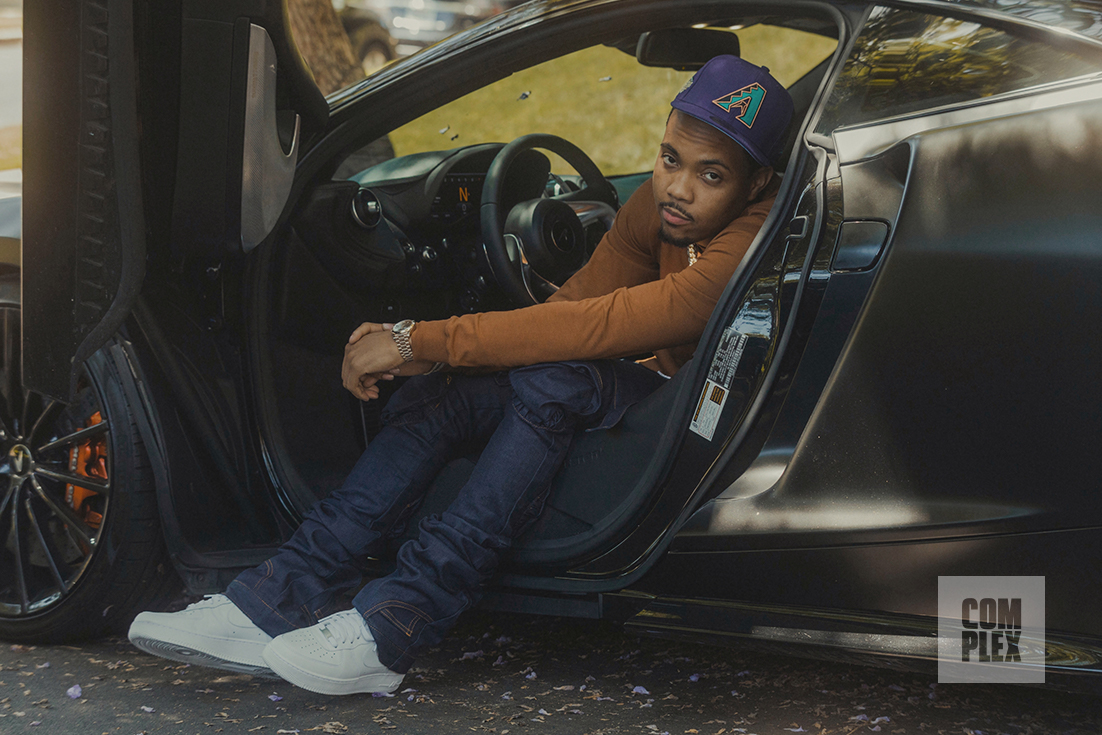 Herbo has gone from feeling like he could die any day to developing a future-oriented focus on his kids and career. But of course, legal qualms are looming that could drastically alter his future. In December 2020, Herbo and five other people were indicted in a nationwide fraud conspiracy, accused of charging stolen credit cards for "private jet and yacht charters, private chefs, security guards, luxury hotels and designer puppies" according to a Department of Justice press release. In May, Herbo was given an additional charge for allegedly lying to the feds by telling them he didn't know one of his co-defendants Antonio Strong. 
We don't go into details about the still-open case, and Herbo may have already said all he has to say about it publicly on "Statement," a defiant, Dipset-sampling track where he rhymes, "Ask about me, I ain't never been a fraud." On the song, he says he's "been havin' them Ms," name-checking Rollies and the "four flat" he bought. Then he incredulously asks, "How the fuck I catch a case, we bought a school?" referring to his September 2020 purchase of his Overton Elementary School, which he converted into a community center. Herbo's braggadocio and "I can't break like I'm bulletproof" swagger on "Statement" conveys the rap equivalent of an "I unequivocally deny these charges" press release.  
The song isn't on the version of 25 that Herbo's team sent me before the interview, and it seems like he refrained from trying to capitalize on his case with any "Guilty Until Proven Innocent" moments on the record. Even though the album title is a reference to his growth, he's not acting brand-new or trying to tell younger artists how to live.
"I feel like 25 is different [from PTSD] in a way," Herbo says. "PTSD, mental health, that's me. That's going to always be something that's true to me because of the importance of mental health. But I've grown as an artist, just lyrically and mentally. Where I am [now] is not what PTSD was. I'm in a different head space. [This album] is me telling the story of where I am now and where I come from turning 25 years old. I feel like all my music is a reflection of me, but I want it to be different. As much as I mature, I want my music to mature."
"[My album with Lil Bibby] will be one of the best joint projects to ever come out of all time, I'm stampin' it."
He's using his artistic and personal improvements to sharpen his lens instead of trying to explore a new one altogether. 25 is an exhibit of everything fans love about Herbo. His penchant for rhyming over classic samples went to the big screen on "Doughboy," where he samples a crucial scene in Boyz N The Hood. The song, as well as the Atlantic Starr-sampling "No Jail Time" fits his aim to create the kind of "record that you could play for somebody my age, somebody five, 10 years younger than me, and five, 10 years older than me, and they could still feel it in their own way. Music that moved our parents in the '90s and the '80s, our grandparents in the '70s and '60s, will move us now if we just flip it in a certain way."
The production on "Loyalty" gives updated G-Unit vibes, and Herbo meets the moment by affirming, "Usually the worst is true/ So is all my verses, too." On the fiery "Demands," he calls out the system, rhyming "I'm at war with all my brothers but it's you that taught me hatred." He talks filthy with 21 Savage on "T.O.P." and tries his hand at Brooklyn drill with Rowdy Rebel on "Drill." And on tracks like "No Jail Time," "Whole Hearts," and "Stand the Rain," he's giving us that classic Herbo sound, getting introspective, and telling poignant stories over soulful samples. Ditto "Cold World," which comes with an assist from his son Yosohn. "Cry No More" is another album standout, where Polo G and Lil Tjay trade stories about the sorrow of the streets. 
It's a project that will quickly follow up after Polo G's Hall Of Fame and Lil Durk's The Voice of the Heroes joint album with Lil Baby as standout releases from Chicago rappers this year. All three artists have cultivated a relationship.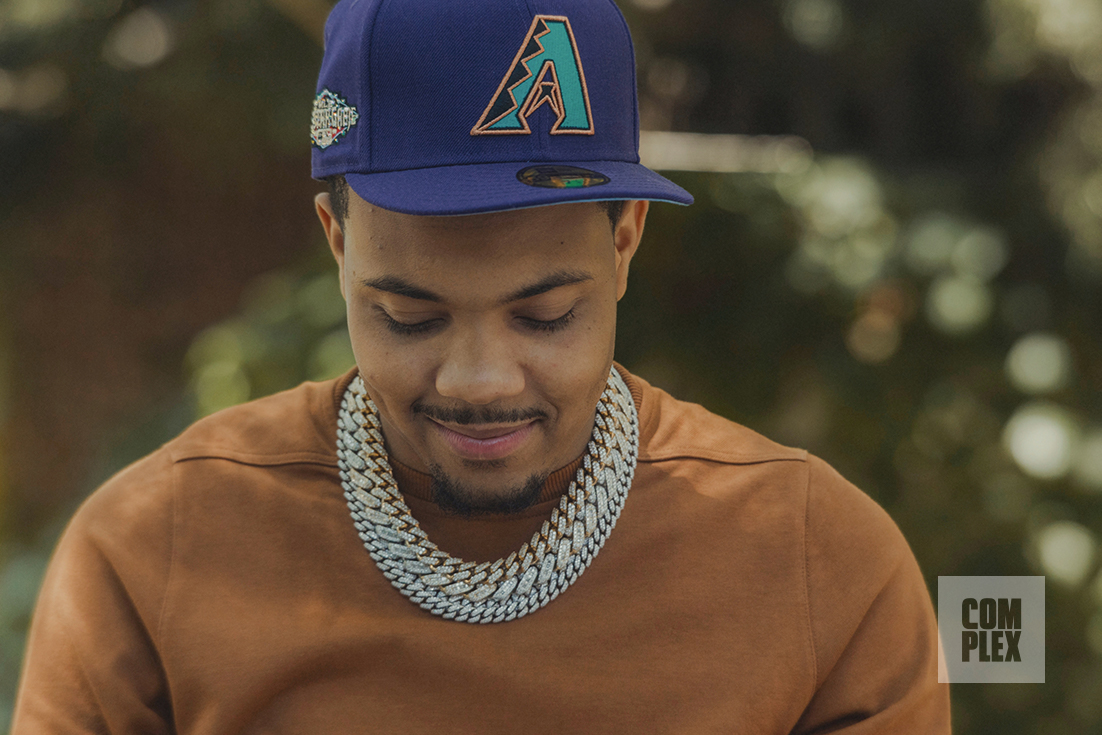 "I love Polo to death," Herbo says, smiling. He notes, "Sometimes we just kick shit and holla on the phone or sit in the studio and don't even make music because we're just chilling. For a bro to be doing what he's doing for the city is amazing."
Herbo also credits Polo for following up after the original generation of drill stars and "[reaching] even bigger heights with it in a way." 
"I feel like it's supposed to be that way," he says. "If you're from Chicago, you know where I come from. You know everything that [artists like myself] had to overcome. So an artist coming after us [will] have that confidence already, like, 'I'm going to make it. I know I'm going to be one of the greatest. I'm going to be one of the legends that come out of Chicago.' Polo had that from Day 1. And that's why he is as big as he is today. I feel like fires just feed off each other. What all of us are doing out of Chicago as a collective will only help the next generation do what we did, times 10."
Herbo names a slew of young artists he's feeling from Chicago right now—Lil Eazzy, DCG Brothers, Heavy Steppers and his artist Lli 40 Kruger Man, to name a few—but the mood gets somber when I mention King Von, his friend and collaborator who was killed last November. 
"That shit affected the whole city of Chicago," he says. "Everybody wanted to see Von win, because we knew where he came from. Me and Von damn near grew up together. We went to high school together, and we know a lot of mutual people. That's a nigga I considered a brother. We went on tour together [and spent] every day together for a month and a half straight. Seeing him become the star that he was meant to be, and for that to be taken away from him so fast is crazy." 
He goes on to explain that Von was "the nigga that really beat the streets, bro." He adds, "That nigga was in jail for murder. That nigga [was] in the county [jail], division nine. That's the gladiator wing. So, to be able to come from that, and now you're on TV making millions and you're able to take care of your family, and your kids, that should never be cut short for nobody in no way, shape, or form, ever." He emphasizes the point by repeating "ever" four more times, then continues, "I dropped tears behind that shit. I really cried when that nigga died, because I wanted him to win."
Herbo says he used to randomly DM Von to encourage him. "I gave bro his roses while he was here. [I'd say], 'Yeah, you the truth…'You it'…'Man, this shit is raw as fuck.' I do the same thing with Durk. I do it with Polo. I do it with [DCG Brothers]. I do it with anybody from my city, anybody outside of my city that I fuck with."
When he says this, I'm reminded of an interview clip with mothers of slain Chicago rappers, where FBG Duck's mom recalls that Herbo was "the first one to comment" and salute Duck's "Chicago Legends" track. He definitely has no problem showing love. In May 2020 he participated in a song competition with Lil Durk, where the two played their favorite tracks from each other. While we're at Stadium Goods, his music is blasting in the background, but the only times I see him reciting lyrics is when he's spitting the guest verses.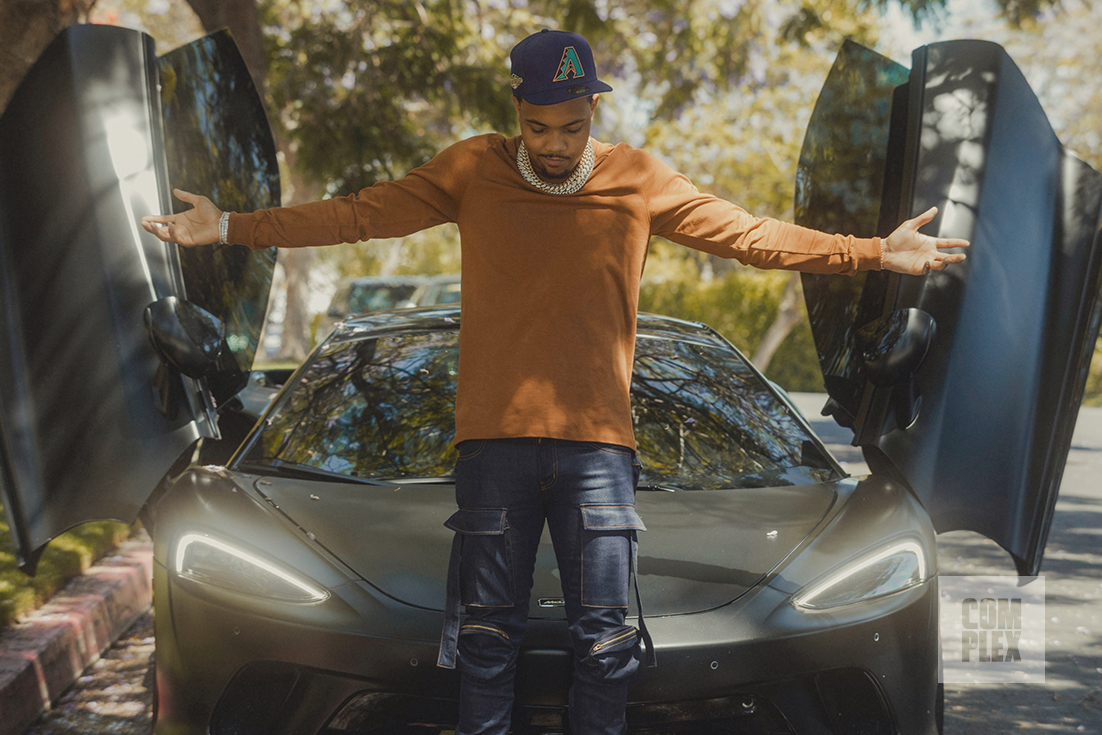 In a world where rappers are targets of cops and would-be robbers, and even fans are ripe to clown artists on social media, peer encouragement is valuable. Herbo knows how low it can get. He says that 2018 and 2019 were challenging years as he faced two cases: a 2018 gun charge (after his limo driver told police he and two others had guns) and a 2019 charge after pleading guilty to misdemeanor battery following an altercation with his ex Ariana Fletcher. Those two cases had him "stuck in Chicago." Remembering that period, he says, "I missed $4, maybe $5 million that I could've made over the year in shows, potentially." The stagnancy and stress of open cases spiraled him into anxiety and depression. 
He references his trials on 25's "Stand the Rain," rhyming, "2018, shit was different, what a year/ 2019 it was tough, but I'm like fuck it, it's in the rear/ 2020 COVID hit and I'm just gettin' shit in gears/ I ain't even reach all my goals and I'm still shittin' on my peers." He says 2019's PTSD wasn't created from a great mental space, but he's happy with the reception. 
"I had people who told me I changed their life," he says. "I helped them get through a lot of their darkest times, where they were losing a family or friend or getting through college. I've heard all those kinds of stories, where I feel like I'm speaking for them. I rap about the trauma that I went through, and to make my generation better, speaking my truths. I have those records where I'm flexing and bragging and boasting, but I'm not that artist. I don't rap about how many chains and all the shit I got, but I got it."
One of Herbo's next goals after releasing 25 is to complete an album with his "brother" Lil Bibby, a project tentatively titled No Limitations that he has grand plans for: "It will be one of the best joint projects to ever come out of all time, I'm stampin' it." 
"I need to just drag Bibby in the studio, for real," Herbo says of the rapper-turned-Grade A Productions boss. "Bibby has all these moments where he's just in the studio working, going crazy, then he's like, 'I ain't on that, man. I'm going to go buy some more property, go get some more artists.'"
You might be wondering how they'll rekindle the chemistry of 2012, when they were both two young kids on 79th Street, hanging around each other every day. Well, Herbo says the plan is to go back there—literally. 
"We're going to go back to Chicago, and go in our neighborhood and probably rent an apartment or even buy a whole building," he says. "[We're gonna] fix that bitch up enough where we can live in it, where it's like we're still in the hood, but we got our shit looking nice and comfortable enough for us."
Herbo's hope is that being in the midst of the "trenches" will take him and Bibby back to the creative zone they were in when they fell in love with rap. "We're really back in the same environment that made us who we are, and we're going to record a project there, and lock in. That's a scary sight," he excitedly affirms, "as far as lyricism and the shit we're going to accomplish. [Also in terms of what] we're going to be saying and how we're going to be feeling back in that environment just rapping. 
"It might sound dangerous," he qualifies, his hands out like he's a conductor seeking to keep calm. "But it's not. We're going to make sure we're good." He mentions setting up cameras and 24-hour security to keep things cool, and says their plan is to start recording "ASAP, ASAP."
It's an unorthodox recording plan, but Herbo feels it's a necessary step in his mission of "wanting to go down as one of the greatest" in rap. Beyond taking it back home, though, he also has plans to go abroad. 
"I never got a chance to really enjoy the fruits of my labor," he admits. "I'm so busy working and just taking this shit head-on like a champ, where it's like, I'm going to need a break soon, man." 
Herbo says he wants to go to Greece, Puerto Rico, Hawaii, and "a bunch of Islands." He explains, "It's so much of the world I need to go see, bro. I ain't never been to Europe. None of that shit. I never did a show out there. I want to go see the world and enjoy myself, man. I feel like I need to go sit on a beach and just reflect on life. And I think when I do that, I'm going to come back to the States better than ever, ready to work."
For now, his next stop is "the other side of town," as a member of his crew proclaims toward the end of filming. It's time to get that meal he wanted after a long day of work.