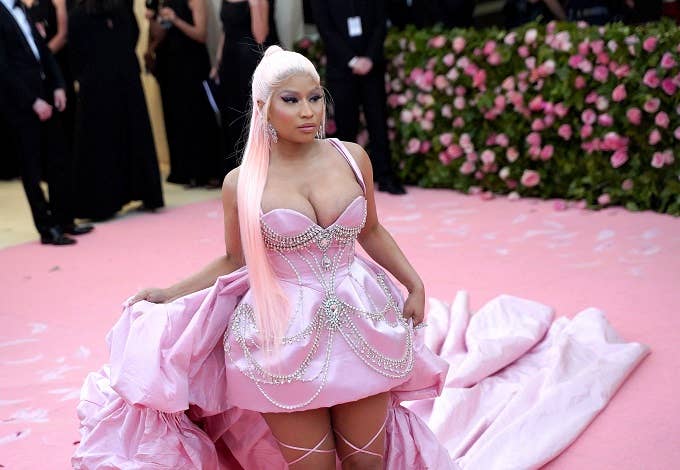 Nicki Minaj is in hot water after she tweetd that "white ppl" treat her better online than "the blacks." In a since-deleted tweet, Minaj accused what some have interpeted as the black media of using her worst moments to paint an unflattering picture of her.
"What the white ppl post. >>>>>>," she wrote on November 5. "The blacks only post the few seconds where I raise my voice to push their narrative." 
Fans objected to both her original conceit and the use of the term "the blacks" to refer to black people.
Nicki's anger seems to stem from her ongoing feud with Wendy Williams, and the coverage it generates in gossipy corners of the media landscape. In the deleted tweet, she also shared a clip from E! that showed a back-and-forth between the pair over her recent wedding to Kenneth Petty. Williams attacked Petty's criminal past on her talk show.
"Now, he served seven years in prison and he's also a sex offender," she said. "So that means that he — is a manslaughter a killer? Okay, so he's a killer and a sex offender. Well Nicki, congratulations."
Minaj responded by dragging up Williams' own relationship problems. It is rumored that she divorced her long-time partner because he had a mistress, with whom he had a child. Minaj used it as ammo on her Queen Radio show.
"So I really wanted to pray for you today, because look at where you are now in your life," she said, directly addressing Williams. "Look at what age you are. You're sat up there being vicious all this time, and paid for that man's mistress all these years. You paid for her shopping sprees, you paid for her hotels, you probably even paid for her GYN bills, you paid to have that baby delivered, hoe."
The subsequent coverage of her anti-Williams tirade seemed to be the final straw for Nicki, who shared and then deleted her ill-advised tweet on the ways in which she's covered. Minaj has yet to address the controversy.