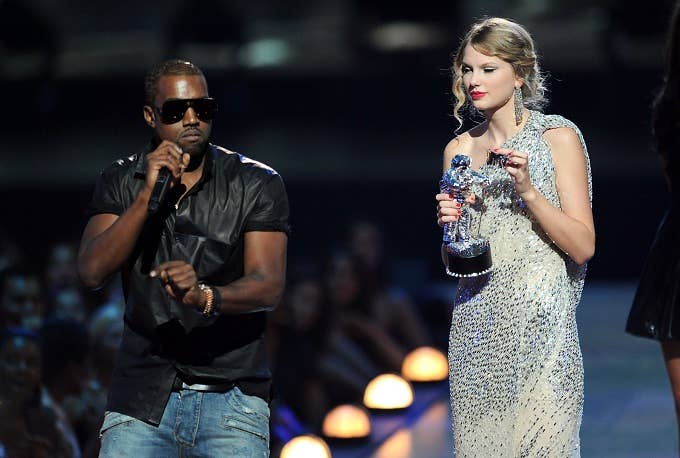 It's been 10 years since Kanye West hopped onstage to interrupt Taylor Swift's acceptance speech at the MTV VMAs and we're still talking about the reverberations. Both in spite of and because of that distance, new details have emerged about that famous interaction in an oral history of the show published by Billboard. 
Perhaps the most shocking revelation is the fact that Beyoncé's patching over of the situation when she eventually won Video of the Year was somewhat staged. Show producers admitted in the history that they broke protocol and informed a visibly upset Beyoncé that she was the winner of the night's top prize to assure she would stay through the end of the broadcast.
Former Viacom president Van Toffler recalled how he soft-pitched the idea of the redemption at the end of the ceremony to Beyoncé, who felt terrible for a 19-year-old Taylor Swift.
"I walk behind the stage—and sure enough there is Beyoncé and her dad, and she is crying. She was like, 'I didn't know this was going to happen, I feel so bad for her.' And that's when it started to click in my head, and maybe hers, about potentially having the whole arc play out in that one night,"  he said. "At some point I let her know that she was probably going to be up on the podium at the end of the show for an award. And wouldn't it be nice to have Taylor come up and have her moment then?"
Toffler offered this bit of information with a "what else was I to do?" attitude. "I would normally not say anything, but I had two crying artists," he said.
Elsewhere in the oral history, staff members share the weird confluence of events that led up to one of the most iconic pop cultural moments of the century. For one, they note that Kanye wasn't meant to be near the stage. The initial seating chart had him 11 rows back but he was moved to the front to have more men in the shots of the front rows.
The piece also shared the reactions of people in the theater, noting that Pink got in West's face during the commercial break and chewed him out for ruining a young artist's moment. They remarked on the way that artists glared at Kanye throughout the night, though none were interviewed in the actual piece. 
Take a look at the whole fascinating story over at Billboard.