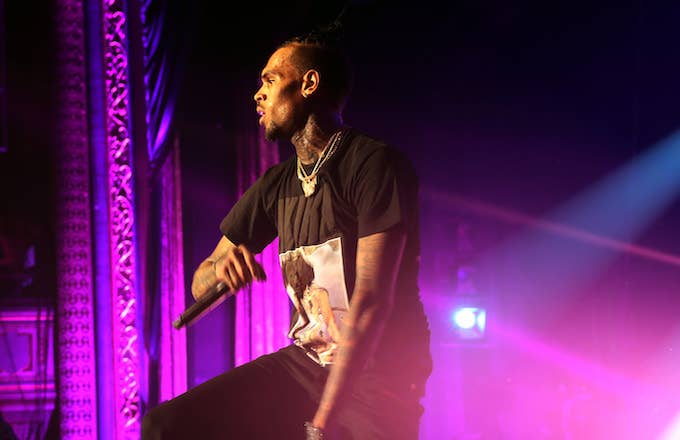 Chris Brown is suing the woman who alleged that he raped her in a Paris hotel room. According to TMZ, Brown plans to sue the unnamed accuser for defamation. 
The gossip website quotes Brown's Parisian lawyer Raphael Chiche, who said that they plan to file a complaint ASAP. 
"Chris Brown is free. No lawsuits were filed against him. He vigorously challenges the charges against him," Chiche said. "A complaint for slanderous denunciation will be filed tomorrow with the public prosecutor of Paris."
TMZ added that the singer was released on Tuesday and allowed to leave the country. Per unnamed sources in the judicial system that spoke to the website, that unconditional release signals that the prosecutors see problems with the case. 
Brown posted on Instagram about the allegations. He vehemently denied that he did anything wrong.  
"I WANNA MAKE IT PERFECTLY CLEAR," he wrote. "THIS IS FALSE AND A WHOLE LOT OF CAP! NNNNNNNNEEEEEEEEEEVVVVVVVVVVEEEEEERRRRRR!!!!!!"
Brown's accuser detailed the alleged incident in an interview with French outlet Closer.
"It's still too difficult for me to explain in detail what he did, but it was brutal and violent," she said. "I was very afraid. Once it was over, he opened the door. I told him that I wanted to pick up my cell phone and go home."
The woman said that she came forward so that further women would not be victimized. 
"I did not want them to be able to do the same thing to other girls," she said. "Chris Brown is the kind of person who thinks himself powerful and thinks himself above the law, but no. I'll go to the end. Abused three times in the same evening by three different men it's unbearable to live."