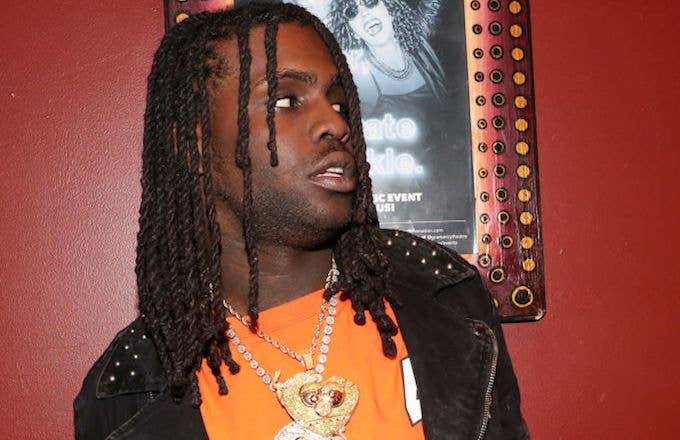 Last week, the Los Angeles Police Department announced the arrest of four people connected to a string of high profile burglaries. Per TMZ, police revealed one of the people involved in targeting the homes of Rihanna, Christina Milian, Yasiel Puig, and Robert Woods, is also responsible for Chief Keef'shome invasion back in September.
Police caught three alleged burglars outside of Keef's San Fernando Valley home on Sept. 23. Among them was 19-year-old Jshawne Daniels who, with three others, was also planning to rob the homes of LeBron James, Matt Damon, and Viola Davis. Daniels was arrested along with Tyress Williams, Damaji Hall, and Damaji's mother Ashle Hall on Sept. 28, just a few days after the Keef break-in.
Following their arrest authorities seized items allegedly taken during the series of break-ins ranging from "expensive purses" to at least one vehicle. An estimated $50,000 in cash was also recovered.
"During recent months, the Los Angeles Police Department has become aware of a series of residential burglaries targeting actors, producers, musicians, and professional athletes living in the Los Angeles area," Lillian Carranza, captain of LAPD's commercial crimes division, said during a press conference on Oct. 1. "Initially, it was believed that these homes were being burglarized at random. However, detectives learned that this was not the case."
In most cases, the group targeted home when they knew celebs would be away on a tour or other events. Keef, however, was home at the time of the invasion in September but told police he had no idea it was taking place.