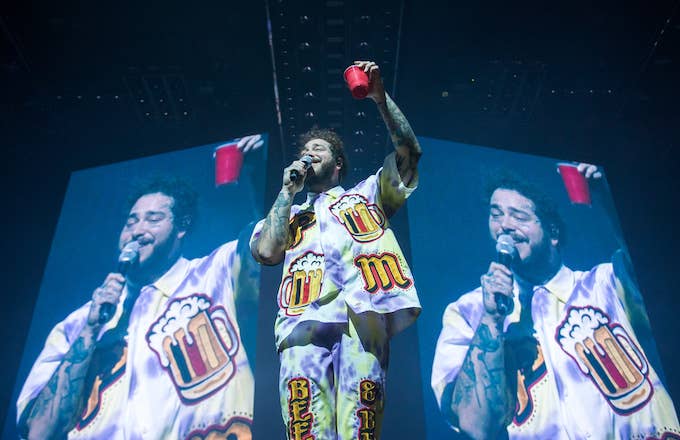 UPDATED 2:25 p.m. ET: Yelawolf, dubbed a "nerd" by Post Malone Tuesday night, has now responded. In an Instagram caption Wednesday, Yelawolf quoted Eminem's "My Name Is" and challenged Post to record a diss track.
See original story below.
Post Malone took to Twitter to respond to Yelawolf's recently released "Bloody Sunday" freestyle.
On the track, Yelawolf came after both G-Eazy and Post. He also sent Machine Gun Kelly a warning shot. The Alabama-born rapper went after G-Eazy by comparing him to both Tom Cruise and Vanilla Ice. 
I can't let this Tom Cruise lookin' motherfucker just paddle by
Don't know if I'm watching Vanilla Ice or Vanilla Sky
Marshall Mathers may have ignored you
But if you want the smoke, bring the foil
I'll boil you till the kettle's dry
On the subject of Post, Yelawolf rapped:
Fuck it, fuck Post Malone, just because
Let's see if he answers back
All that change, tits, and funk, chill Bill
And the cowboy boots and hats
Damn, Postie, why can't we be friends?
Our clothes already match
Poseur, biter, appropriation thief
Give a fuck how many records you sold
Every fan you made is a leaf off of my tree
Boy, you're my seed, another mullet in the gang
If you missed it, watch it below.
"Yelawolf is a nerd, and this tweet is the only support I will offer his album," Post wrote a few days after Yelawolf's diss track dropped. "Also @Yelawolf please show me all your chill bill shit please! Last I heard you was talking about how you wanted your shit like mine, I have a couple lenders, don't worry! hmu dad." 
also Yelawolf is a nerd, and this tweet is the only support I will offer his album :)also

@Yelawolf

please show me all your chill bill shit please! Last I heard you was talking about how you wanted your shit like mine, I have a couple lenders, don't worry! hmu dad :)
also lmk when your band is done with your dookie and wants to play some actual good music 🤟🏼🤟🏼🤟🏼