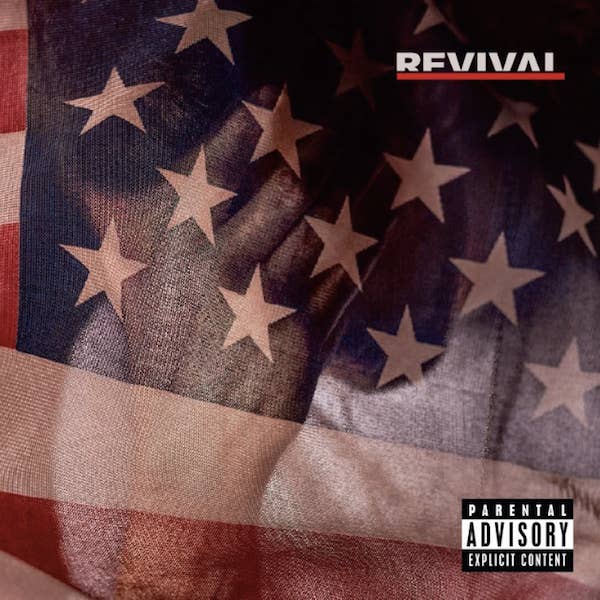 Eminem has returned with his ninth studio album Revival. It's been a while since we've gotten an Em album. The last one was 2013's The Marshall Mathers LP 2.  
Head over to Apple Music and iTunes to listen to Eminem's Revival. You can also listen to it on Spotify. 
Though there have been rumors swirling of a new album from Eminem coming out for months, fans got some concrete evidence that the project would be arriving after Paul Rosenberg took to social media to promote Yelawolf's then-upcoming album Trial by Fire.
But, in the picture, a large billboard advertising something called "Revival" was also visible. The "E" in "Revival," which is backwards, was stylized just like Eminem's logo. Fans knew something was up. The ad also popped up online. Many called the phone number that was listed with the fake drug, which is said to treat the not real ailment "Atrox Rithimus," and were greeted by a voice that said "Thank you for your interest in Revival, the No. 1 slightly invasive treatment for Atrox Rithimus. You only get one shot to beat AR." Many pointed out that it was a pretty clear reference to Em's song "Lose Yourself."
After posting a fake video ad, Eminem dropped the single "Walk on Water" featuring Beyoncé. The track was produced by Rick Rubin. Skylar Grey also co-produced and co-wrote on the song. Then, Em dropped another single titled "Untouchable."
In related news, a study from New York University says that psychopaths tend to listen to Eminem. Another psychopath fav? Justin Bieber. So yeah, just keep an eye out.