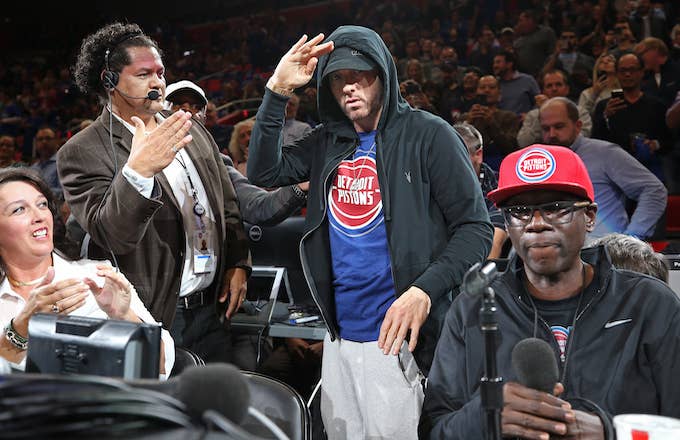 On the project's "Unaccommodating" track, which features Young M.A and was produced by the Detroit rapper and Tim Suby, Eminem addressed his beef with Machine Gun Kelly. 
"But when they ask me is the war finished with MGK? Of course it is," Eminem rapped on the song. "I cleansed him of his mortal sins, I'm God, I'm the Lord, forgives even the devil worshippers!" The "devil worshippers" reference, and the overall religious themes, are most likely a reference to MGK's 2018 Eminem diss track "Rap Devil." The title of the diss, in which MGK accused Eminem of attempting to sabotage his career, was a play on Eminem's The Marshall Mathers LP 2 single "Rap God."
MGK released "Rap Devil" in response to Eminem's Kamikaze cut "Not Alike." On the track, Eminem mentioned Kelly's 2012 tweet calling his then 16-year-old daughter Hailie "hot as fuck." Then, a few days after the release of "Rap Devil," Em fired back with a diss of his own called  "Killshot."
Eminem previously discussed his problems with Kelly in an interview with Sway. "The reason that I dissed him is because he got on—first he said, 'I'm the greatest rapper alive since my favorite rapper banned me from Shade 45,' or whatever he said, right? Like I'm trying to hinder his career," Eminem said. "I don't give a fuck about your career. You think I actually fuckin' think about you? You know how many fuckin' rappers that are better than you? You're not even in the fuckin' conversation."
"Unaccommodating" wasn't the only track on Music to Be Murdered By that Eminem brought up Kelly on. He also mentioned him on "Yah Yah," which features Royce da 5'9", Black Thought, Q-Tip, and Denaun.
"I'm a sight to see, but you can see from the ring I'm wearing/Me and this game, we got married already," Em said. "Had the prenup ready, fuck, all that's ever seen her belly/She barely was three months pregnant/Bitch had to give me a baby, we named it Machine Gun Kelly."
Elsewhere on "Unaccommodating", Eminem rapped about Ariana Grande and the 2017 Manchester Arena bombing. "I'm contemplating yelling 'bombs away' on the game like I'm outside an Ariana Grande concert waiting," he said on the song.