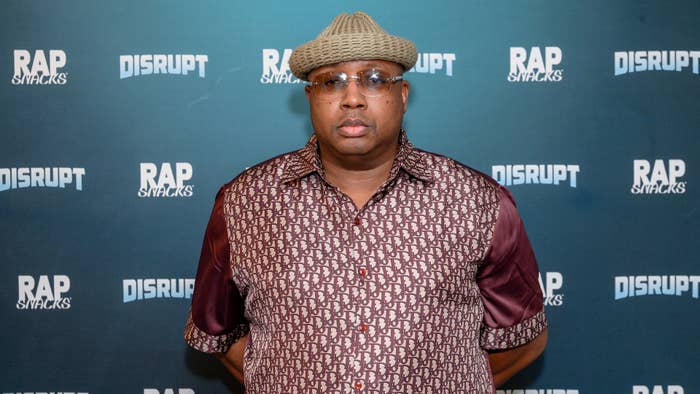 E-40 and the Sacramento Kings released a joint statement on Wednesday to address the rapper's ejection from Game 1 of the first-round series between the Warriors and Kings.
In the statement, the Kings organization said that 40 was not standing "excessively from his ticketed courtside seat" and chalked it all up to a misunderstanding. 
"After a series of thoughtful and transparent conversations, both parties agree that there was a miscommunication regarding the circumstances that occurred during the Kings vs. Warriors game on Saturday night," the statement begins. "Contrary to speculation, Mr. Earl "E-40" Stevens did not stand excessively from his ticketed courtside seat; the outcome resulted from an unfortunate misunderstanding between both parties."
It continues, "The Kings will continue to equitably enforce the NBA Fan Code of Conduct to ensure guests can comfortably enjoy games free of disrespectful heckling and other disruptive conduct. The organization has been a longtime leader in promoting social justice and racial equality with a track record of measurable results and community impacts. Mr. Stevens has previously attended games at Golden 1 Center without incident, and the Kings look forward to welcoming him back to our arena in the future."
E-40 and the Sacramento Kings release a joint statement, stating that an unfortunate misunderstanding led to his ejection from Golden 1 arena during Game 1 between the Warriors and Kings. It goes on to say that E-40 did not stand excessively from his seat. Full statement below:

pic.twitter.com/tZXFAK4yzC
The incident, which was partially captured on video, occurred on Sunday, April 16 following an altercation with a spectator who E-40 claimed was "heckling" him. In a statement he released after being escorted out of the arena, 40 said that he was subjected to "racial bias."
"Unfortunately, it was yet another reminder that — despite my success and accolades as a musician and entrepreneur — racial bias remains prevalent. Security saw a disagreement between a Black man and a white woman and immediately assumed that I was at fault," 40 wrote at the time.
He continued, "I was absolutely humiliated by the Kings' security team and I'm calling on the franchise to investigate the appalling conduct that transpired."
This post will be updated.