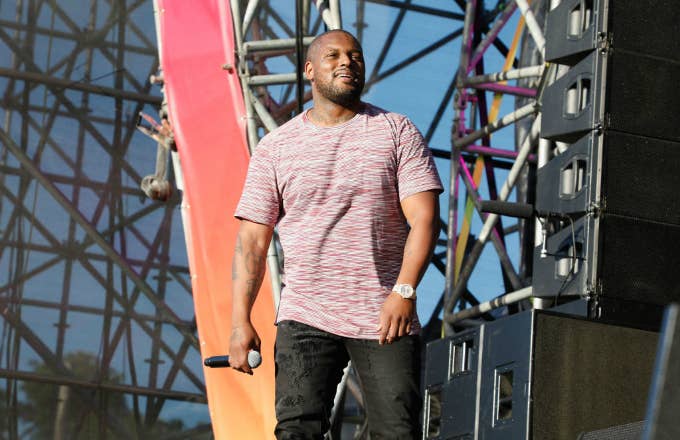 Top Dawg Entertainment lays claim to some of the biggest names in hip-hop—Kendrick Lamar, Jay Rock, Ab-Soul, SZA, Isaiah Rashad, and more. When one of these heavy-hitters is recording music, it makes sense that keeping the aura and Zen right in the studio is a high priority.
Schoolboy Q's specific rules for when he's in the studio are simultaneously comical and very serious—flirt with them at your own risk. Rap fans have known about these rules for a few years now, but he recently shared them on his Snapchat (GroovyQ), reminding the world of the incredible parameters he has set in place.
Rule No. 1: "If you ain't one of the homies don't be Instagramming you creepy muthafucka. I don't wanna look on yo twitter and find a creepy ass pic of me or one of the homies, matter of fact, No Twitter or Instagram in the studio! Act like you been around a bunch of rich niggaz from the bottom before!"
Makes sense. Stay off of social media. Keep things private. Understood.
Rule No. 2: "If the homies just met you and decide to clown yo bitch azz, sit there and deal with it. It's part of the creative juices."
All right, you've got to allow some roasting. Every creative genius has a different process. Quincy's just involves destroying your self-image.
Rule No. 3: "Don't touch, ask, or reach for Q's weed, unless he thinks you cool enuff to pass it to you. We only smoke stersonals around here boy."
How do you know if Q thinks you're cool enough? Just play it by feel? If he was roasting you earlier, does that mean you definitely aren't cool enough to ask for some weed? Or is the roast a sign of endearment? You know, matter of fact, just abide by No. 4.
Rule No. 4: "Shut up and look ugly for the homies."
I have no idea what this means, but LOL.
Rule No. 5: "Remember these rules and you might get a meal out the food budget!"
If dinner is Q's call, it'll probably be Japanese-style sliced beef and rice.
There's a hilarious and personal nature to these rules. The list doesn't read anything like Steve Harvey's demands for his staff that surfaced last month.
Just Q being Q. And if abiding by these rules means Schoolboy Q giving us another album like Oxymoron or Blank Face, we sincerely hope anyone who stops by the studio will shut up and look ugly for the homies.