Following French Montana's revisiting of his Kendrick Lamar comments, specifically his assertion that he has more "anthems" if he and Lamar were to have a hits battle, Young Thug has stepped into the discourse with a message of disapproval.
"Stupid ass n**** say he got more hits than Kendrick Lamar," Thugger said in a clip shared to social media late Tuesday, followed by a camera zoom-assisted laugh. "Fool." From there, Thugger and Montana entered into a back-and-forth of sorts that ultimately saw both artists criticizing the other's legacy and financial standing.
Thugger, at one point, threatened to call up Meek Mill and have a video sent to him which allegedly shows Montana getting "knocked out." Montana, meanwhile, has largely taken to mocking Thugger's innovative fashion decisions.
"First of all, don't get in your feelings, bro," Thugger said in one clip. "I'm just speaking from the artist standpoint. You don't got nowhere near more hits than no motherfuckin' Kendrick Lamar." Thugger also questioned the practice of engaging with Montana at all, particularly noting how that is exactly what the public wants.
"I don't even talk to n****s like you, bro," he said. "Stay in your lane, I'll stay in mine . . . You a bitch, bro."
Montana has offered one million dollars in connection with the alleged video in Meek's (also alleged) possession. And as for a certain 21 Savage tweet referenced by Montana, Thugger has explained that it was a joke and is unrelated to his and Montana's still-in-progress disagreements. Montana has also threatened to "expose" Thugger, though he didn't make clear what was meant by that.
"This is me sober," Montana said. "You don't wanna see me high like you. And if you find that footage of me, tell him I'll give you an extra million dollars. On my son's life, you get that footage, I'll give you a million dollars."
Thug also shared a screenshot of a DM he sent to French last summer, confirming the beef goes further back than most suspected.
French fired more shots Wednesday night, posting a screenshot of a 2015 XXL article about Thugger allegedly rocking fake Audemars Piguet watch. The Instagram post featured a snippet of French's new single "That's a Fact," along with the caption: "THATS A FACT 😂 HOW WE GOIN BELIEVE YOU."
Thug brushed the jab off, sharing an Instagram Story that read: "That's all u got auntie?"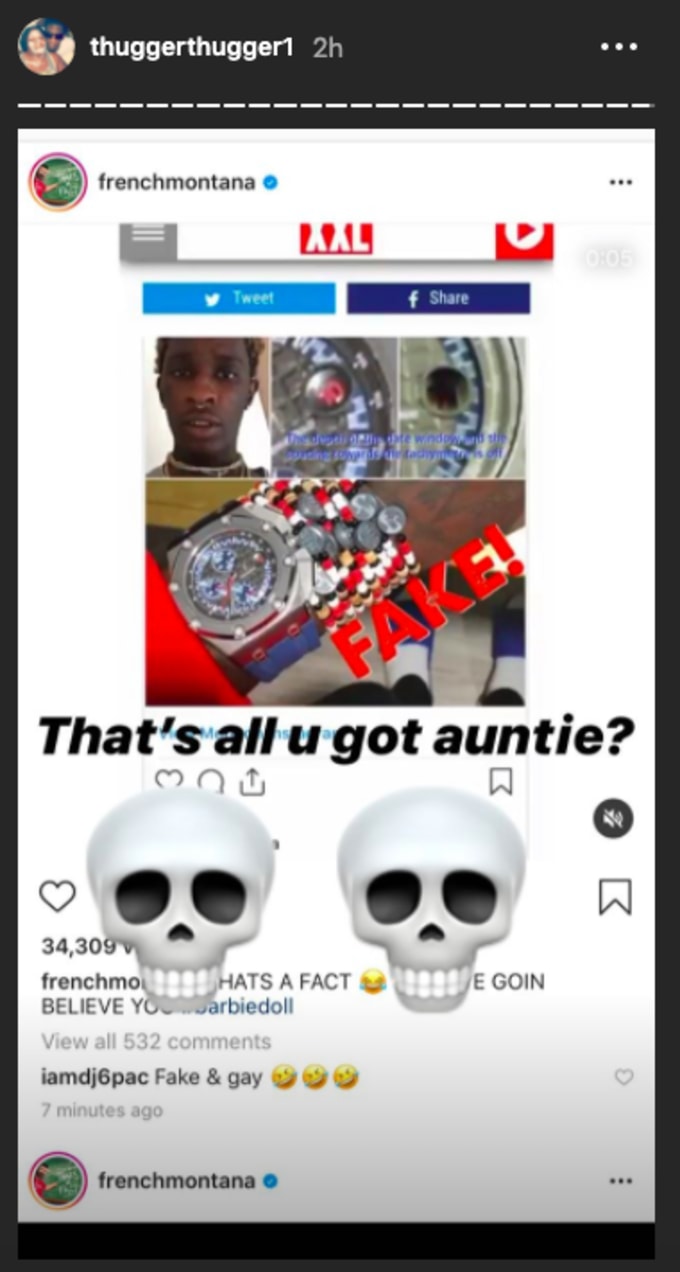 French also dropped a series of Instagram stories in which he referred to Thug as a "Barbie doll" and claimed he was responsible for Thug's surge in Instagram followers.
"You should say 'thank you,'" French says in the clip. "I think I got you, like, 100,000 followers. You should check your social before you talk ... I'mma double your numbers."
Fans have largely responded by debating the merits of each artist's creative output, while some are calling for the two to hold an Instagram Live hits battle of their own.
On Wednesday, Thugger once again took aim at Montana, this time calling on him to go the Instagram influencer route because he's "running out of money." 
Below, revisit the original interview clip in which Montana first told Complex of his Kendrick hits assessment: