Kanye West and JAY-Z Reunite at Diddy's 50th Birthday Party
Kanye West and JAY-Z have had a rocky relationship for years.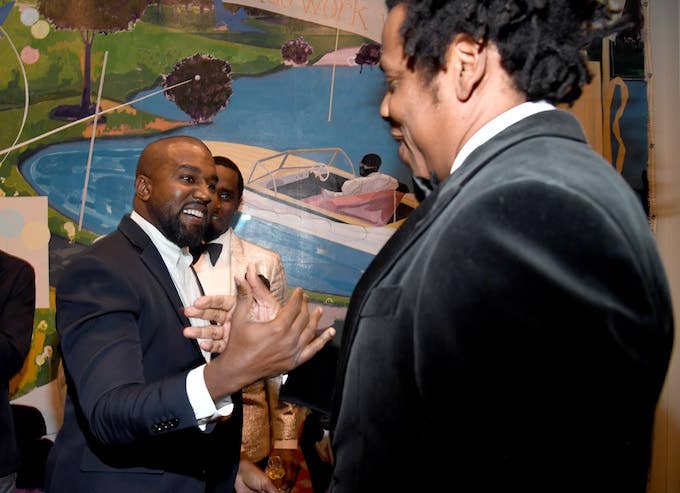 Getty
Image via Getty/Kevin Mazur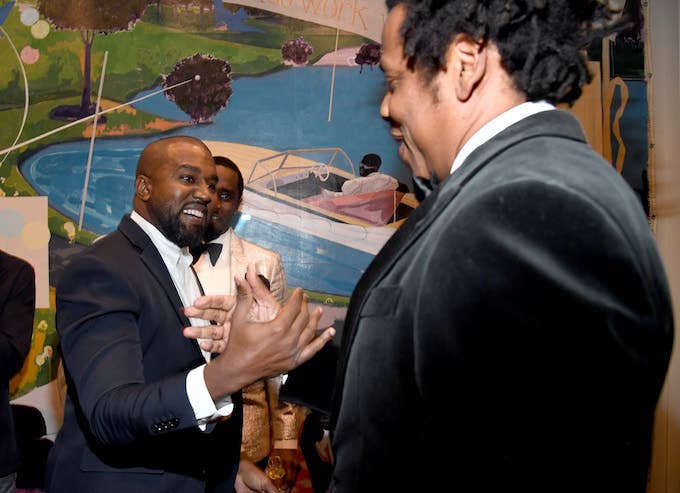 Kanye West and JAY-Z didn't remain strangers at Diddy's 50th birthday.
The two were seen together taking photos, shaking hands, and briefly speaking at the party, which was held Saturday night at Diddy's mansion in Los Angeles, according to HipHop-N-More. Kim Kardashian, Kylie Jenner, Beyoncé, Post Malone, Pharrell, Quavo, The Weeknd, and more were in attendance as well.
It isn't news that Hov and Yeezy haven't been on the same page in recent years, which was made apparent when Jay and Bey weren't in attendance at Kanye and Kim's wedding in 2014. However, the two rappers were pleasant to each other at Diddy's birthday.
Kanye recently touched on his relationship with Jay in an interview with Zane Lowe in October. "With Jay, I love all of these people, but you got to know there's a lineage of Jay to Ye to Drake. It's like, this person is your idol," he said. "Then you get to know 'em, then you be friends, then you turn to frenemies, then you turn to enemies, and then you gotta bring back the positive energy. But that is the lineage of rap kings and inspirers."
During his 4:44 run, Hov also addressed his relationship with Yeezy in an interview with the New York Times.
"I [talked to] Kanye the other day, just to tell him, like, he's my brother," JAY-Z said. "I love Kanye. I do. It's a complicated relationship with us. Kanye came into this business on my label. So I've always been like his big brother. And we're both entertainers."