Juice WRLD Talks Short Film, Lil Wayne Comparisons, and Giving Back to Chicago With Beat of My City
Juice WRLD spoke with Complex about new music plans, a short film, a movie with Young Thug, and bringing peace to Chicago with the Beat of My City Tour.
Getty
Image via Getty/Scott Dudelson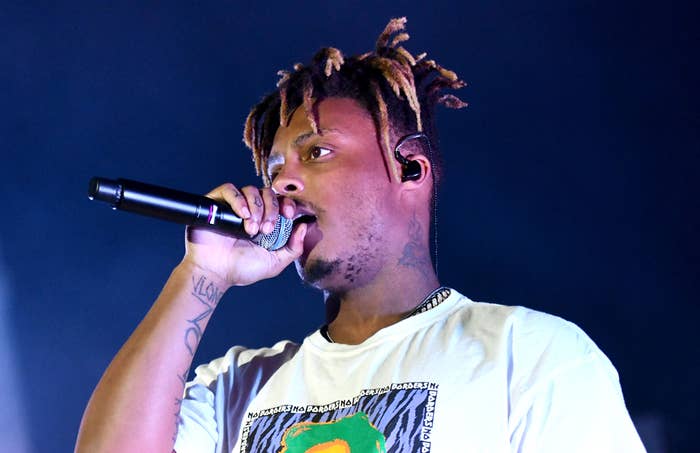 Juice WRLD is in a powerful position right now. He's one of the biggest young artists to come out of Chicago in the past few years and has a growing fan base thanks to his No. 1 album, Death Race for Love, and hits like "Lucid Dreams" and "Hear Me Calling."
While creating music and selling records is important to the 20-year-old artist, he says his main goal has always been to give back to the community. "No matter what I ended up doing as a career choice, whether it involved being famous or not, I still planned on giving back in some way, shape, or form," Juice tells Complex.
That's why Juice has teamed up with McDonald's Beat of My City Tour, which is described as a "cultural event created to positively impact communities." In its inaugural year, Juice has been enlisted alongside Teyana Taylor to return to their respective hometowns and perform at a free concert. In addition to taking the stage in Chicago on October 17, Juice will also donate to the 100 Black Men, a non-profit organization that he participated in as a kid growing up. "I'm happy to be giving back to 100 Black Men with the McDonalds partnership," he says. "It helped me find positive role models and mentors that I want other kids today to have."
Ahead of the Beat of My City Tour announcement, Complex caught up with Juice WRLD to discuss his mission to unite his city, new music, plans to make a short film, Lil Wayne comparisons, and names his top 5 favorite artists. The interview, lightly edited for clarity, is below.
What about the Beat of My City Tour interested you? 
The whole idea of giving back to the community and making a difference. No matter what I ended up doing as a career choice, whether it involved being famous or not, I still planned on giving back in some way, shape, or form. So, why not? I have the opportunity to team up with one of the biggest corporations and do that.
What is the impact that you would like to leave on the city of Chicago and its youth? 
I think it's going to take more than just a McDonald's collaboration to give back. I want to leave my mark, and I want to bring more peace to Chicago, because there's not enough peace. There's still a lot of violence going on. I want to be one of the people that brings everybody together.
Why is it important that Chicago kids see rappers or people like you come home and perform? 
There's a couple answers to that. I feel like if you have a voice, you don't have to play preacher man all the time, you can have fun. But you should still, at the end of the day, use your voice to do something good.
I'm actually in the process of putting together some video entertainment, like a short film.
What made you want to recreate the Graduation song? What's the story behind putting the track together? 
Me and Benny Blanco, we always bounce ideas off each other's heads. When we record, usually he pulls up the beat and we talk for a second or two, and I just go right in and record. That idea just came up in the session. It seemed perfect. I was just talking about bringing everybody together, and it just seemed like a universal song that had the power to bring everybody together. Talk about one of the most relatable subjects, for the youth, then that's high school.
Keeping on the subject of music, are you working on anything at the moment?
Of course. I record music every day. I have a couple of ideas that I'm working on. I'm actually in the process of putting together some video entertainment, like a short film. I'm about to start making moves on that, making that a reality. 
Is it safe to say that your constant recording will result in a full-body of music? 
No, it's music. A lot of music is going to come with that.
If you could sum it up in one sentence, how would you expect this next chapter or next project?
If I had to summarize it, the best I can, I would say finding myself and helping other people find themselves.
Speaking of this short film, Young Thug also mentioned wanting to make a "45-minute movie" to go with the album.  Would this project be with him or is that something separate?
It was completely separate. But the movie most definitely will have appearances and features in it. I can't really reveal any surprises, but it's a chance that Young Thug could be on that.
Young Thug previously compared you to a "2006 to 2009 Lil Wayne." Would you say that's a fair comparison? 
On a day-to-day, I know I make a lot of harmonies and my music is very rock-influenced. Wayne is one of my favorite rappers. I have a very big appreciation and admiration of Lil Wayne. He changed the game when he came in the game. I still think to this day, when he was in his prime, prime, he was the best rapper alive. So, that means a lot.
What are you looking forward to most in 2019 as it comes to an end?
Just closing out the year strong. Keeping up, sustaining the rhythm I have. Accomplishing more and more goals, and just aiming higher.
What's the most important thing you would like your fans to know about you at this point in your life?
The most important thing for my fans to know is, I'm still the same person. I'm still reachable. I'm still human. Anybody that wants to be an artist or anything, they can do it. Anything I'm doing, it's there. It's possible, obviously, because I'm doing it. If other people want to be making changes and shit I've made, then they could do it with no hesitation. But they have to give it their all and not give up.
During your Hot Ones episode at ComplexCon, you told us your top 5 rappers from Chicago, but who are your overall top 5 favorite artists? 
Lil Wayne, Kanye West, Kid Cudi, this rock band named Escape The Fate, and... I'm trying to think of the last one. Honestly, the last one, I would have to go with Future.