UPDATED 5/10: According to 50, he and Jackie have now "squared away" any issues. "I have no problem with Jackie," 50 said in a new post, adding that he wishes him and his family well.
Snoop commented to say, "I love u cuz for the shit u do. Get the money main." 50 responded by explaining, "I gave this n***a $250K he gave me back $247K thought I didn't count it. he said n***a you did all this for 3K wait, you got a cash app. Sent the money and said now take all that shit down now. LOL." 
Instagram star and YouTube James Andre Jefferson Jr. chimed in on the conversation, too, asking why so many people owe 50 money. "I thought you was on my side LOL," 50 replied with a repost of the video.
While the two seem to be on better terms, 50 also posted a video in which he asks, "Where the money Jack?" The short clip sees he talking over Jackson describing the situation, with 50 continually doubting what he said. "It wasn't that long ago Jack." He captioned the post, "LOL you gave me the money why you put this video up man we cool, you my boy." Regardless, his jabs are lot more light-hearted now.
Jackie Long posted on his own insta, meanwhile, joking about the situation by naming himself "Jackie 3K." He wrote, "50 told me go head switch the style up and if they hate then let 'em hate and watch the money pile up, the good life." 
See original story below.
50 Cent is at it again.
The G-Unit boss returned to Instagram on Thursday to call out Jackie Long. Fif posted a series of photos of the actor/musician posing with  Ray J and Nick Cannon, claiming Long owed him money. He then told Long he had until Monday to pay up—the same move he pulled on Power EP Randall Emmett.
Long took to the comment section to defend himself, insisting he already paid 50 a quarter of a million dollars. 50 said that Long still owed interest and claimed he had saved the actor from being murdered: "Puff was gonna kill you fool. I saved your life [...]"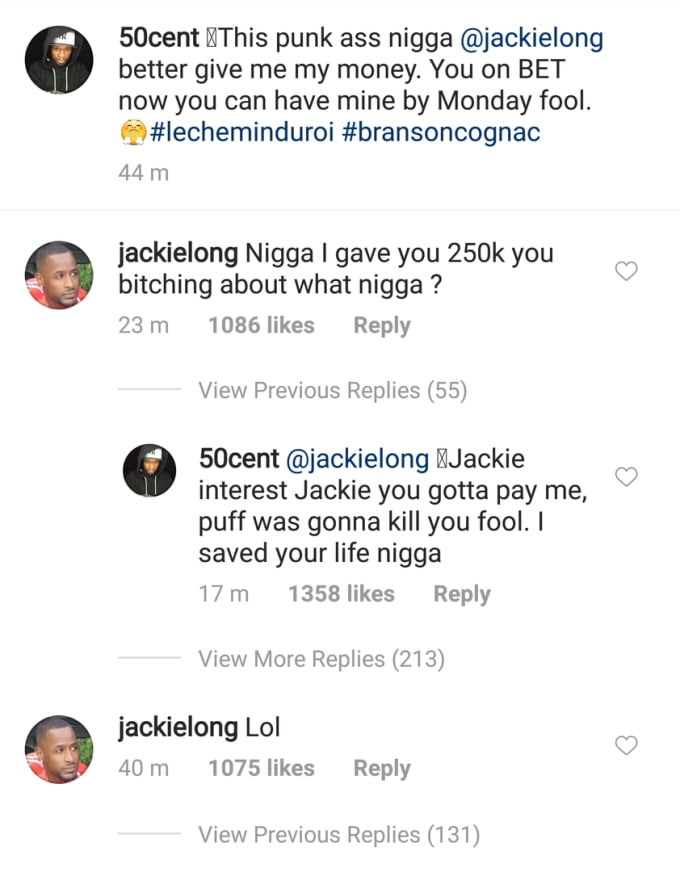 Long then shared his own Instagram message, which dismissed 50's demands:
Cannon responded to Long's post with the following message: "Don't let that Big N***a bully you! Make it rain on these N***ahs Jack! LOL."
Of course, 50 had to put Cannon in check:
Oh, but there's more: Shortly after Fif's original message, Ray J hit up Instagram with a post that congratulated Long on all his success:
To no one's surprise, 50 caught wind of the post and called out Ray J with the quickness, and went so far as to mention Ray Jay's ex-girlfriend Kim Kardashian.

Stay tuned to see how this all plays out before 50 decides to violate him again.