Tyler, the Creator Addresses His Sexuality, Sobriety, and More in 'Fantastic Man' Cover Story
When asked if he has ever been in love, Tyler suggested he would answer the question at a later time: "Um, that's the next record."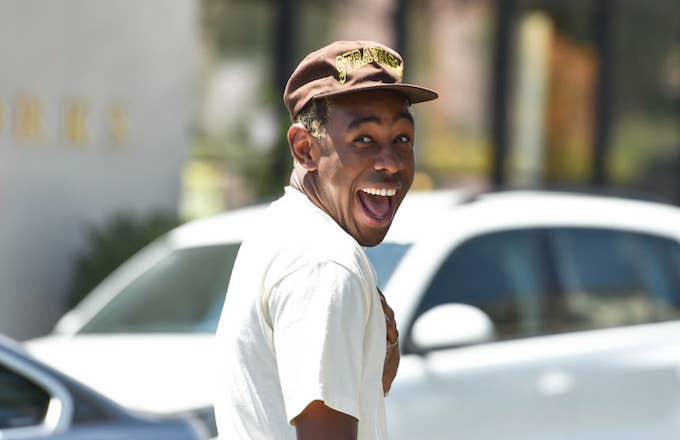 Getty
Image via Getty/PG/Bauer-Griffin/GC Images
Tyler, the Creator admits he's somewhat of a walking contradiction, especially when it comes to his private life.
In the Autumn/Winter 2018 issue of Fantastic Man, the 27-year-old artist was asked about his decision to address his sexuality years after his career had launched. He was specifically asked about the "I Ain't Got Time" lyrics: "I've been kissing white boys since 2004"—a line Tyler knew would raise even more questions about his sexual orientation.
"It's still such a grey area with people, which is cool with me," he explained. "Even though I'm considered loud and out there, I'm private, which is a weird dichotomy. The juxtaposition of loud and quiet is weird."
But why, after all these years of being in the game, did he decide to finally speak about his sexuality in the 2017 album Flower Boy? It's a question for which Tyler still doesn't have a full answer.
"It's a literal question and the thing about humans is we hate not having an answer," he explained. "We hate not being in the know. So people will bullshit answers, make shit up, instead of being just, like—I don't know. There are some things that are just unexplainable."
Throughout the interview, Tyler expressed his infatuation with "beautiful people," specifically a number of guys he came across while in Paris this summer. Though he wasn't afraid to express his same-sex attraction, Tyler refused to answer whether or not he's ever been in love.
"I don't want to talk about that," he said. "Um, that's the next record."
Something for fans to look forward to.
Tyler also discussed everything from his interest in clothing and his Odd Future days to being inspired by Andre 3000 and choosing to live a sober life. The latter subject was underscored during a recording session for "Potato Salad," his collaboration with ASAP Rocky. As writer Paul Flynn describes it, Tyler decided to put his foot down—literally—when he noticed someone in the studio was smoking weed.
"I went in the room and took the blunt out of somebody's hand, threw it on the ground and stepped on it and said, 'This is a distraction. This needs to stop. We are here to fucking work. Not to hang out,'" Tyler recalled. "Fuck that. Clear mind. At least once, goddamn. We're drug-free at night."
When pressed about his decision to never get drunk, Tyler gave the most Tyler answer:
"Why haven't you wrestled a tiger? I don't know. I just don't want to drink," he said. "I know that I don't want to be that drunk guy. But I do know I want to hit a jump on a dirt-bike. I can look at that and say: 'I want to do that.' I've never seen anyone drunk, like, 'Damn, I want to be that.' So, I guess I just naturally got it pushed into my head that I have no reason to go over there and get fucking drunk."
You can Tyler's full cover story at Fantastic Man.