How Trap Music Came to Rule the World
The trap sound is everywhere these days. To find out why, you've got to go back to the '80s.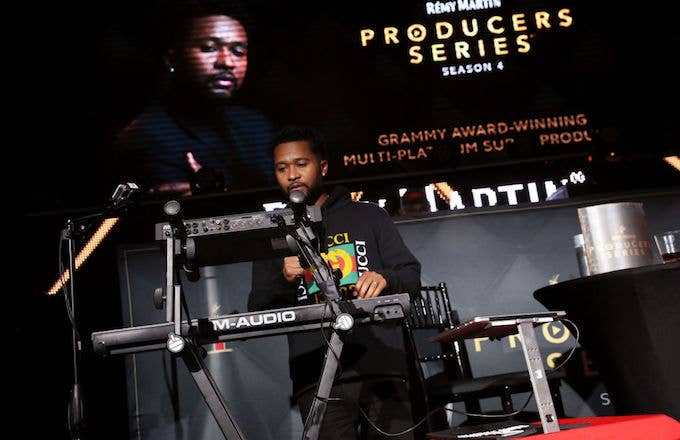 Getty
Zaytoven attends The Remy Martin Producers Series Season 4 Finale on November 9, 2017 in Las Vegas, Nevada.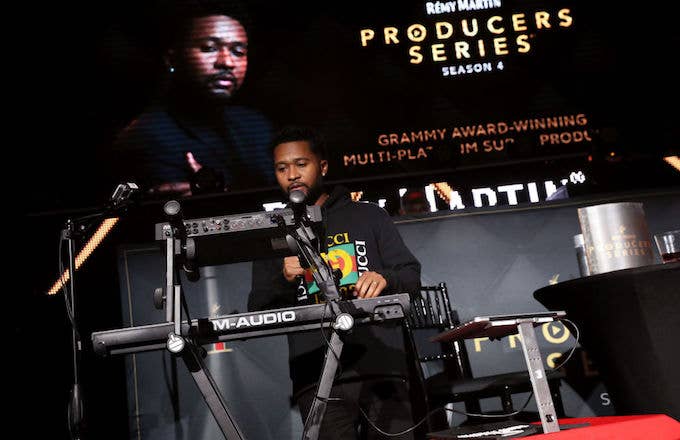 Every so often, a sound becomes inescapable. In the last few decades, we've cycled through a series of tropes that once seemed like they would last forever—the endless James Brown samples of Golden Age hip-hop; the Pixies-inspired, Nirvana-popularized "quiet verse, loud chorus" dynamic of the 1990s; the Neptunes-led minimalisticfunk of the 2000s. Each had its moment as a foundational trend in pop music. 
A scan of the music of today will show that another trend is in full effect, as its progenitor Kurtis Mantronik might say. From hip-hop to pop to EDM and beyond, the sound of trap music is everywhere. A cursory look at the Billboard charts—just this week Migos' Culture II went to No. 1—proves that.
But what, if you had to explain it, is the sound of trap? What signifies "current" to someone listening to music today? The simplest answer? It's the hi-hat.
The way trap music uses hi-hats is unique. The sound is a busy, short burst. The hats are programmed in complicated patterns, at rapid-fire speed—faster than any human could ever play it—usually contrasting with a relatively simple and pared down drum patterns on the kick and snare drum. Once you recognize it, you'll hear it everywhere: from Migos to Future to Flume to Baauer to Bryson Tiller to K-Pop stars BIGBANG.
To find out how that simple, rapid, rolling sound came to dominate nearly every corner of popular music today, we've got to go back to 1980. That was the year the Roland Corporation introduced its newest analog drum machine: the TR-808 Rhythm Composer. Company founder Ikutaro Kakehashi had been making drum machines since the mid-1960s, and in those days they were primarily used to accompany organ players. The 808 was something a little different.
In an abrupt, bold move, the machine didn't go for realism. It sounded nothing like an actual drum kit. The low thump of the kick drum and the "cowbell" sound, particularly, were unique. Unfortunately, at the time of the 808's introduction, drum machines did still sound like, well, drums. The 808 flopped. By 1983, just three years after its debut, Roland stopped making it altogether.
But two things happened simultaneously that would ensure the 808 had a second life, both thanks to hip-hop. First, Afrika Bambaataa and producer Arthur Baker used it on the 1982 hit "Planet Rock," one of the most influential records in a then-burgeoning hip-hop scene. Second, the machine's unpopularity led to dropping prices, making them accessible to an entire generation of curious kids—kids who would go on to use the 808 to make some of the most important hip-hop of the 1980s and '90s. The story of the trap drums that we're still hearing on the radio today starts with them.
One of those kids was Greg Broussard, a Los Angeles-based musician, producer, and DJ who was in his late teens when "Planet Rock" took over the world. Broussard, who performs under the name Egyptian Lover, met Bambaataa collaborator and protegé Afrika Islam in the early '80s, when "Planet Rock" fever was still in full swing. "I had never heard of a drum machine before" Broussard says via email. "The next day I went to see the 808 at a music shop and bought it as soon as I heard it play the 'Planet Rock' beat."
Within a few years, Broussard had discovered a way to tweak the machine's patented kick drum "to sound like a synth effect," and was riding the 808 to a prominent spot in L.A.'s electro scene, with songs like 1984's "Egypt, Egypt." That same scene would feature a group called the World Class Wreckin' Cru, two of whose members would go on to start N.W.A.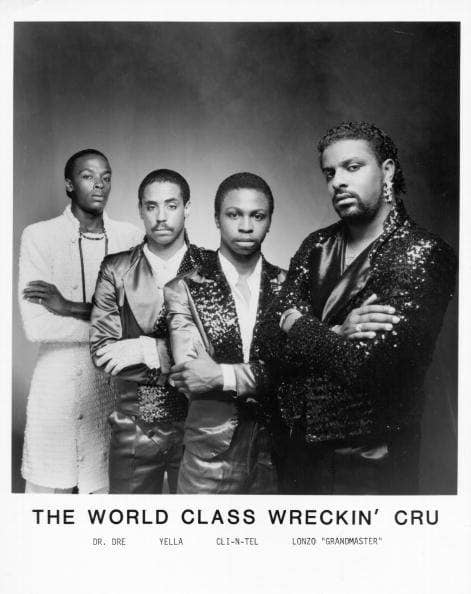 After making the cross-country trip from NYC to L.A., the 808 embarked a trip down South, where it would reshape popular music. In the mid-1980s, Broussard went to Miami to perform at a show put on by a concert promoter named Luther Campbell. While in the city, Broussard passed on his 808 knowledge to Campbell and David "Mr. Mixx" Hobbs, both members of a group called 2 Live Crew. Campbell would take the cultural influences of Miami—the deep reggae bass, the fast tempos of calypso, Latin percussion—and create what would come to be called bass music. And bass music's weapon of choice? You guessed it. You can hear the 808's distinctive kick drum on the earliest of 2 Live Crew tracks, like their 1986 single "Throw The D."
One thing that bass music did, unsurprisingly, was tweak the 808 to get more bass out of the kick drum. They did it by boosting the "decay" knob beyond its normal limits. It pushed the already unnatural drum sounds of the machine even further into uncharted territory.
That outsized bass sound came with the TR-808 to Atlanta when Aldrin Davis, better known as DJ Toomp, discovered the trick around the same time.
"When I started playing around with the 808 drum machine, I noticed that when you turn the one little knob up that says 'decay,' it'll make the bass stretch out," he says. "But I never knew back in '85 how I could actually use that sound. 'Planet Rock' was an uptempo record, but it didn't have that decay in it. Ain't no telling what 'Planet Rock' would have been if they would have let that decay kick off back then. That shit would have changed the world, for real. It would have blown a lot of speakers, too."
Toomp himself was a producer on some Atlanta bass tracks in the late '80s, and you can hear the 808 featured prominently on those songs. They were only precursors, though, to the work Toomp would eventually do with T.I. to define what trap music would become. 
While the tricks to using the 808 to create unnaturally booming bass hits were still being developed, its crisp hi-hats were beloved by producers finding ways to keep the momentum of the track going—the origins of what would eventually become what we recognize as the trap sound. "I think 'Planet Rock' might have been one of the first examples of the usage of the repetitive hi-hat programming with the 808," recalls producer Raymond "!llmind" Ibanga Jr.
A young DJ from New Orleans named Mannie Fresh was listening to all of these disparate sounds, all made on the same machine, and taking it all in. His tracks from the very beginning had the 808 all over them. "If you know Down South production, Roland 808 is in almost everything," Fresh said in a 2016 interview for Serato and Roland about the machine. "Even before anybody liked the 808, Mannie Fresh was on the 808." When Mannie met up with the Williams brothers and became the in-house producer for Cash Money Records, he really let loose.
Producer Konrad OldMoney explains that it was Fresh's use of the 808's hi-hats that really stood out at the time. "All of his hats were really up front and prominent," OldMoney tells me. By the mid-1990s, Fresh's hi-hat-heavy style was well-developed. And in 1998, all of hip-hop would come to know Fresh's up-front and fast hi-hats when Juvenile's "Back That Azz Up" came out:
By the time Fresh's sound was going national, other people were starting to do the same thing. Producer Shawty Redd, then in Atlanta, was beginning to work on one of trap's major under-appreciated progenitors, Drama's 2000 album Causin' Drama.
You can hear trap-style hi-hats everywhere on the album, and Shawty says that his aggressive use of hi-hats came because Drama's original ideas for beats were lacking a little something. "When [Drama] came, he already had the music in his head, as far as drum patterns," Shawty remembers. "He would beat on his chest and rap. So I tried to put those elements into the music the best way I could, as far as the drum patterns."
But the producer, who is a self-described "uptempo kind of dude," wasn't fully convinced.
"When I put the formula in [that] he was beating on his chest, the beat still wasn't moving to me like I wanted," he says. "That's where the hi-hats came from. I never knew that it was going to be a trending thing. I just wanted something that would make me bounce. It was just, you got a slower beat, so why don't you put some booty-shake hi-hats in there?"
A year after Drama's album was released, Shawty would meet Young Jeezy.
"We just started hanging out as friends and didn't really do music," Shawty recalls. "We would go to the club and party. When we finally did go in the studio, I would just play keys for him first. When he liked the keys that I was playing, then I would do my formula of drum style. I just took some of those elements from what I did with Drama and made a bounce for him that would sound good." That "bounce" would show up all over Jeezy's 2005 debut album, Let's Get It: Thug Motivation 101.
By the early 2000s, the style was arriving on the mainstream, and needed a name. T.I. and Toomp provided it, with Tip's 2003 album Trap Muzik. The title had nothing to do with a musical style—at least at first.
"The album was called Trap Muzik because he was rapping about the lifestyle of trapping and being out here in the streets, getting some of that extra money," says Toomp. But the album's sound—including, yes, the aggressive hi-hats—caught peoples' attention. "People could really just identify me and Tip's sound from anywhere—like, 'Yo, that's that Toomp and Tip shit,'" he continues. "So people just started calling it 'trap music.'"
Shawty Redd seconds this: "T.I. used it, and then it just became a brand," he remembers.
The person who really turned trap music into the juggernaut it is today, though, is a man who counts Toomp and Shawty Redd among his biggest influences, Lex Luger.
Around 2009 or so, Luger, a struggling producer who was "broke as a joke," sent a bunch of his beats to Waka Flocka Flame. Flocka loved the sound, and three of Luger's tracks ended up on the rapper's Salute Me or Shoot Me 2 mixtape, including "I'm Just Livin Life." You can hear even on this early track that Luger took the busy 808 hi-hats of his influences and supercharged them, creating a new level for the sound.
"Lex Luger is an early pioneer of popular trap music," !llmind says. "The way he programs his hi-hats was another step up from a Mannie Fresh. Then that opened the door to everyone and everything."
Once "Hard In Da Paint" became a hit in 2010, everyone wanted a piece of Luger's sound. His beats began showing up in tracks by Rick Ross, Kanye West and Jay Z, Snoop Dogg, Soulja Boy, and pretty much everyone else—and success, of course, bred imitators. Toomp remembers this period very well.
"It was two years straight where some of my closest friends, some of my old production partners, were like, 'Man, that's your shit?'" he laughs. "I was like, 'Nah, that's really the new style. That's not me. Don't call me every time—the shit is getting on my nerves."
Now, it seems you can't find a song without trap hi-hats. Nearly every inescapable Metro Boomin' beat, for example, has somekindofvariation on that theme, for one, and the rapid-fire hi-hat's presence has spread beyond hip-hop. !llmind, who has taken trap's staples and mixed them with a more traditional boom-bap sound to create a hybrid he calls "BoomTrap," points out that the sound has stretched out even into pop and EDM. The latter has subsets called "future bass" and "trapstep," and to hear an example of trap drums hitting mainstream production, just check out the halfway point of Lorde's "Sober II (Melodrama)," from her Grammy-nominated Melodrama.
"You hear [trap hi-hats] in trap music, in urban, in pop music, in electronic music especially," !llmind says. "I mean, electronic music today wouldn't exist without trap music. Most of it is trap, just a variation and an extension."
Toomp agrees. "It ain't just the Southern sound no more," he says. "Now everybody got it. I think we got probably 10 to 20 more years with that shit."