"Shah went from trapped in America to Atlanta's newest star!," shouts Magic City's DJ as Shah enters, a greeting the Toronto rapper has gotten a lot recently in Atlanta this past summer. Following a 2016 debut that earned him accolades that ranged from being named one of Toronto's top new rappers to having one of the year's Most Underrated Songs, Shah resisted major label opportunities, remaining an independent artist who was mostly off of the mainstream's radar. This summer a new buzz surrounding Shah arose – but not one on blogs or in industry boardrooms, but one from the streets of Atlanta. How did a promising Toronto lyricist re-emerge in the heartland of trap? There were some blog rumors that this popularity had been driven by Shah's recent federal detainment when he tried to cross international borders, making the home-grown Canadian rapper a real-life trapped in America story. Unclear if this was fact or rumor, and still lacking understanding about Shah's path to the South, Complex Canada headed to Atlanta for a few days to find out the truth. The following account captures Shah's journey to stardom in rap's current mecca, and also provides a glimpse into the process of "making it" in Atlanta's underground music industry.
Upon arriving in Atlanta, I meet Shah and his team at Hot 107.9 FM, the city's current radio ratings leader. Shah is on the air, joining North Atlanta rapper Bodega Teezy, who has helped navigate Shah's rise through the South. Both artists' current singles, Shah's "Just Text" and Teezy's "One Of U," have been captivating Atlanta's streets and strip clubs. They are discussing their summer successes on 107.9's primetime show, the Durrty Boyz, with host J Nicks (of "Love & Hip Hop: Atlanta" fame.) As the interview proceeds, Shah's team quietly fields incoming inquiries from club promoters, booking agents, and potential sponsors. This response isn't all that surprising, considering Shah is a hotly buzzing artist making his first appearance on Atlanta radio's most highly-rated show. What is surprising, however, is how such a widely popular, mainstream radio show could land a buzzing underground rapper before smaller programs (whose niche is emerging artists) could do so. Understanding the factors behind this interesting interplay is essential to explaining Atlanta stars' dominance of the rap game over the past several years.
Our next stop after the radio station is Magic City, which has been described as "the strip club that runs the music industry." Shah proceeds to the DJ booth to check in with the DJ Jante, subtly placing a handful of singles on the stage while en route. The DJ check-in is a crucial but delicate component of every Atlanta artist's rise. For a buzzing artist like Shah, the check-in is a sign of respect, reciprocated by the DJ when they go on to play his song. However, for unknown artists, checking-in is way more dangerous. Jante explains, "If I don't know you, you can't check-in. When DJs see rappers approach, we know they want their song played…but I'm a DJ, not your jukebox!" Jante recounts Shah's initial check-in: "I already knew Shah cause Magic DJs been bumping 'Just Text.' But when he first met me, he ain't know I DJ, and I respected him the same way. That's real shit." Jante explains how Shah's relationships with Magic City's doormen, bartenders, and patrons have led to a sense of excitement surrounding Shah's success. Teezy lays out how a new, out-of-town artist was able to earn the adoration of such a powerful musical factory: "Magic City creates stars. So when Magic sees he's got the sauce and Shah's empowering people here, they feel involved. Magic City amplifies Shah's wave just like they did Future. Just watch, on Sundays Shah likes to bring damn near all of Magic City to his crib."
The DJ booth is next joined by DJ Buu who, alongside DJ-X, first nicknamed Shah "The International Sensation" when the duo was deejaying Shah's early unofficial showcases at Magic City. I was unaware that rappers performed at Magic City before, but Shah let me know: "For my circumstances, Magic is a perfect safe haven." Realizing Shah is referring to his legal situation, I attempt to bring up the subject, but the vibe tenses all of a sudden, as I realize my question might have come across like the opposite of how I wanted it to: "I heard a rumor you're wanted by the Feds…" Shah, born in Canada and of Indo-Muslim heritage, states that he's been legally advised to avoid discussing the issue. Shah does confirm being detained by Homeland Security for 12 hours, without explanation, and being informed that he was disallowed from crossing the border again. Because the incident had a positive impact in bringing him to Atlanta, Shah feels it would be exploitative to publicize his experience, especially when considering the individuals who have suffered much worse discrimination and consequences under Donald Trump's administration, such as the president's recent barring of transgender people from the military.
Finally, I start to put together all of the pieces for why Atlanta is the perfect place for Shah to be in. When I first heard of Shah last year, he was being referred to as New York's favorite Toronto rapper, and, logically, Shah could have stayed in NYC until deciding to return to Canada. Shah's long-time sound engineer, Eddy Nuñez, even resides in Harlem. However, unlike NYC, the streets of Atlanta have provided Shah with opportunities to flourish under the radar, while still gaining large exposure with a new population that has embraced him with open arms. Still, one can't help but wonder about how Shah's unwillingness to share more deeply the injustices he's faced is slowing his music from spreading beyond Atlanta. Teezy agrees: "If Shah fully opened up about his journey, it would go beyond viral."
Scene breakdown:
The next morning I join Shah at the famous Patchwerk recording studios. Shah's video producer and primary point of contact in Atlanta, Liz Cleveland, informs me he's completed two songs and is now finishing the third, "Something In The Way," which features a Kurt Cobain sample with the title in its lyrics. All three songs possess feminist references, a theme heard throughout Shah's music, including in his previous single "Pay Day 71," which calls out the gender wage gap. Shah believes men have the responsibility to contribute to gender equality since men are the unconscious (or conscious) benefactors of gender inequality. Until then, Shah states, "Women should have the option of getting an extra $700 per month to make up for societal inequality. Tax all the companies that pay women less."
Shah's desire to see women being treated equally is seen through the relationship he's developed with the Magic City Takers, one of the country's most influential teams of pole dancers. While functioning as a squad is not particularly unusual for Magic City dancers, the Takers have elevated their art form to new heights.  They've been brought to locations around the country to teach pole dancing, and have appeared in numerous prominent music videos, the next of which will be Shah's "Baad Bad."
We arrive back at Magic and get a "Toronto in the building!" from the DJ as Shah walks in. DJ Outlaw 3000 is joined by DJ JR Uing. Both pull double-duty as talent developers in the classic mould of old-school A&Rs. However, Uing warns, "Very few artists use the cheat codes. It takes time and patience." I ask Uing to list me the rappers who had successfully attained the cheat codes. JR responds, "Before Shah, the last rapper before to receive the cheat codes and actually implement them was Future." Without getting into the specifics, Shah acknowledged cheat codes have transformed his music. As Outlaw explained, "When Atlanta DJs heard this new music, Shah's Atlanta wave got ten times bigger."
Uing explains to me that Atlanta supports artists who create their own wave. This encourages artists to innovate and push boundaries, which in turn fosters a desire for DJs to seek and support innovative art. For example, when a DJ becomes known for breaking good music, then more people will come to his shows, which means he gets more gigs. Atlanta's desire for original talent over existing popularity also enables new artists to flourish beyond the strip club. For example, "Just Text" recently started appearing on the charts of the ATL Top 20, which is a music service geared towards DJs that is considered the Billboard charts of Atlanta. In this way, ATL Top 20 becomes a contributing factor for what new music radio stations decide to pick up.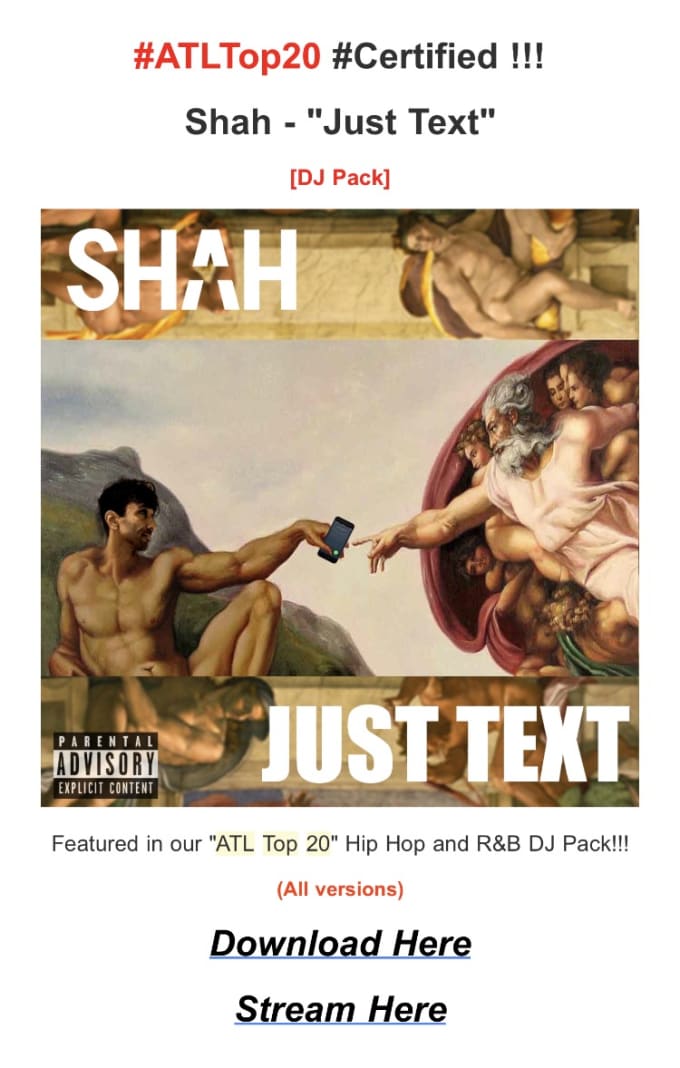 At a modern radio station in your typical major city, the decision to play Shah's "Just Text" on air would be driven by statistical data, like surveys or focus groups. But in Atlanta, the song could attain radio play by moving the Magic City Takers, thus motivating dope boys in attendance to spend money on the dancers, leading DJ Outlaw to play the song more frequently, increasing its likelihood of being heard by a radio boss scouting the next hit, which is precisely what I saw happen later in the day when J Nicks arrived at Magic City. Similar to a strip club DJ, when a radio show demonstrates a consistent ability to discover and break new talent, more people tune into the radio station, and so sizzling acts get a huge platform for having their music heard by tons of people that they might not be able to reach otherwise.
I ask Uing what is more critical for an artist: radio, which touches the masses, or the strip clubs, which touch the streets. Uing replies, "Every artist will need radio play, but when Shah got with DJ Swamp Izzo, it was like Shah got the keys to the city." Swamp Izzo is Cash Money record label's official DJ; he even deejayed Nicki Minaj's Super Bowl performance. However, what Swamp remains best known for is representing the streets by giving artists like Gucci Mane, Future, and Young Thug their first big break. While he's broken individual songs in the last few years, Swamp hasn't taken on an artist like Shah since he did his thing with Young Thug.
As we leave Magic City for the Blue Flame Lounge to meet Swamp Izzo, Liz Cleveland receives a FaceTime call from Ellis Iyomahan, Shah's manager back in Toronto. Iyomahan, a music industry veteran, was excited by the Shah recordings he heard from earlier that day, saying, "The Coalition's gonna love these!" The Coalition is an Atlanta DJ collective that includes DJ Shawtyrock, DJ Donnjuan, and DJ Westside, three of the first DJs in Atlanta to play Shah's music. Cleveland agrees with Iyohmahan's prediction and suggests giving a preview to DJ Westside, who has already been playing Shah's unreleased upcoming single "Baad Bad."
I could never imagine such a party atmosphere at a strip club, with upwards of 100 girls all dancing at the small venue. The venue is at capacity, but many patrons aren't even looking at the dancers; they've come just for Swamp's mixes and playlists.
Swamp introduced Shah to legendary radio personality Greg Street at Blue Flame before bringing Shah to V103FM, where Greg Street broadcast the world radio premiere of "Just Text." I realize this means that with just two well-placed chess moves, Shah has already been on the two biggest shows on the two most popular radio stations in Atlanta. Swamp explains that Greg Street had heard about Shah's recent sold-out show at Opera, which is one of Atlanta's most prestigious concert venues. Even Justin Bieber does Opera when he's in town; the only other rapper to headline it in the last summer was 2Chainz himself. Greg Street went on to post a video of over 1,000 screaming fans at Shah's sold out performance at Opera, and, just like that, Shah began to buzz in Miami.
Swamp tells me how he took Shah to Miami, home to Birdman and Cash Money, the label Swamp is the official DJ for. The combination of Swamp being the most powerful DJ in the streets, with Shah being one of the hottest new artists in town, is one of the reasons that people like DJ Uing and Bodega Teezy both say that Swamp and Shah might be 2017's version of DJ Khaled and Rick Ross, with each of them continuously leveraging their own success to elevate the other. Teezy would know because he recently received his own early co-sign from DJ Scream, head of Hoodrich, which along with the Coalition are Atlanta's dominant DJ squads.
As Teezy predicted, Shah nearly brought all of Magic City to his apartment for a poolside BBQ on Sunday. The party is a summary of all the spots and faces from the past 2 days, including Nunu and Salt Shaker from the Magic City Takers, DJ Uing, and Bodega Teezy. I ask my final questions, which largely revolve around how Shah has been able to attain support from local fans so quickly. The primary reason seems to be his ability to transcend rap's divisions, from golden age versus mumble rap to Drake versus Kendrick. As demonstrated by "Just Text," Shah has been able to combine the mainstream relatability of Drake with the powerful yet artful messages delivered by Kendrick. Shah's music has satisfied fans seeking the instant gratification provided by mumble rap, as well as those longing for storytelling and lyrics whose meaning might be grasped only with time.
Over the weekend, Shah's trajectory was often compared to Atlanta stars such as Future, whose career was similarly propelled by Magic City and the city's strip clubs scene. A deeper look, however, draws other parallels to artists whose prominence was heightened because they represented a societal flashpoint, such as Kanye West and his direct message to President George W. Bush in the horrific aftermath of Hurricane Katrina in 2005. Shah's story similarly reflects today's most pressing issues, such as the Donald Trump administration's targeting of marginalized minority groups. From a musical perspective, Shah is the latest rapper to prove one can flourish without regard for major labels and defined genres, just like Chance The Rapper.
In the era of social media and the 24-hour news cycle, it's difficult for real, true secrets to exist, and to stay that way. Dedicated music fans no longer have years of exclusive access to artists before their favorite artists start reaching mainstream fans. Similarly, the importance of having a social media presence, especially for emerging artists, limits the amount of time that an artist can spend on intimately engaging with their local fans. Having an artist like Shah, who has quietly arrived at the doorstep of hip-hop stardom in spite of the obstacles he has faced, is genuinely remarkable. If nothing else, it's enjoyable to still have artists you can root for both personally, and artistically.