"If this song don't pop, I'm robbing a bank when it gets cold! I need me a [million dollars] this year."
The statement comes from a portly man wearing a form-fitting T-shirt, blue jeans, and a pair of red leather Jordan 2s, currently sprinkling pungent weed into a Backwoods cigar. It's a Monday afternoon in early June at Street Execs studio in northwest Atlanta, and the building is buzzing. Another weekly session of the Coalition DJs' New Music Monday is about to pop off where new—and tenured—artists with a dollar, some tracks, and a dream come to get a thorough critiquing of their latest works before the public gets a peek. The blunt-rolling aspiring rapper seems to be in the right place to get a gauge on whether he'll be needing to take the ski mask route once the temperatures fall.
In one of the main studios, a congregation of 18 DJs has assembled, including some of the most respected names in the A-town's strip club scene. The ensemble includes the stoic OGs DJ Big X and DJ Funky, the slick-talking, loc-rocking DJ X-Rated, Atlanta mainstays like DJ Black Bill Gates and DJ Buu, and young trailblazer DJ Outta Space.
On the docket for today are three rappers who plan to play the DJs some freshly minted tracks in hopes of hearing that they "got one."
"People come from all across the country to get feedback," says X-Rated during a break in the action. "Sometimes you need that." Feedback isn't the ultimate goal. Coalition DJs have formed a promotional and marketing company of sorts where, in exchange for money, their turntablists, who work at all the premier strip clubs in Atlanta, get music out to the masses. It's an advantage not afforded to radio DJs because of the illegality of payola.
The names of the careers they've help mold through their booty-club-based business are well known—Jeezy, Future, Gucci Mane, 2 Chainz, Rich Homie Quan, Young Thug, and K Camp, just to name a few. Even pop artists like Usher, Rihanna, and August Alsina break bread with the Coalition to keep their names popping in the streets, according to the collective's manager, Nick Love. The power structure has kept the beats and butts moving in the South for almost seven years now.
Even pop artists like Usher, Rihanna, and August Alsina break bread with the Coalition to keep their names popping in the streets
DJ Big X, DJ Funky, DJ X-Rated, and DJ Nando were the original four. In 2008, they were already separate but powerful entities in Atlanta's booming strip scene, but there was one thing missing. "At the time it was like, 'Y'all need a crew,'" says Love. The 34-year-old Atlanta native had previously worked closely with the foursome while doing promotion for Jeezy's Corporate Thugz Entertainment label where he worked from 2002-2008 and saw great potential in the union.
"It was so difficult to reach out to them because you have to reach out to everybody individually," continues Love. "The best part about having a crew is there was somebody central that would get everything to everybody else. [Coalition DJs] kind of spawned from there."
DJ crews come a dime a dozen these days with a number of cliques headquartered in rap's Southern music capital, Atlanta. DJ Drama's the Academy, DJ Scream's Hood Rich, and others all work ATL's fertile rap breeding ground. But Coalition stood out because of its placement in strip clubs, which were quickly taking over regular clubs in Atlanta as the spots to be, for males and females.
The dynamics of a strip club differ from that of your regular nightclub. For one, DJs aren't restricted to playing the radio hits, giving them free reign to more frequently break records. But the eco system is also more deeply intertwined. Strip club DJs don't get salaries and work mostly off tips from strippers who are themselves, of course, tip-based workers.
Frequently, rappers would come in and spend thousands of dollars on strippers while DJs hyped up the atmosphere by spinning a set of their best or current records, in essence providing the score to a live advertisement. The dancers would walk away with trash bags full of cash, the artist made his mark, but sometimes DJs would get the short end of the stick.  
"DJs started to say, 'Hold on, if you are going to give the girls $10K, and I'm the one spinning the records, getting the girls amped up, shouldn't I get a piece of that?'" says Love. "That's when DJs started to demand, 'If we gon' look out for you, you gotta look out for us.' That's where [our system] came from."
Soon the Coalition organized and strategized, and artists were paying good money to get advice and ground-level exposure from the squad, which slowly began to grow in numbers. Their strip club pull became an undeniable asset.
"We are the starting point," says Love. "Once it gets started in the strip clubs in Atlanta, it goes to the radio in Atlanta. Pretty much from there, anything on Atlanta radio tends to get national exposure. We have been the starting point for a lot of careers."
Atlanta has had a strong strip club and music-related culture for decades, dating back to the late '80s when bass music ruled the A-town's fledgling music market. Even then tenderfoot MCs would come to the gentlemen's clubs in the hopes of getting their music played in front of bobbing heads while celebs like Deion Sanders or Andre Rison were in the crowd. Events like Freaknik, Atlanta's annual spring gathering of randy college students, that involved raucous city-wide parties and gridlock-causing motorcades, helped push forward the relationship between beats and butt cheeks in the '90s.
But the popularity of the shake joint took a sharp upswing when the Black Mafia Family came to the ATL in the early 2000s and started making nightly spectacles that turned the voluptuous strippers who once hogged all the attention into sideshow acts.
"At the time I came in, people were tipping the girls $100 maybe $200," says X-Rated, a former Auburn University football player who got his start DJing at Pinups in 2003 and has now broken records at every strip club in the A worth mentioning. "When [BMF] came in, they came with $10,000 in ones. So I had to change my game up. When I DJ I be like, 'Who needs the first 10,000 ones?' You know how much pressure that puts on people? At the time they had it."
And they weren't shy about spending it for the proper cause.
"Big Meech come in there like, 'Man, here's $2,000 right here. Play this whole got damn CD,'" says X giving his best impression of the incarcerated kingpin. "It's like you couldn't control that. This man had the strip clubs locked down. That's what bubbles in the streets. The imagery behind it and the constantly playing this one artist. You got to fuck with it."
The record label-slash-multi-million dollar cocaine distributor helped launch Jeezy and Bleu Davinci's rap careers with their showcases of lavish spending. The term "making it rain" was born. Music marketing in the city was forever changed. Other MCs with the ability to fuck up some commas followed suit.
Years later when Coalition started their monetary system of breaking artists, it made the game level for all parties involved. Money exchanged hands, records were being broken, and stars were being born. The strippers were happy. The DJs were happy. The artists were happy. Everything was gucci, until mid-January 2014.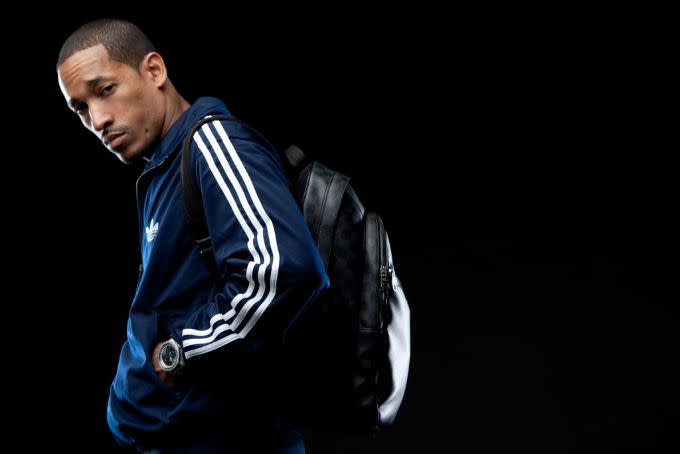 In the early morning hours of Tuesday, Jan. 14, 2014, Outta Space's cell phone was buzzing off the nightstand. Having just laid his head down after a late night hanging out at Magic City with DJ Esco (Future's DJ and Magic City mainstay) and Nando, he was trying to get a few hours of sleep before the day started, but the phone's continuous ring threw off his plans. "I finally answered it, and it was [DJ] Esco. He was kind of sobbing like, 'They got Nando, they got Nando,'" says Space recalling the fateful conversation. "I was like, 'What do you mean?' He was like, 'Somebody killed Nando!'"
On the television he saw a news report about Nando's murder and his stomach dropped. After returning home from the strip club Onyx, Nando pulled into the driveway at his South Atlanta home he shared with his wife and daughter around 3:30 a.m. According to reports by the Atlanta Journal Constitution, he was ambushed by a waiting assailant and shot once in the head. He died a few minutes later on the scene.
Nando's personal belongings—including cash and expensive DJ equipment—weren't taken, leaving police to rule out robbery as a motive.
In the wake of the murder, rap stars from Jermaine Dupri to T.I. honored the memory of the beloved record breaker who was known as an innovator in the strip club world for the unique atmosphere he created in the club and his uncanny gift of gab on the mic. Nando was famous for bringing his own speakers, lights, and even a smoke machine to the clubs he spun at so when he left for the night, the club didn't even feel the same. After his death, indeed, nothing was the same. The tragedy sent a deep shockwave through the entire Atlanta music scene. But his Coalition family took it the hardest.
"We really kind of shut down shop for like six months," says Love. "I had a couple DJs say, 'Man I'm quitting, fuck this music business shit,' questioning why they were even in this business, myself included. It just changed the dynamic of who we are. It took us to another place that I wouldn't wish on my worst enemy. We're a band of brothers. It's not like it's a crew of DJs spinning records together. Nando was special. Nando was Michael Jordan. He's the guy that other DJs mimic now."
Following the murder, police had few answers, and the streets were riddled with rumors, including some hearsay that he may have been killed by another jealous DJ.
"Everything you can name we done heard," says Outta Space who joined the team in 2012 and was mentored by Nando until his tragic passing. "The best thing for the situation is not to speak on too much of anything, because I don't want the wrong message to get out to the police. I really want the person that did it to come to justice. It's no point in putting out speculation. I just really want to know who did it."
As of press time, the case remains cold.
On Monday, June 22—Nando's birthday—the crew held an event for the DJ at the Department Store night club in the city's 4th Ward, following a celebratory dinner at T.I.'s restaurant Scales 925. A large crowd showed up including B.o.B, K Camp, Big Gipp, and Scotty ATL to pay their respects. Songs were played. Memories were shared.
"We try our best to keep his name alive and keep his legacy rolling," says Outta Space. "Ima work for me and Ima work for him too."
"We deal with [his death] every day," says DJ Dibiase. "We are still moving strong just like he would want us to. Rest in peace. Actually, long live Nando."
Now, they keep going, honoring Nando's memory by continuing to do what Nando loved. "Coalition DJs control the pulse of the city," says Rico Richie the ATL artist behind one of the hottest underground records in the nation, "Poppin.'" With the help of the Coalition, his record went from buzzing in the city to making Tom Brady do the butterfly in the club to the track in a matter of weeks. The bubbling MC sat through two New Music Monday sessions before finding his wave.
"They really wanted to teach me it's about working your music," says Richie. "They were real big on getting your branding and everything straight. They were the first people that introduced that to me. You can't just come in there with a record and expect it to take off crazy without putting in any work. It's impossible for that to happen. They can play the song all they want to, but if you don't put in the work and push the song behind it you're not giving them any leg to walk on as DJs."
Money might be the ultimate motive, but the business model Coalition has maintained for the last seven years in Atlanta has changed the game. All from the booty club, once considered a place for perverts, the collection of records spinners have helped make better rappers, artists, and businessmen.
"These labels and people from out of town, the first place they are going when they touch down [in Atlanta] is the strip club to see what's popping," says DJ DiBiase, Big K.R.I.T.'s tour DJ and one of a handful of Coalition members who don't have a strip club gig. "There's always going to be a Coalition DJ there breaking records. In hip-hop that's what it is about, making an impact. It starts with the Coalition DJs."
Take that to the bank.