Seven years ago, we were given a new scripture.
For an entire generation, Hawaii was Mount Sinai, Kanye was Moses, My Beautiful Dark Twisted Fantasy was West's redemption. Delivered to us on a mountaintop seven years ago were 11 Kanye Commandments:
No Tweeting
No Hipster Hats
All Laptops on Mute
Just Shut the Fuck Up Sometimes
No Blogging
No Negative Blog Viewing
Don't Tell Anyone Anything About Anything We Are Doing
No Racking Focus While Music Is Being Played or Music Is Being Made
Total Focus on this Project in All Studios
No Acoustic Guitar in the Studio
No Pictures
These commandments were a statement. Taped to the wall of the studio he'd rented out for his dream team of collaborators, hand-selected and flown out, these were their marching orders. Kanye had returned to deliver himself and his Israelites out of the wilderness. This was a mass exodus from the past of a genre into the new and uncertain artistic possibilities a new decade presents.
The omnipresence of loss—or the threat of it, at least—hangs over Kanye's creative peaks like a specter. Most fans celebrate the soulful everyman story of The College Dropout or the arena rock aspirations of Graduation but, for each of those records, there is the harsh and wintry 808s & Heartbreak or barely contained fury of Yeezus. 808s was famously made in the shadow of Donda West's tragic death and the dissolution of Kanye's 18-month engagement. Yeezus was an album indebted to the frustrations of a black man not taken seriously in a predominantly white and elitist world. The story of Kanye is a balancing act of highs and lows, triumphs and failures, celebrations of life and memories of death.
The latest tragedy in Kanye's life took place in October 2016, at the Meadows Music & Arts Festival in New York. Onstage, Kanye was informed that Kim Kardashian, his wife, and mother of their children, was held at gunpoint in Paris. Some of us spend our entire lives trying to replace the family we unfairly lost, and in front of thousands of people, Kanye was faced with the possibility of losing his again.
In November, still reeling from the attack on Kim in Paris, Kanye launched into one of his most controversial stream-of-consciousness monologues to date. Floating above his Sacramento congregation at that night's Saint Pablo tour stop, Kanye implored the crowd to "let 'Ye be 'Ye." We did, he was, and the results weren't pretty. Kanye managed to sour a relationship with Drake, mentioned a dissolving relationship with Jay Z, admitted he was hurt by Beyoncé, and used the statement "I'm on my Trump shit" as a mantra.
The remaining tour dates were canceled. Kanye was hospitalized for a "psychiatriac emergency." Words like "exhaustion" and "stress" were thrown around by sources. He bleached his hair and retreated to producer Rick Rubin's Malibu home. Rubin, the living legend, was famously the "reducer" of Yeezus and once before helped a battered and bruised West hone his acidic and combative bars into a middle finger to the fashion industry. This time there was more than an industry harboring animosity towards 'Ye.
The life of Kanye is built on cycles. Handling loss and the threat of more loss is something you can never prepare for. The love of a mother and a wife are irreplaceable, singular, something we try to cling onto with all of our strength. The person you are before the most important person in your world dies is not the same person you are after. I speak from experience, and while all loss is different, there is a universal quality to losing the love of a mother.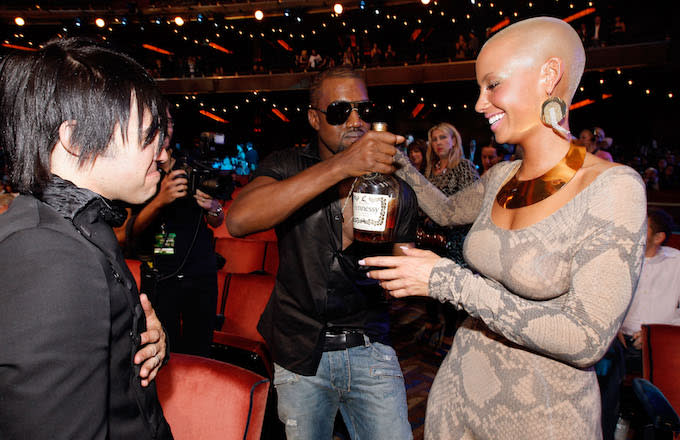 I cherish the 2009 MTV Video Music Awards. Any event where there are multiple pictures of Kanye trying to persuade Pete Wentz, Joe Jackson, and Kid Cudi to take a swig of his Hennessy will make for a legendary night. However, most remember that VMAs for the moment when Kanye famously ran on stage to interrupt Taylor Swift with the indisputably true but not-quite-the-time-to-say-it statement, "Yo Taylor, I'm really happy for you, I'll let you finish, but Beyoncé has one of the best videos of all time. One of the best videos of all time!"
Swiftgate has always been blown out of proportion, and had more to do with how we view race in America than we like to admit. It vilified Kanye to more than one generation as that angry black guy. It was far from the first time Kanye had interrupted an awards show and it wouldn't be his last. Swift and Viacom are still capitalizing on the moment years later. Hennessy and Kanye's passion for culture can potentially be blamed for that night's affairs. However, alcohol and ego are only surface-level explanations for the hurt that runs much deeper.
The 2009 VMAs were a little less than two years after the death of Kanye's mother, Donda West. The death of a mother isn't something you get over; it haunts you forever and periodically makes you do things you might not have done otherwise. On the Watch the Throne song "New Day," Kanye rapped to his then unborn son, "And I'll never let his mom move to LA, knowin' she couldn't take the pressure now we all pray." In songs and interviews, Kanye blames himself for the complications that led to his mother's death. In a 2015 interview for Q Magazine, Kanye stated, "If I had never moved to L.A. she'd be alive." I have been asked similar questions about death in the last 5 years. Ones that mirror the questions that plague Kanye. "Do you blame yourself"? I always say I don't, but like Kanye I actually do, and sometimes there's nothing that can make you feel better about your truth.
As much as White America spent countless months demonizing Kanye, MBDTF did what it was supposed to: It helped shift the narrative. Kanye rose above controversy the way he has always done—through the music. Fast forward to December 2017, and Kanye's meeting with Donald Trump to discuss "multicultural issues." It was something similar to the Taylor Swift incident, but also very, very different. It was a gut check. I proudly defended Kanye interrupting Swift for years. There were layers to that argument. This was different.
I grew up listening to The College Dropout's "Never Let Me Down," reciting the lines:
I get down for my grandfather, who took my mama
Made her sit in that seat where white folks ain't want us to eat
At the tender age of 6, she was arrested for the sit-ins
And with that in my blood, I was born to be different
The photo of Kanye in the lobby of Trump Tower, standing next to the newly-elected Trump himself, made this line all the more depressing. Kanye was never a black revolutionary, but he always seemed like he at least understood what was at stake, which made the visit with Trump feel misguided and hurtful. For years Kanye rapped about black pride. Standing next to Trump seemed like anything but. We often, and unfairly, make artists our heroes. For a while it felt like Kanye wasn't the one we wanted or needed, even if his physical, mental, and emotional health didn't give us the right to hold him to that lofty ideal. You couldn't defend him, and for many of us, we didn't want to.
My Beautiful Dark Twisted Fantasy's pursuit of perfection was aimed squarely at winning back the critical and commercial favor of White America after Swiftgate. Today it seems the bigger challenge is winning back many of the fans disenfranchised by the President he boldly stood next to.
MBDTF honed the various personalities, eccentricities, and moments from Kanye's previous four albums into a perfect and timeless pop package for the masses. "Runaway" was the overwhelming sadness of "Heartless" pointed inwards and perfected with the help of a scorching Pusha T verse and Kanye's still-surprising self-reflection. Now, Trump's America makes me feel how the "Runaway" vocoder outro sounds. The feature list on "All of the Lights"—Rihanna, Elton John, Alicia Keys, John Legend, Drake, The-Dream, Elly Jackson, Fergie—is a who's who of artists the 40-plus demographic can easily recognize. Now, you could replace Jay Z's iconic "Sasquatch, Godzilla, King Kong, Loch Ness/Goblin, ghoul, a zombie with no conscience" line on "Monster" with Donald Trump, Paul Ryan, Bannon, and it would still hold the same meaning.
Sometimes, we need Kanye albums as much as Kanye needs Kanye albums. The fact MBDTF ends with "Lost in the World" is fitting, foreboding, and tells us more about the future of West and ourselves than perhaps we would like to admit. The song samples Bon Iver's "Woods," a song dedicated to the wilderness, then turns its view outward to the larger world. Kanye is perhaps lost again—in his own pain, in the wake of statements he hopefully regrets, in an America defined by hurt and confusion. And, following Bon Iver's angelic and processed falsetto, Kanye is literally up in the woods right now, holed up in Wyoming, presumably at work on the next masterpiece to win us all back. Although since it's Kanye, I imagine it's not a cabin and the rugs are Persian, the imagery is full of cherubs, and there are plenty of ice cream cones to sedate his tortured soul.
In 2017, many of us are lost. We're looking, but it seems like nothing can quell our collective rage. Our leaders are always as flawed as we are, but that has never been as stark in most Ye fans' living memory. Kanye is now following one of his own commandments, "Just Shut the Fuck Up Sometimes." This commandment is meant for us as much as it's meant for Kanye. He traded the paradise of Hawaii for the wilderness of the American West. Maybe Kanye is replaying the Sacramento show in his mind, thinking about the angry responses to the last Yeezy Season, wondering how and when he can speak next, and how we need him too. Kanye's next album could prove to be his best, because when Ye's pushed into a corner of his, and our, making, he rises.