Another Day, Another Fyre Festival Lawsuit
A North Carolina couple has filed another lawsuit against Fyre Festival organizers, accusing them of fraud and misrepresentation.
Getty
Ja Rule performs onstage at The Barstool Party 2017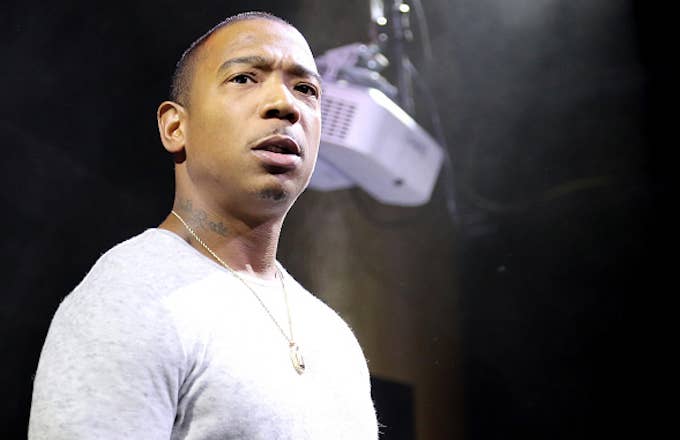 It seems the Fyre Festival fun will never end. 
Nearly two weeks after the "luxury" music event went up in flames, the organizers were slapped with another lawsuit from disgruntled ticket-holders. Rolling Stone reports North Carolina couple Kenneth and Emily Reel have taken legal action against event masterminds Billy McFarland and Ja Rule, as well as PR agency 42West and advertising company Matte Projects. The Reels claim to have paid $4,600 for VIP accommodations, but never made it to the Bahamas because the festival shut down before they boarded a flight. The couple is suing organizers for $5 million, alleging fraud, negligent misrepresentation, breach of contract, and other violations.
"Instead of world-class cuisine and entertainment, concert goers found themselves without adequate food, water, shelter, and basic medical care," the lawsuit stated. "Still others [en] route to the event found themselves stranded in Miami, Florida unsure of how to proceed or of what was occurring on the island."
The suit also claims attorneys representing Fyre Festival sent cease-and-desist letters to attendees who criticized the event on social media. The complaint read: "Specifically, if the social media comments were not taken down, the Defendants claim they could 'incite violence, rioting, or civil unrest,' with the caveat that if 'someone innocent does get hurt as a result … Fyre Festival will hold you accountable and responsible.'"
This marks the sixth lawsuit against the Fyre Festival, including a $100 million class action lawsuit filed by celebrity lawyer Mark Geragos. According to new court documents filed by the attorney that make it sound like Ja Rule and McFarland thought The Producers was a documentary, the music event "was merely a front for a massive financial fraud akin to a Ponzi scheme […] Whereas Ponzi schemes of the past rely on well-heeled individuals with disposable incomes, oftentimes from elderly populations, here, Fyre Media, Inc. marketed their scheme to seemingly successful millennials as their mark."