Soulja Boy Claims Chris Brown Threatened Him for Liking Picture on Instagram (UPDATE)
Soulja Boy says Chris Brown wasn't too happy when he liked a picture of Brown's ex Karrueche Tran on Instagram. Complex Original
Blank pixel used during image takedowns UPDATED 1/3/17, 12:00 p.m.:
Chris Brown is not going to accept an apology from Soulja Boy. He put out a video on Tuesday morning and said that he wants to fight Soulja in spite of an apologetic text the rapper apparently sent to him. He also asked Adrien Broner to set up a boxing ring so that the two artists can fight:
Broner responded by posting this on Instagram:
The video Chris Brown released was put out at around the same time as this video that featured Soulja Boy accusing the singer of using cocaine:
Karrueche chimed in as well with a lengthy Instagram comment about the situation:
That eventually led to a response from Chris Brown:
And Soulja just keeps going, too: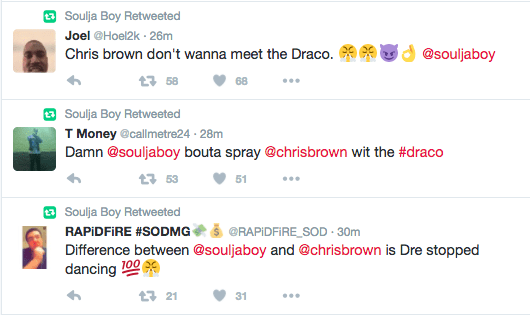 When will this end? No one knows...
See original story here.
Soulja Boy has had more than his share of beefs lately, getting into fights with Lil Yachty, Rico Recklezz, Quavo, and even Shia LaBeouf. But this time, he claims, trouble has found him.
On Monday night, Soulja tweeted that Chris Brown took offense to Soulja liking an Instagram picture of Brown's ex-girlfriend Karrueche Tran and called the Atlanta rapper directly to tell him so.
Soulja, of course, wasted no time in taunting the singer:
He also retweeted several threatening and mocking messages from his followers:
And even mockingly blew emoji kisses at Karrueche.
Twitter users, of course, wasted no time weighing in on Soulja's latest publicity stunt beef.
And early Tuesday morning, Chris Brown responded by calling Soulja a "snitch" and "Officer Soulja" and by suggesting that he was only trying to start beef to keep himself relevant:
Soulja responded to that by shooting down the snitch claims and challenging Chris Brown to a fight:
And the war of words continued with these Instagram posts from Chris Brown:
Karrueche hasn't responded to any of this yet, but it's clear that this beef has taken a turn and become about more than just Soulja liking one of her photos on Instagram at this point. Let's hope it doesn't spiral out of control in the coming hours.