The second annual TIDAL X concert is going down Saturday night at Brooklyn's Barclays Center, where hosts Jay Z and Beyoncé will perform alongside some of the biggest names in music. Artists like Common, Nicki Minaj, Alicia Keys, DNCE, Blood Orange, and Lauryn Hill will take the stage at the benefit concert, which will raise money for the Robin Hood Foundation as well as other charities dedicated to children's health and education.
"A strong education is one of the best poverty-fighting tools there is," Robin Hood's executive director David Saltzman said in a statement. "We're thrilled that the proceeds from this once-in-a-lifetime benefit concert will support great teachers and strengthen schools. It will undoubtedly be an incredible night for everyone, especially our honored guests: the heroic teachers helping our most vulnerable children escape poverty."
The event will also include performances by Tidal's rising acts, such as Lil Yachty, Levi Carter, and Sir the Baptist. Tickets to this year's concert, officially titled TIDAL X: 1015, sold out shortly after the event was announced; however, the performances will be livestreamed on Tidal and can be viewed by both subscribers and non-subscribers.
Last year's TIDAL X: 1020 concert reportedly raised more than $1.5 million for the Black Lives Matter movement as well as other social justice groups. And judging by this year's lineup and how quickly the tickets sold, we're sure TIDAL X: 1015 will be just as successful.
You can watch the concert's livestream above.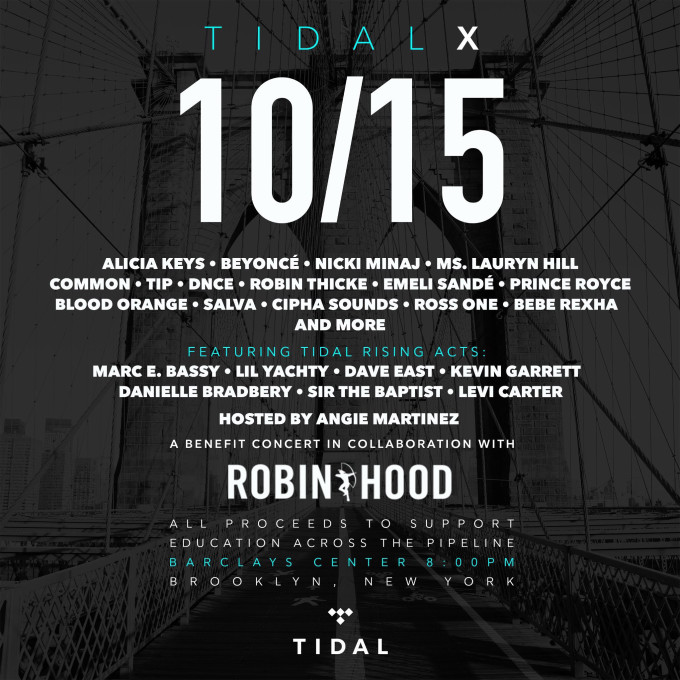 Want to experience Complex IRL? Check out ComplexCon, a festival and exhibition on Nov. 5-6, 2016 in Long Beach, Calif., featuring performances, panels, and more. For ticket info, click here.