Calgary and Surrey Named the Sexiest Cities in Canada
Calgary, Alberta and Surrey, B.C. were placed at the top of an annual ranking of Canada's sexiest cities as conducted by online sex shop PinkCherry.
Getty
Image via Getty/Brett Holmes/Icon Sportswire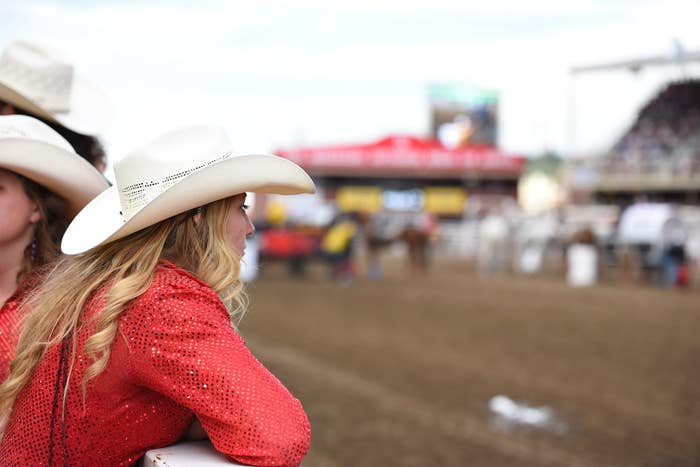 Save a horse, ride a cowboy! There must be something in the water in Calgary, which has just been crowned Canada's sexiest city for the second year in a row. 
The annual ranking of Canada's sexiest cities is conducted by online sex shop PinkCherry. They take a peak at consumer habits, then use that data to determine which cities have the most sex toy sales per person. If you want to be a nosy neighbour, you can even check which toys and fantasies are most popular in your city.
Surrey, B.C. is also doing a great job keeping frisky, as they hold onto their silver medal for another year. Ottawa, Winnipeg, and Edmonton follow suit, occupying the third, fourth and fifth spots respectively. 
After coming in at an underwhelming eleventh place last year, Toronto finally cracked the top 10 this year—but still ranked lower than the Ontario cities of London, Brampton, and Hamilton.
Smaller cities weren't lost on the love either, and PinkCherry made a separate list of Sexiest Towns with a population under 300,000. Colwood, B.C. topped the list once again, proving that Canada's sexiest cities are keeping a firm grip on their rankings. 
Even if your city didn't rank very high, you can sleep well knowing Canada as a whole bought a whopping 10,348,268 inches in sex toys in 2021. With that making up about 475 CN Tower's worth of length, maybe Toronto can feel better about only being ninth. 

See if your city or town made the top ten below:
1. Calgary, Alberta
2. Surrey, British Columbia
3. Ottawa, Ontario
4. Winnipeg, Manitoba
5. Edmonton, Alberta
6. London, Ontario
7. Brampton, Ontario
8. Hamilton, Ontario
9. Toronto, Ontario
10. Vaughan, Ontario
And here are Canada's Top 10 sexiest towns:

1. Colwood, BC
2. Pembroke, Ontario
3. Courtenay, BC
4. Parksville, BC
5. Sidney, BC
6. Williams Lake, BC
7. Fredericton, New Brunswick
8. Fort St. John, BC
9. Prince Rupert, BC
10. Terrace, BC